WND Keeps Giving Platforms To COVID Misinformers
Topic: WorldNetDaily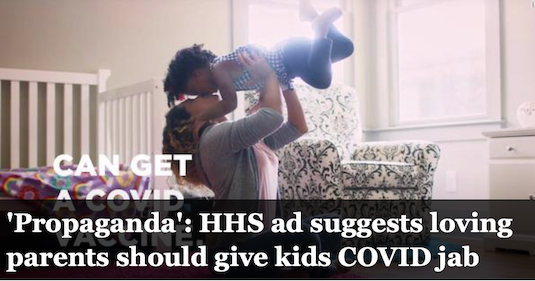 Chief WorldNetDaily COVID misinformer Art Moore found a new COVID misinformer to promote in a July 20 article:
A video PSA by the Health and Human Services Department suggesting loving parents will want to get their young children vaccinated with the experimental COVID-19 MRNA shot amounts to "shameless propaganda," says a prominent epidemiologist at the University of California at San Francisco.

Dr. Vinay Prasad argues there is "no randomized data, nor even a single observational study that has shown a reduction in severe disease in this age group," referring to children from 6 months to 4 years old.

HHS posted the PSA with the message: "Nothing matters more than keeping them safe. If your child is 6 months or older, you can now help protect them from severe COVID illness by getting them a COVID vaccine. Talk to your child's doctor about vaccines and visit http://vaccines.gov."

But Prasad, writing on Twitter, said the Food and Drug Administration "should fine HHS for false advertising."

"It's really shameless propaganda to disguise the cold reality that there will be very poor uptake for this vaccine that was pushed through for political purposes," he said.

Prasad called the ad "government-sponsored misinformation from the administration seeking to police misinformation."
Actually, Moore's the one pushing misinformation. Prasad is not an epidemiologist; he's an oncologist and hematologist with no demonstrated expertise in virology (or pediatrics). The Science-Based Medicine blog has documented Prasad spreading confusion about the efficacy of masks and falsely accusing credible medical and government authorities of irrationally scaring [people about COVID, among other things. He has also likened reasonable efforts to contain the spread of COVID to Nazi Germany in a way considered by some to be anti-Semitic, which earned him a rebuke from a college where he spoke.Prasad is also tied to the Brownstone Institute, created by the folks behind the highly dubious Great Barrington Declaration.
Moore used an Aug. 29 article to give a platform to another COVID misinformer:
Alleging fraudulent data was used to create COVID-19 guidance, a student is suing Massachusetts officials after he was kicked out of law school for refusing to be vaccinated for the disease.

John Paul Beaudoin Sr. has named Republican Gov. Charlie Baker, the state public health commissioner and medical examiners in his suit, charging they submitted fraudulent data to the federal government, which then devised COVID guidance that was adopted by his school, the private Massachusetts School of Law.

Significantly, Just the News reported, Beaudoin alleges that many Massachusetts death certificates "wrongly list 'COVID-19' as a cause of death."

One of the examples he cites is that of 7-year-old Cassidy Baracka, whose Jan. 18 death was blamed on COVID complications. Beaudoin points, however, to a Jan. 15 report in the Vaccine Adverse Events Reporting System, or VAERS, which is run by the U.S. Centers for Disease Control and Prevention and the U.S. Food and Drug Administration.

The VAERS report states the child first became seriously ill "5 min post vaccination," or five minutes after receiving a COVID-19 shot.

The complaint states that the "fraudulent misrepresentations aggregate to support a false narrative" that has harmed Beaudoin and society by "convincing institutions to coerce people under color of law to take an experimental biological product."
Actually, there's more to the story of Baracka's death. The cause of the girl's apparently had not been officially determined at the time of her death -- making Beaudoin's citing of her more than a little dishonest -- but one week before her death, a Massachusetts Department of Children and Families representative visited her house and found "unsanitary and unsafe hoarding conditions,: bu the child died before a DCF social worker could visit the house. Also, our litigant appears to be using the ol' anti-vaxxer strategy of plucking numbers from the VAERS database while censoring the fact that nothing in it has been verified.
Speaking of our litigant: calling him merely a "student" is a touch misleading. Beaudoin is actually well into middle age; the ruling tossing out a previous lawsuit he filed to stop mask mandates in Massachusetts noted that he "purportedly suffers from a hearing impairment caused by an adverse reaction to a prophylactic treatment he received during the 'Hong Kong flu' outbreak in 1968." Moore didn't mention that one of his demands in the lawsuit is "a workspace in a state office and a robust computer with Excel" so he can rummage through state records and spend who knows how much time figuring out who actually died of COVID.
In short, a nuisance lawsuit filed by a right-wing crank -- you know, WND's readership.
Posted by Terry K. at 3:47 PM EDT