How Is Michael Brown Hating LGBT People Now?
Topic: WorldNetDaily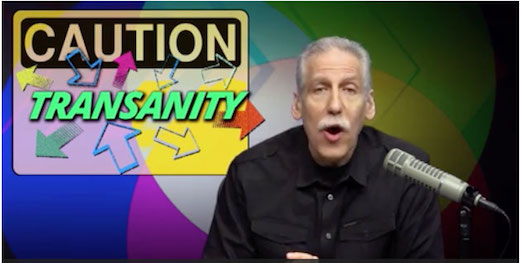 WorldNetDaily columnist Michael Brown loves to pretend that he really doesn't hate LGBT people, even though pretty much every action he takes reinforces the fact that he does. The hate has unsurprisingly continued over the summer. In his July 11 column following the Supreme Court's overturning of Roe v. Wade, Brown rooted for it to be followed by the banning of same-sex marriage as right-wing Justice Clarence Thomas advocated (and yet again falsely denying he hates LGBT people):
Before the Supreme Court's official decision to overturn Roe v. Wade was released, President Biden was already warning that same-sex "marriage" would be next. As he said in May, "It's not just the brutality of taking away a woman's right to her body ... but it also, if you read the opinion ... basically says there's no such thing as the right to privacy. If that holds ... mark my words: They are going to go after the Supreme Court decision on same-sex marriage." Was he right?

[...]

Personally, regardless of whose legal argument is right (in terms of Alito or Thomas), I do hope that the Court revisits the Obergefell ruling. But that is not because of animus I have toward gays and lesbians. It is simply because the Court had no business redefining marriage.

That decision should never have been in the hands of nine justices, nor is there any way under the sun our founders would have countenanced such a thing. Could you even imagine how the signers of the Constitution would react to such a scenario?

"Gentlemen, are you comfortable with the idea that, based on the division of powers you have outlined, the Supreme Court could one day redefine marriage so that two men or two women could marry each other?"

The question itself would not have even qualified as a poor joke. It would have been too ridiculous (and, plainly, distasteful) even to draw a smile.

[...]

As for the argument that "love is love," that is not the issue here, since it's not up to the court to determine what is and is not loving. Plus, most all of us would agree that some relationships should not be recognized by the courts or by society, no matter how loving they might be. (Included in this list would be adult, consensual, incestuous relationships, such as two gay brothers or a father and his adult daughter.)

And as far as loving relationships go, I have no doubt that there are thousands of gay couples who love each other dearly and deeply, even sacrificially. In fact, the Obergefell case itself involves a very touching story.

I am also acutely aware of how much the Court's ruling meant to same-sex couples throughout America, giving them a feeling of legitimization and respect.

I do not minimize any of this, especially as a follower of Jesus who genuinely cares about those who identify as LGBTQ+. They hurt and suffer pain and feel rejection like anyone else, and I don't relish the fact that my words seem hateful to them on the most visceral level.

But I am even more committed to honoring the God who created us male and female and who never intended for men to be with men and women to be with women. And I am sure that the Court's ruling in 2015 was a massive step in the wrong direction.

My hope is that it will not take almost 50 years to reverse Obergefell and, more fundamentally, that, just as America has shifted radically towards LGBTQ+ activism in recent years, the tide will turn here as well.
Brown is, in fact, minimizing gay marriage by demanding that their relationships must not be legally recognized.
Brown used his July 20 column to rant against transgender people and mocking how to describe them (while, again falsely claiming compassion for them):
On the other hand, the mainstreaming of this societal craziness is particularly shocking, especially when we think of the devastatingly destructive impact it has had on impressionable children. (For my recent article on this, see here.) How could so many people accept as normative something that is so very bizarre? (I say this with compassion for those who struggle with their gender identity while at the same time being convinced that hormone therapy and sex-change surgery are not the way to go.)

[...]

For example, the Cleveland Clinic website notes that, "While Afib can affect anyone, it's more common among people of European descent. However, Black people who have Afib are more likely to have serious complications such as stroke or heart failure. People assigned female at birth (AFAB) are more commonly diagnosed than people assigned male at birth (AMAB)."

So, there are even acronyms for these terms now, AFAB and AMAB. (I'm going to go out on a limb here and predict that these acronyms will not replace female and male in the long term.)

Couple these acronyms with the discussion about Afib, and the whole thing almost sounds like an Abbott and Costello parody.

"Doctor, do I have Afib?"

"First I need to know if you're an AFAB or an AMAB. This way I can tell you if you're an AFAB with Afib or an AMAB with Afib."

"But what if I don't have Afib?"

"Then you're an AFAB without Afib or an AMAB without Afib. But first tell me if you're AFAB or AMAB and then we'll discuss Afib."

Sarcasm aside, the very fact that doctors need to distinguish between "AFAB" and "AMAB" is because there is a difference between females and males, and that difference directly affects many health outcomes and treatments. Of course biology matters!
Brown ranted against same-sex marriage again -- and that some Republicans don't hate it as much as he does -- in his July 22 column:
As reported by Fox News on July 19, "A vote to codify same-sex marriage into federal law split House Republicans on Tuesday, with roughly a third of the GOP conference voting with Democrats in favor and the rest opposing.

"In a 267-157 vote, the House passed legislation repealing the Defense of Marriage Act and enshrining protections for gay marriage into federal law. Overall, 47 House Republicans voted with nearly every single Democrat to back the measure, dubbed the Respect for Marriage Act."

Let that sink in for a moment.

It is bad enough that this bill is called the "Respect for Marriage Act," seeing that the "marriage" of which it speaks represents a radical and fundamental redefining of the institution of marriage.

And it is to the shame of the Democratic Party that "nearly every single Democrat" voted in favor of the measure.

But it is no surprise that the Democrats voted this way, seeing that they are overtly and proudly pro-LGBTQ+. Perhaps the only surprise is that there were any who did not toe the line.

But for 47 Republicans to vote this way, representing almost 25% of all Republicans in the House, is both surprising and shameful.

That's because the Republican Party is supposed to be the pro-life, pro-family party, the party that upholds traditional Judeo-Christian values. Why else do so many conservative Christians vote Republican if not for these core moral and social values?
And, yes, he played his bogus compassion card:
Again, as I have said many times, by saying this, I do not mean that gay couples do not love each other deeply. And I do not deny that many of them are incredibly devoted parents. I simply mean that marriage throughout history, with the rarest and slightest exceptions (like Nero marrying a man who took on female characteristics), has always been the union of a male and female. And from a biblical perspective, the idea of two men or two women marrying would be utterly abhorrent.

For 47 House Republicans to vote to protect this new version of "marriage" is deplorable (in the worst sense of the word), regardless of what Republican senators decide to do.
Brown began his Aug. 19 column by huffing: "Just as we should have compassion on those who truly struggle with their gender identity, we should stand firmly against transgender activism. Thankfully, there are more and more signs that the tide is turning against this latest example of sociological contagion." Needless to say, the column contains much more transphobia than it does the "compassion" he falsely claims to have.HE continued to huff:
Thank God for a moment of sanity in the midst of today's cultural madness. And how telling it is that the school leadership was shocked by the response of the parents. Moms and dads, keep raising your voices!

[...]

The bad news is that some cultural commentators have been sounding the alarm about transgender radicalism for many years.

The good news is that society is waking up to reality.

The bad news is that many young lives have already been irreparably destroyed, at least physically.

Let us, then, do our best to hasten the societal turn by continuing to get the truth out. The time for doing that is now.
Brown is too consumed by anti-LGBT hate to be considered a credible source of "truth."
Brown spent his Sept. 19 column reminding readers that all non-heterosexuals must be hated, not just the transgender ones:
Whatever the cause, the fact is that, as much as opposition to transgender activism has increased, opposition to LGB activism has decreased.

This is a serious error, theologically, morally and practically, since the transgender movement is just the logical extension of the homosexual movement, the inevitable next step on the LGBQ trajectory.

[...]

Without any possible doubt, if we do not reaffirm our position that homosexual practice and same-sex relationships are sinful in God's sight and detrimental to society, we will lose the moral battle for our nation. If we do not reaffirm our belief that marriage is the union of a man and a woman, we will see a continued downward spiral into sexual and gender confusion.

There is nothing more fundamental to a society than the institution of marriage, and once you redefine that, you redefine everything. Once you say that biology does not matter when it comes to marriage, it's a small jump to say that biology doesn't matter when it comes to gender identity, and from there, it's an even smaller jump to putting children on puberty blockers and subjecting them to mutilating surgery. And once kids are raised in a same-sex environment with two mommies or two daddies, no matter how loving and caring those parents might be, it will bring confusion on the next generation.

[...]

Let us not deceive ourselves into thinking that by opposing radical transgender activism, we can stem the larger decline into sexual confusion, which itself is the natural fruit of the sexual revolution, which quickly went from hetero to homo to beyond.

By all means, let us truly love our neighbors as ourselves and practice decency and civility. But we can do that without affirming that which violates God's fundamental order and plan. To ignore the LGB while opposing the T is a shortsighted counsel of despair.
Brown didn't mention any of the purported compassion he has for the LGBT community -- perhaps he's finally understanding that he's lying to himself, and his readers, by claiming he has any.
Posted by Terry K. at 5:19 PM EDT