MRC Flip-Flops On Kansas Abortion Vote
Topic: Media Research Center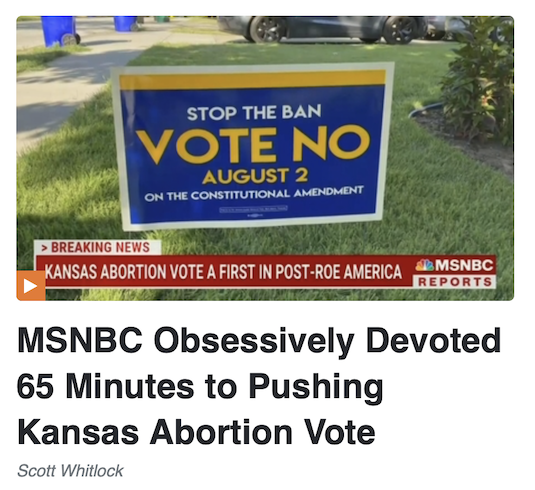 The Media Research Center has been more than a bit sensitive about a vote in Kansas on a proposed constitutional amendment that would allow the state to ban abortion. When questions rose about the amendment's confusing language -- in which one must vote no to say yes to keeping the current rigtht to an abortion, and vice versa -- Alex Christy rushed to defend it in a July 23 post:
Kansas's wording is not that confusing. The question is "the constitution of the state of Kansas does not require government funding of abortion and does not create or secure a right to abortion."

If voters are genuinely confused by the inclusion of word "not," then right beside the question on the state's official voter guideon the question is the meaning of yes and no votes. The measure also has to be worded that way, because pro-lifers are seeking to amend the state constitution in response to a Roe-like Kansas Supreme Court ruling.
Christy offered no proof that this was the reason the amendment "has to be worded that way." Indeed, given that the amendment is driven by right-wing anti-abortion ideologues, the confusing language is meant to be deliberate.
Christy returned for serve up the same unsupported defense in an Aug. 2 post complaining that "CNN Newsroom host Alisyn Camerota teamed up with pro-abortion activist Ashley All of Kansas for Constitutional Freedom to accuse pro-lifers of using trickery in the wording of the ballot measure.":
It is one thing to say this could be confusing, it is another to say this was some malicious trick played by pro-lifers, but that is exactly what Camerota suggested, "Is this intentionally convoluted?"

The correct answer is no. The Kansas Constitution, like the federal constitution, does not mention abortion anywhere, but that didn't stop the state supreme court from saying that it does. Therefore, any amendment to reverse the Kansas Supreme Court's ruling is going to have to include the word "not." Any confusion is the fault of the activist court.

However, CNN viewers are not provided access to such inconvenient facts.
Again, Christy did not back up his claim, nor did explain how the Kansas Supreme Court was "activist" in issuing its ruling.
When the anti-abortion amendment was decisively defeated, the MRC switched to complaining that the defeat was considered news. Scott Whitlock complained in an Aug 3 post:
On Tuesday, a pro-life referendum in Kansas went down in defeat that would have removed abortion rights from the state's constitution. Showing that there's no bigger supporter of the abortion agenda than the liberal media, MSNBC devoted a whopping 65 minutes to touting the vote. And that was just in a 12 hour span.
Whitlock quickly shifted to the MRC's usual whataboutism to distract from the anti-abortion movement's 50 years of violence and murder:
At 7:21 p.m. Eastern, far-left host Joy Reid talked about Kansas for 10 minutes and 51 seconds. She assailed the threat of violent pro-lifers: "Anti-abortion violence is a current domestic terrorism threat that began in the early 1970s. We're talking vandalism, arson, bombing, along with threats of harassment and intimidation."

In reality, it's pro-abortion terror groups like Jane's Revenge that fire bombed and committed arson against pro-life pregnancy centers. Of course, journalists weren't interested in covering that.
Curtis Houck similarly complained that news shows were covering news in another post that day, which he bizarrely and hatefully described as a "celebration of murder":
The broadcast networks of ABC, CBS, and NBC were ebullient Wednesday morning as they basked in what they deemed a "resounding victory" and "earthquake" for abortion in Kansas as there was a "massive show of support" to defeat a referendum that would have given the state legislature the power to enact pro-life measures in the Sunflower State.

ABC's Good Morning America co-host Robin Roberts hyped that "voters...[made] a statement about abortion rights" that would have "remove[d] protections" for women to kill their unborn child. Currently, Kansas law bans abortion after 20 weeks.

Co-host and former Clinton official George Stephanopoulos called it a "surprising" result on a referendum that must have "triggered a strong backlash" in "a deep red state where there are far more Republicans than Democrats."

Nowhere in ABC's coverage (and on CBS and NBC) was the fact mentioned that not only does Kansas have a Democratic governor, but three of the last five have been Democrats.
Houck failed to mention the fact that the Kansas legislature is dominated by Republicans.
When "so-called 'Republican' Ana Navarro" quipped on CNN that the amendment lost because "Republicans have young girls, young daughters who get pregnant too. Because Republicans have mistresses," the humor-impaired Kevin Tober refused to find that funny:
Of course, Navarro never explained how this amendment would take rights away. Neither did she provide any statistics that prove there are enough voters with "mistresses" to defeat a statewide ballot initiative. Nor did she explain what the two have to do with each other.

[...]

Nobody should be surprised at Navarro's hateful and fact-free comments. One only has to be reminded that she once proclaimed that children in foster care and her disabled relatives should've been aborted<. This is the kind of person she is. She's perfect for CNN & The View.
Christy was tapped for an Aug. 4 post again omplaining that news was reported:
The three main broadcast networks spent Thursday morning hyping the defeat of a pro-life Kansas ballot measure as "blowback" for the Supreme Court's Dobbs ruling, left conservatives "flat-footed," and has the potential to motivate Democrats to vote in November.

CBS Mornings/em> was the worst offender. Host David Begnaud introduced a report by Steven Portnoy by hyping, "The backlash to the Supreme Court's decision to throw Roe v. Wade has taken on new shapes. One day after Kansas voters rejected a measure to remove abortion rights from the state's constitution, President Biden announced a new executive order to assist abortion seekers."

As part of his recorded report, Portnoy declared, "The loss has left conservatives flat-footed."
Christy then tried to downplay the importance of the vote by insisting that Kansas merely voted to keep the status quo:
Portnoy also played up the idea that the Kansas vote proves Republicans are in trouble, "he defeat of the proposed constitutional amendment which was aimed at undoing the effects of a state Supreme Court decision girding abortion rights shows not only how the issue has galvanized Democrats, but how it could also threaten Republicans."

To try to prove his point, Portnoy showed counties that voted for Donald Trump also voted against the amendment. For CBS, this shows abortion is popular, as University of Kansas political science Prof. Patrick Miller explained, "To those of us who watch politics, that abortion is not as polarizing as really we think… On this one issue when they were allowed the opportunity to vote on abortion they did so, and they expressed their preference."

Kansas voted to leave things the way they are; it did not vote to embrace the Democratic line of no restrictions. If pro-lifers had put forth a more specific question, the results could've been very different.

Still, Portnoy then highlighted the four states that will have abortion-related ballot measures in November. One of those is Montana, where "Republicans have proposed an amendment requiring care for any infants that might survive attempted abortions."
Surely, that cannot be considered controversial. No doubt the media will still try.
Well, yes, it can be considered controversial when those protections already exist and the the apparent goal of such legislation is to scare doctors out of performing abortions.
An Aug. 4 post by Jorge Bonilla began by ranting taht "Univision's report on the Kansas ballot initiative regarding abortion simultaneously managed to disinform viewers, promote a pro-abortion agenda, and undermine our democratic institutions. It is not surprising, then, that Hispanics continue to lose trust in corporate media." Bonilla then contradicted his employer's previous narrative on ballot language by arguing the initiative lost because anti-abortion activists were confused:
Furthermore, no explanation is given with regard to the confusing ballot language, which was essentially a double negative and could've easily led a number of pro-lifers to believe that they were voting to ban abortion.
So now the amendment's language is an issue because anti-abortion forces lost? Bonilla didn't mention that anti-abortion forces wrote the amendment.
Posted by Terry K. at 9:57 PM EDT