MRC's Sports Bloggers Continue Their Anti-Vaxxer Stances
Topic: Media Research Center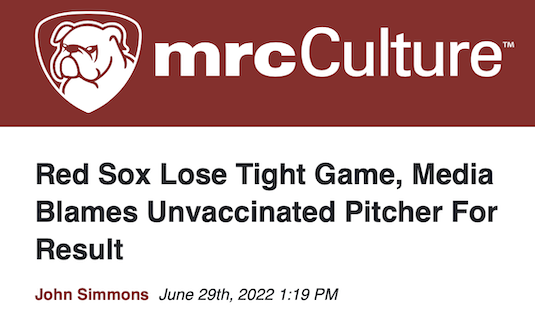 The COVID pandemic may be starting to fade, but the Media Research Center's sports bloggers kept up their factually deficient anti-vaccine stances over the summer and cheered athletes who selfishly refused to get one.
In a July 29 post, John Simmons cheered the selfishness of a Boston Red Sox pitcher who may have cost his team a win because he refused ot get vaccinated and, thus, could not join his team when they played in Toronto because Canada requires visitors to be vaccinated:
Last night, the Toronto Blue Jays defeated the Boston Red Sox, 6-5, thanks to a walk-off single by first baseman Valdimir Guerrero Jr in the bottom of the ninth. The close loss itself was frustrating for Sox fans and media, but Boston sports reporters are furious at the outcome for another reason.

Pitcher Tanner Houck has earned the role of closer for the Red Sox in recent weeks, and currently has six saves on the season. But he was not available to close out the tight game for the Red Sox on Tuesday because he is unvaccinated, and Canada still has strict vaccination laws in place. Houck has not traveled with the team to Canada this year and cannot until he is vaccinated or Canada comes to its senses.

Houck has made his choice in the name of personal freedom -- something all Americans should do -- and is currently not violating any MLB regulations regarding the vaccine (the MLB required coaching personnel to be up to date with booster shots at the start of the season but did not require that for players). But even that wasn't good enough for the infamously ruthless Boston sports media, who viciously tore apart Houck on Twitter for "forsaking his team" and ended up blaming the loss on him.

[...]

So the media can blame Houck all they want and try to make him feel guilty for his decision, but it's not his fault and he should be respected for how he is carrying himself. The Red Sox will simply have to find a way to win without him in Toronto.
Simmons offered no valid reason why it's some sort of bold and principled stance for Houck to refuse to get vaccinated, especially given that his teammates did the responsible thing and got vaccinated without any apparent ill effects-- and, no "personal freedom" is not an excuse, especially when Simmons attacks other athletes who express their personal freedom via political views (that he opposes) that have no effect whatsoever on what happens on the field or court.
Simmons defended another selfish baseball player who couldn't play in Toronto in a July 14 post:
The Philadelphia Phillies will conclude their two-game series in Toronto against the Blue Jays tonight, but they've done so without four of their top players. Catcher J.T. Realmuto is one of them, but he doesn't regret his decision to remain unvaccinated.

"I'm a healthy 31-year-old professional athlete, and I just didn't feel a need to get [the vaccine]," he said. "I've had COVID a couple of times [with] super-mild symptoms back when it first came out, and when it came time to decide whether I needed the vaccine or not, I talked with doctors that I knew and told them my story and just really decided I didn't think I needed it. I wasn't gonna take it just 'cause I was told to, basically."

Realmuto's logic echoes that of Boston Red Sox pitcher Tanner Houck, who was also barred from crossing into Canada in recent weeks due to his unvaccinated status.

Like Houck, Realmuto has been subject to the media trying to frame him as a disloyal teammate. Thankfully, those within the Phillies clubhouse are coming to the aid of their catcher, whose opinions are the only ones that Realmuto should concern himself with.
Again, Simmons cited no evidence that any other responsibly vaccinated Phillies player has suffered any ill effects from the vaccine, which undercuts any argument Realmuto is making.
Simmons spent an Aug. 31 post whining that the NBA will keep some COVID testing protocols:
The National Basketball Association (NBA) is run by idiots.

The league released a memo stating that all unvaccinated players and team personnel will have to ndergo weekly testing, although there is some nuance to the mandate. The announcement tracks with what commissioner Adam Silver said at a meeting in July in which he expected the league to do before the season kicks off in October.

"It looks like we'll be on our normal track in terms of when the season starts, in terms of our protocols around the game, particularly around the health and safety of our players," Silver said at the NBA's Board of Governors meeting in mid-July. "I have learned over the last 2 1/2 years not to make any predictions when it comes to COVID, but only to say we'll be prepared for anything that comes our way."

Anything, that is, except for the Center for Disease Control's (CDC) announcement earlier this month.

Despite lying to the American public for nearly three years about the "benefits" of getting vaccinated and the "risk" of not doing so, the CDC announced that there is no difference between unvaccinated and vaccinated individuals with regard to the coronavirus.

[...]

Mind you, this is the same league that made Kyrie Irving an outcast because he did not want to get vaccinated, and that ridiculed anyone who did not hop on board with the social justice bandwagon they unashamedly support. So it makes sense that the league would take this step even though there is absolutely no need for it anymore.

It's commonplace for the NBA to make stupid decisions these days, but even this is quite ridiculous for a league led by morons.
Only in thehfevered, hateful brain of Simmons is trying to protect people from a pandemic that has killed more than1 million Americans be considered ridiculous and moronic.
By contrast, Simmons cheered in a Sept. 21 post that "Reports suggest that Canada will likely drop its vaccine requirements for people entering the country by the end of the month. Should this become official, it will undoubtedly be great news for unvaccinated athletes that, to this point, have been prevented from playing games in Canada."
Fellow sports blogger Jay Maxson -- who wrote a post earlier this year filled with falsehoods about athletes purportedly dying because of the COVID vaccine, a post that remains live and uncorrected at this writing-- also worked to portray unvaccinated athletes as victims instead of the selfish players they are. He (or she) complained in a May 15 post that NBA star Kyrie Irving is paying the price for his selfishness:
Unvaccinated and politically incorrect, Brooklyn Nets basketball star Kyrie Irving is on the verge of losing his lucrative Nike contract. ESPN reported that Nike is unlikely to extend Irving's signature shoe deal beyond the 2022-23 season due to "uncertainties surrounding his NBA future." Also, the Nets are non-committal on giving the seven-time all-star a long-term contract.

Irving has a long history with Nike, and his basketball shoes are one of the top-selling Swoosh products. The talented guard ran afoul of woke vaccination nuts in New York and Canada during the 2021-22 NBA season and he was only allowed to play in road and playoff games. He and Nike appear headed for a divorce.

[...]

Who caused COVID-related turbulence in America's workplaces? The government and corporations threatening the livelihoods of many employees by taking a vaccination-or-get lost attitude. This despite a 98.8-percent survival rate of COVID sufferers.
Maxson unsprisingly didn't mention that nearly one in five Amercians who have contracted COVID have lingering symptoms for weeks or months -- known as long COVID -- or that vaccines can reduce the risk of long COVID.
Another consequence of being unvaccinated is people making less-than- charitable remarks about it, and Maxson was upset in an Aug. 8 post when NFL star Aaron Rodgers -- whom Maxson defended after he lied to American about his vaccination status -- got humorously called out for it to his face:
It's been a year since Green Bay quarterback Aaron Rodgers told the world he had been inoculated – but not vaccinated – against COVID. When he contracted the coronavirus in November, media ganged up on him en masse and cancelled him. Based on Rodgers' remarks today he's still smarting from that attack and is in no joking mood about the firestorm that surrounded him last year.

Rodgers appeared today on the Barstool Sports podcast Pardon My Take, hosted by Dan "Big Cat" Katz and Eric Sollenberger. They made a joke about the extremes the media went to in canceling him.:

How many people do you think you killed? What's your count?

How many grandmothers? Let's just do grandmothers.

Those questions struck a very raw nerve, and Rodgers shot back, "I mean, I know you guys are fucking around but I don't find that part funny. I really don't."

Upon hearing Rodgers' reaction, Katz responded, "Oh shit. It actually is one of my favorite things I was able to do off of that whole immunization thing is tweet that you should be in jail.

"I would have people who'd get the joke and then there would be like a ton of people who'd be like, 'Oh, you like — you think COVID is so real, he should be in jail.' And it was just, my mentions would just be a mess!"

Rodgers recalled the vitriol of last year when he was practically branded a public enemy for exposing people to COVID, quipping, "And probably a lot of people said, 'Fuck, yeah, put him in jail — Get that liar in jail.'"
Note how Maxson downplayed the fact that Rodgers lied to people about his vaccination status with the dishonest claim that he was :"inoculated," which he wasn't. Maxson simply repeated that "Rodgers said he was allergic to the Pfizer and Moderna mRNA vaccines, and he did not trust the Johnson & Johnson vaccine either" -- though no proof was ever offered to support his claim.Maxson then touted how Rodgers owned the libs by 0checks notes] catching COVID:
Rodgers got the last laugh on the media cancel mob. He contracted the coronavirus in November, missed a game, but eventually won the NFL's 2021 Most Valuable Player award. The Packers won their division and made the playoffs, disproving he was an unvaccinated super-spreader.
Of course, if Rodgers had gotten properly vaccinated, there's a good chance he would not have caught COVID and he wouldn't have missed a game.
Maxson served up more vaccine misinformation in an Aug. 23 post:
The YES Network broadcasts New York Yankees baseball games, but its public brand looks like a big fat NOOOOOO. This is the television outfit which has confined broadcaster and Yankees' legend Paul O'Neill to his Ohio home since COVID hit 2 ½ years ago. He's not vaccinated, and that's still considered a problem by his neanderthal employer. ;

When O'Neill appeared Sunday at Yankee Stadium to have his No. 21 retired, the unenlightened NO folks and the team refused to allow him to approach the players. They could just as well have colored his shirt number and Yankee logo scarlet red.

Vaccines have proven unreliable, and if you don't believe so, just ask President Joe Biden, who's been vaccinated and boostered to the hilt, but still caught COVID twice. Or the CDC, which says unvaccinated people now have the same guidance as vaccinated people.
In fact, while the previous generation of COVID vaccines offered less protection from catching COVID as the virus mutated into the Omicron variant, they do reduce the risk of hospitalization and death, even among those who have previously caught COVID -- hardly "unreliable." And the new generation of vaccines should do a better job of catching the Omicron variant.
Then again, Maxson is a proven COVID vaccine misinformer and has amply demonstrated that he )or she) shouldn't be trusted on medical issues and should perhaps stick to ranting about sports.
Posted by Terry K. at 9:03 PM EDT
Updated: Monday, September 26, 2022 11:59 PM EDT