Nixon Revisionism: MRC Cheers His Media Hatred, Complains That He Was Besmirched
Topic: Media Research Center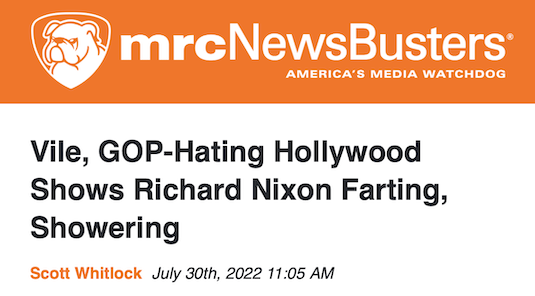 The Media Research Center has been peddling Watergate revisionism for some time in order to portray Richard Nixon as a victim. Mark Fionkelstein served up a mocking version of this in a July 12 post in a discussion of Donald Trump's apparent crimes:
Those old enough to remember Watergate, or who have studied it, know just how hyperbolic the liberal media and the Democrats were in terms of the threat to democracy they claimed Nixon posed.

[...]

As you'll see, the liberal media are now prepared to let Nixon off with a parking ticket! Liberals today are happy to soft-pedal the seriousness of Nixon's misconduct—in order to emphasize the gravity of Trump's alleged culpability for January 6th.
Going hand in hand with that is Nixon revisionism. A July 16 post by Scott Whitlock recalled Nixon's petulant 1962 press conference after his loss in an election for California, the one on which he infamously whined that "you don't have Nixon to kick around any more, because, gentlemen, this is my last press conference."Whitlock didn't mention that or his overall petulance, of course; the point was to proclaim that Nixon was right about media bias:
As conservatives gear up for a contentious midterm election, Republicans such as Ron DeSantis have been battling the bias and dishonesty of the press. As those on the right know, it's not a new complaint. But it predates 2022, as well as Donald Trump, George W. Bush, George H.W. Bush, and Ronald Reagan. Way back on election night in 1962, after Richard Nixon lost his bid to be governor of California, he called out the liberal slant of the press.

In the so-called "last press conference," Nixon blasted the assembled reporters, highlighting his days as an anti-communist crusader: "For 16 years, ever since the Hiss case, you've had a lot of- a lot of fun...You've had an opportunity to attack me and I think I've given as good as I've taken." He lectured the press: "If they're against a candidate, give him the shaft, but also recognize if they give him the shaft, put one lonely reporter on the campaign who will report what the candidate says now and then."

Showing just how long the liberal press has been a problem, Nixon argued:

I would hope that in the future, as a result of this campaign, that perhaps they would try at least simply to see that what both candidates say is reported, that if they have questions to ask of one candidate they ask the same questions of the other candidate.
Whitlock didn't mention that Nixon "acknowledged well into his remarks that the Cuban Missile Crisis in October 1962 did not allow his campaign to get his message across during the final two weeks in his election bid" -- which would seem to undercut his media bias complaint.
When Nixon was unflatteringly depicted in a TV miniseries, Whitlock returned to comolain in a July 30 post:
The vile new TV series Gaslight has mercifully ended. The show, centered around Richard Nixon and the Watergate burglary, went out in gross fashion. Even considering how Hollywood hates Republicans, the Starz series went way beyond, finding it necessary to feature Nixon farting, showering, and a shot of his bare behind.

Those images, such as a scene of Nixon tucking his t-shirt into his underwear, were contrasted with shots of the Lincoln Memorial, the Washington Monument and the overall grandeur of the White House.

In case you were too dense to understand the metaphor, the show's creators decided to spell it our for you. Farting/naked Nixon was unworthy of such a high office. Get it?
First, Whitlock got the name of the series wrong -- it's called "Gaslit." Second, rather than engage in any actual defense of Nixon -- perhaps because he knows he can't -- Whitlock instead plays whataboutism by detailing "a few of the things alleged sex predator John F. Kennedy is accused of doing in the White House." Which would make sense if JFK was mentioned in any form in the miniseries -- but he offers no evidence of that. Instead, more whining ensued:
In 2011, the History Channel willfully complied with the Kennedy family to remove a miniseries that portrayed the family negatively. It wasn't until 2018 that Hollywood got around to making a movie about Ted Kennedy and Chappaquiddick.

So don't expect a movie or TV series tearing down JFK as a bullying, disgusting sex monster who destroyed the majesty and dignity of the White House. The legend must be preserved.
Whitlock, by the way, did not explain exactly what was "vile" about the series -- no MRC writer reviewed it, let alone complained about it.
Posted by Terry K. at 3:04 PM EDT