CNS Attacks Pelosi Again On Abortion
Topic: CNSNews.com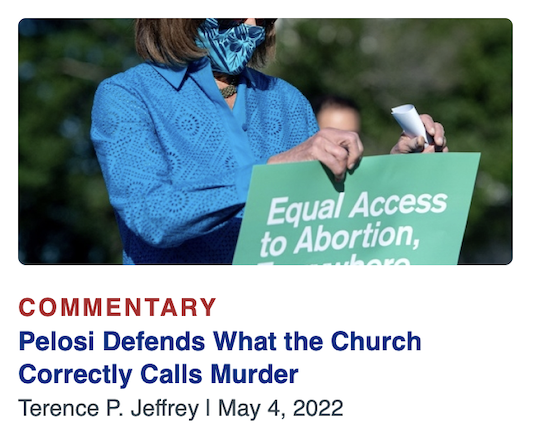 As with Joe Biden, one of CNSNews.com's favorite pastimes is to lash out at Nancy Pelosi for refusing to impose her Catholic faith on the entire country on the issue of abortion. And as with Biden, the leak of a draft opinion by Supreme Court Justice Samuel Alito that would overturn Roe v. Wade gave CNS an excuse to bash Pelosi anew. And editor Terry Jeffrey did jsut that in his May 4 column:
Pelosi immediately released a statement condemning the court's apparent intention to overturn Roe — and suggesting that aborting a child is part of "the fundamental human right to reproductive care."

"Democrats believe that every woman everywhere has the fundamental human right to reproductive care, one that is not limited by background, income or zip code," said Pelosi. "Her health decisions, including whether or not to terminate a pregnancy, belong to her."

Overturning past decisions that declared the killing of unborn babies a right, Pelosi argued, would "erode the legitimacy" of the court.

"In brazenly ignoring 50 years of its own precedent, the United States Constitution and the will of the American people, this draft ruling would seriously erode the legitimacy of the Supreme Court in the eyes of the American people," she said. "Upholding the rule of law and maintaining the faith of the people require that the Court allow Roe to remain the law of the land."

Who is correct about abortion? The Catholic Church, which calls it murder? Or Nancy Pelosi, who calls it a right?

The church is right. Pelosi is wrong.
Susan Jones complained in a May 9 article:
House Speaker Nancy Pelosi (D-Calif.) devoted part of her Mother's Day to an interview with Margaret Brennan, host of CBS's "Face the Nation." The topic was abortion -- the leak of a draft Supreme Court ruling that would overturn Roe v. Wade and send the issue back to the states to decide.

"This is about something so serious and so personal and so disrespectful of women," Pelosi said:

[...]

Pelosi said the leaked Supreme Court majority draft opinion "puts an urgency on what's happening in the election. Two more -- one or two more senators could sweep back the filibuster rule for this purpose, and then women would have a right to choose."

Pelosi also claimed that "most people always thought that this debate in the Congress was about the termination of a pregnancy, but it wasn't."

Pelosi said the debate is about "family planning."
Jones further complained in a May 16 article that Pelosi said "the possible reversal of the Supreme Court's Roe v. Wade ruling must be put 'in perspective.'" An anonymously written article later that same day rewrote Jones' piece to emphasize sonmething else Pelosi said:
"And I say this as a practicing, devout Catholic: five children in six years and one week," Pelosi went on to say. "I don't disrespect people's views and how they want to live their lives. But I don't think that it's up to the Donald Trump appointees on the Court or any politicians to make that decision for women.

"I will just say what I have been saying for decades," she said. "Understand this. This is not just about terminating a pregnancy. This is about contraception, family planning. They have been against it."
CNS didn't explain why a single TV appearance by Pelosi warranted two articles when both said basically the same thing.
Posted by Terry K. at 12:36 AM EDT