CNS Fights Conservatives' Reduced LGBT Hate
CNSNews.com and its LGBT-hating managing editor have been lashing out at a popular conservative conference and even the Republican Party itself for not banning gays and atheists.
By Terry Krepel
Posted 2/7/2022
---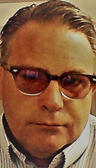 Michael W. Chapman
The star of CNSNews.com's coverage of the 2021 Conservative Political Action Conference -- a major event for right-wing conservatives perhaps best known around these parts for Brent Bozell, leader of the CNS parent the Media Research Center, petulantly forcing his MRC employees to quit the 2012 conference because he wasn't given a sufficiently prominent speaking slot -- was former President Trump, whose election fraud falsehoods during the speech CNS refused to fact-check despite finding "3 errors in 12 seconds" from President Biden a week or so earlier. But CNS' CPAC coverage was bookended by attacks on the conference for not being far-right enough-- which is to say, it failed to hate non-Christians and, more importantly, LGBT people as much as CNS does.

A Feb. 23 article by Craig Bannister complained that "Log Cabin Republicans, which bills itself as 'the nation's largest Republican organization dedicated to representing LGBT conservatives and allies,' will exhibit at this week's 2021 Conservative Political Action Conference (CPAC)." The next day, managing editor Michael W. Chapman hectored CPAC for allowing -- gasp! -- atheists to take part, launching into a petulant lecture:
The Conservative Political Action Conference (CPAC), which occurs annually, bills itself as the "largest and most influential gathering of conservatives in the world." Yet one of the exhibitors at this year's conference in Orlando, Fla., is Atheists for Liberty, a group that rejects God and His permanent moral order, the natural law, which are fundamental to conservatism.

As Thomas Jefferson, a deist, wrote – and which is paraphrased on the Jefferson Memorial – "[C]an the liberties of a nation be thought secure when we have removed their only firm basis, a conviction in the minds of the people that these liberties are the gift of God? That they are not to be violated but with His wrath? Indeed, I tremble for my country when I reflect that God is just: that his justice cannot sleep forever."

The liberties of a nation are a gift from God. Without God, there is no liberty. This is an essential tenet of conservatism. Its genesis can be traced back to Plato and the Old Testament.

[...]

If we reject God and act contrary to our nature, then our own liberty dissipates. The state or government that rejects God will similarly see its liberty diminish and eventually disappear. Recent historical examples of nations that rejected God and slid into genocidal tyranny include the Soviet Union and Communist China.

There is no liberty without God. Conservatives know this.

Atheists for Liberty is preposterous, like Racists for Equality. It doesn't make sense. And it is not conservative, which could explain why the group is exhibiting at the 2021 Conservative Political Action Conference.
Chapman's boss, Bozell, also lashed out at an atheist group being invited to CPAC in 2014.
After the conference ended, Chapman attacked CPAC again for giving an award to an "openly gay" man. And he was in a complaining mood once more, going on to rant about how Trump didn't hate gay people enough as much as he does:
Although CPAC is the "conservative" action conference, it does not hesitate to recognize and promote homosexuality. In addition to honoring Scott Presler, CPAC, as it has done for many years, permitted the Log Cabin Republicans to exhibit their materials at the conference.

[...]

Although the issue did not get a lot of press during President Trump's term in office, it is no secret that he is a strong supporter of the LGBT community and made efforts to hire and promote homosexuals in the federal government.

For instance, President Trump named Richard Grenell as ambassador to Germany. Grenell, who is gay, lives with his long-time partner Matt Lashey. Trump later promoted Grenell to acting director of the Office of National Intelligence. Grenell also served as Trump's senior adviser on LGBTQ outreach, an initiative in 2020 called Trump Pride.

On Twitter, Grenell praised Trump as "the most pro-gay president in American history."

Trump supports same-sex marriage. As president, he pushed a policy to help end the criminalization of homosexuality worldwide. He also made it possible for uninsured gays to get a pre-HIV medicine for free.

In addition, Trump nominated lesbian Mary Rowland to the federal bench in Illinois; she was confirmed by the Senate. Trump judicial nominee Patrick Bumatay, who is gay, was confirmed by the Senate.
Given Chapman's well-established record of using his CNS "news" platform to spew hate at the LGBT community, it's not a surprise to learn that CNS previously attacked Grenell. It had originally stayed mostly silent when Trump had earlier named Grenell to be ambassador to Germany, even though their Media Research Center colleague, Dan Gainor, helped get Grenell ousted from his position as a spokesman for Mitt Romney's 2012 presidential campaign after declaring that having a spokesman who's gay was "not conservative." It wasn't until Grenell, while still ambassador, was made the leader of a planned Trump administration effort to decriminalize homosexuality in other countries that CNS made note of Grenell's sexuality, pointing out that he was "the highest profile openly gay person in the Trump administration."

CNS initially stayed silent when Grenell was first nominated to be DNI chief in February 2020, with Susan Jones noting only that "Trump critics fumed that Grenell is a partisan operative, a political stooge, who knows nothing about national intelligence." But two weeks later, someone at CNS finally remembered that Grenell is gay and unleashed an anonymously written item carried the headline "Trump Makes Gay Man With Same-Sex Partner Acting Head of U.S. Intelligence Community" and complained that "when Vice President Mike Pence swore-in Grenell as ambassador to Germany, he welcomed the presence of Grenell's 'partner,' Matt Lashey. Lashey held the Bible that Grenell put his hand on when he took the oath to God to uphold the Constitution and faithfully perform the duties of his office." A few days after that, another anonymously written article was aghast that Grenell said in an interview that that being gay makes him a better Christian.

ConWebWatch has noted how CNS also repeatedly bashed Bumatay for failing to be heterosexual upon his nomination as a judge. in a January 2020 article, the anonymous writer was still complaining about Bumatay's nomination, fuming that he "introduced his same-sex husband and their twin baby daughters when he appeared before the Senate Judiciary Committee for his confirmation hearing" three months earlier.

Nearly a week after the conference ended, Chapman served up one more attack, featuring in a March 5 article how "During a breakout session at the Conservative Political Action Conference (CPAC) on Feb. 27, pro-life activist Abby Johnson chastised the event for doing little to promote conservatism's inherent ties to religious faith, for not defending traditional marriage, and for permitting morally subversive groups like the Log Cabin Republicans and Atheists for Liberty to exhibit at the conference."

With the summer edition of CPAC in July, it was outraged again. An anonymous CNS writer complained in a July 10 article:
The 2021 Conservative Political Action Conference, which is being held this weekend in Dallas, Texas, will feature two speakers who are self-professed gays.

Former acting Director of National Intelligence Ric Grenell, who also served as ambassador to Germany, had an on-stage "conversation" with American Conservative Union President Matt Schlapp on Saturday morning. Radio talk show host Tammy Bruce will moderate a panel discussion on Sunday that is entitled "Fuel for Thought" and will look at energy policy issues.
The anonymous writer never explained why Grenell's and Bruce's appearances were problematic beyond singling out their sexual orientation, though the headline of the article put "Conservative Political Action Conference" in scare quotes without further explanation.
The only coverage CNS gave the actual CPAC itself was for Donald Trump's speech, which somehow warranted two articles from Susan Jones:
Neither Jones article noted what actual news outlets did: that Trump repeated his usual false and never-proven claims that the presidential election was stolen from him.
GOP Pride Coalition meltdown
CPAC wasn't the only conservative group CNS was lashing out at for refusing to hate LGBT people to its satisfaction -- it got mad that this failure to hate has crept into the Republican Party itself. A Nov. 8 article by Megan Williams started off innocuously:
The Republican National Committee (RNC) announced its partnership with the Log Cabin Republicans at Donald Trump's Mar-a-Lago resort this weekend, creating its first "Pride Coalition," which will invest in and mobilize LGBTQ+ communities ahead of the 2022 midterm elections, Fox News reported.

The Spirit of Lincoln Gala, held at Mar-a-Lago in Palm Beach, Florida was hosted by the Log Cabin Republicans, an organization representing LGBTQ conservatives and their allies, on Saturday night.
Williams balanced that with a couple right-wing gay-haters:
However, some conservatives have expressed their disagreement with the RNC's new partnership.

Daily Wire contributor Matt Walsh tweeted how the Republican Party was simply adopting the left's social agenda.

"If the Republican Party is going to fully embrace leftist sexual identity politics, then it officially serves no purpose," Walsh wrote.
Walsh was touted by the MRC when he pretended to move to a county in Virginia for the expressed purpose of spewing anti-LGBT hate at members of the local school board.
By the end of her article, though, Williams had gone into full hate-editorial mode:
Other conservatives have often explained that there is no such thing as a "gay conservative," because homosexual behavior is contrary to Nature and the natural law, which follows God's design in the physical world. "So God created man in His own image, in the image of God He created him; male and female He created them." (Gen. 1:27)

Homosexual behavior and its acceptance and promotion contribute to the destruction of the entire natural order, and therefore cannot be conservative but always revolutionary.
This got the attention of the powers that be at CNS. In response, it published a Nov. 11 column by the Family Research Council's Tony Perkins attacking the party for creating the coalition while pretending he's not as homophobic as he actually is:
A good number of people, myself included, have no problem if people who identify as gay or lesbian want to join the Republican Party. What we object to is RNC leaders hanging a flashing neon sign over the entrance saying, "We support the LGBT cause," because we don't. The GOP platform made that abundantly clear in 2016 and again in 2020. And if prominent Republicans who live that lifestyle are saying "we're not going to make sexual orientation be the be-all, end-all, center of everything that we do," then what exactly is the point of this PR campaign? Certainly not to endear the RNC to parents, the GOP's greatest new ally, or longtime conservatives, who've been fighting for decades to keep this extremism at bay.

[...]

Obviously, there are Republican leaders, many of whom I know and respect, who haven't made their sexuality a defining issue. But the sad reality is, they can't help but open the door for others who will. History shows that statements like this -- even innocent ones -- have laid the groundwork for sweeping change. And while people at the Log Cabin Republicans or RNC may not have that intention, it will almost certainly be the outcome if more conservatives don't stand up and remind Republican leaders that we already have one Democratic Party. We don't need two.
That was quickly followed by an article from Chapman rehashing Perkins' column and throwing in some additional hate from Walsh and bashing an openly gay GOP player:
Responding to gay Republican Richard Grenell, a former top Trump administration official who attended the Log Cabin gala, Walsh tweeted, "I'm not going to ask permission privately before stating my opinion. I think 'gay pride' is leftist sexual identity politics bulls**t and has no place in any conservatism I recognize. It also won't succeed in attracting the voters you're going after. But don't let that stop you."

At the gala, Grenell gleefully denounced conservative Pat Buchanan and his 1992 culture war speech at the Republican National Convention.

In that speech, Buchanan defended the family, real marriage, parental rights, religious freedom, school choice, the police, a strong national defense, and the right to life from conception to natural death. Buchanan also denounced abortion, pornography, and so-called gay marriage.
Chapman failed to disclose that his boss, CNS editor Terry Jeffrey, worked for Buchanan's presidential campaigns in 1992 and 1996.
The latest from