The MRC's Squeeing Over Musk's Purchase Of Twitter Continues
Topic: Media Research Center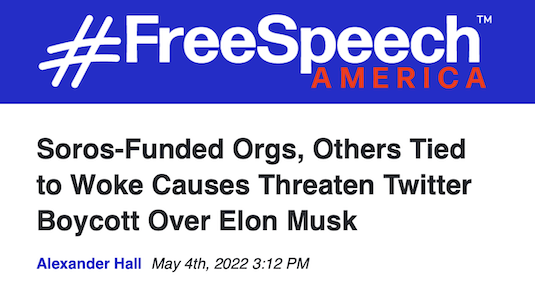 As part of the Media Research Center's orgasming over the prospect of Elon Musk buying Twitter, Alexander Hall played the inevitable George Soros boogeyman card in a May 4 post:
Twenty-six organizations signed a letter warning that the Twitter takeover by Tesla founder and free speech advocate Elon Musk will ruin the platform.

How the tables have turned! Twenty-six organizations ranging from gay advocacy to pro-abortion demanded corporations boycott Twitter, warning that Tesla CEO Elon Musk's "takeover of Twitter will further toxify our information ecosystem and be a direct threat to public safety, especially among those already most vulnerable and marginalized." Many organizations that signed the letter, such as the Free Press, MediaJustice (formerly Center for Media Justice) and the pro-abortion NARAL Pro-Choice America, National Hispanic Media Coalition, were heavily funded by liberal megadonor George Soros. Identity politics-based organizations such as the Marxist Black Lives Matter Global Network Foundation, Empowering Pacific Islander Communities (EPIC), National Hispanic Media Coalition, Women's March and GLAAD also signed the bill.

[...]

Musk responded to a CNN Business report on the letter, asking in a tweet: "Who funds these organizations that want to control your access to information? Let's investigate." He later added : "Sunlight is the best disinfectant." A Daily Mail report published May 4 answered Musk's inquiry: "[A]n assortment of 'dark money groups' like George Soros's Open Society Foundation; NGOs founded by former Clinton and Obama administration staffers; wealthy Democrat donors and their family foundations; labor unions; and the governments of European nations."
In a May 5 post, Joseph Vazquez declared that a fact-check of Musk was "stupid" and "idiotic" because it followed Musk's words to their logical conclusion:
Tesla CEO Elon Musk correctly slammed NBC News for trying to bury the Hunter Biden laptop scandal. Phony fact-checker PolitiFact tapped into all levels of Pravda to pretend that wasn't true.

The Facebook fact-checker ran an idiotic May 4 "fact check" headlined: "Elon Musk's false claim that NBC News covered up Hunter Biden laptop story." Musk went after NBC for having a conniption over his recently successful multibillion-dollar bid to purchase Twitter.

Musk stated on Twitter May 2 that NBC was the "[s]ame org that covered up Hunter Biden laptop story, had Harvey Weinstein story early & killed it & built Matt Lauer his rape office. Lovely people."

Here was PolitiFact contributing writer Monique Curet's pathetic reasoning for why Musk was awarded a "False" rating: "NBC News said its lack of in-depth reporting in 2020 on the laptop was due to people in Trump's circle trying to limit access to the information. That's not the same as covering up the story." So NBC did pathetic journalism and PolitiFact blames … Trump. In fact, Curet is not even located in the U.S. Her PolitiFact biography says she resides in Tokyo, which means the fact-checker had to outsource its shoddy business to someone located all the way across the Pacific Ocean.

Curet continued: "Musk's tweet gives the impression that NBC News had all the relevant information and chose not to disclose it, and that's not accurate."

[...]

First: Musk never said NBC had "all the relevant information." Curet inserted her own spin into Musk's tweet and fact-checked a straw man. In addition, Musk's insinuation that NBC covered up the story was broad and not limited to the initial 2020 bombshell.

NewsBusters has the receipts proving that NBC not only covered up the story for well over a year, but tried to spin it as a Russian disinformation op.
As we've noted, the New York Post and its partisan pro-Trump sources provided no independent verification of the laptop or the information on it, making it journalistically reasonable to ignore that story since there was no reason to take these partisans at face value.
Meanwhile, the MRC kept cranking out other pro-Musk and Musk-critic-bashing content:
But the orgasms returned when Musk suggested he would allow Donald Trump to return to Twitter. Hall squeed in a May 10 post under the headline "Return of the King?":
Is he back? Maybe. Billionaire and free speech advocate Elon Musk declared he will reinstate former President Donald Trump when he buys Twitter. But will Trump return if the ban is reversed?

Musk said he would reverse Twitter's Trump ban at a recent automobile event. "Musk, the Tesla CEO who is soon to own Twitter, said it was a mistake for the website to ban the former president," The Washington Post wrote on Tuesday.

The article reported that Musk warned while speaking at a Future of the Car event sponsored by the Financial Times: "I think it was a morally bad decision to be clear and foolish in the extreme." He continued: "I do think it was not correct to ban Donald Trump. I think that was a mistake … It alienated a large part of the country and did not ultimately result in Donald Trump not having a voice."
Catherine Salgado followed up with a post headlined "Anti-Free Speech Twitter MELTDOWN After Musk Proposes Un-Banning Trump." She did not explain why supporting Twitter's decision to suspend someone who incited a riot and repeatedly violated Twitter's terms of service makes one "anti-free speech." Hall added a post quoting Twitter founder Jack Dorsey saying that Trump should not have been banned, though he did agree that Trtump deserved a "temporary suspension" for what Hall euphemistically and delicately described as his "behavior in the final days of his presidency."
None of these writers noted that, as other observers have noted, Musk's statement came on the same day that Tesla recalled 130,000 vehicles for issues with the cars' touch screens, making the timing of his announcement look a lot like a distraction from bad news.
The MRC has yet to tell its readers that Trump is contractually obligated to make Truth Social his primary social-media outlet, and he can't repost his musings elsewhere for a minimum of six hours. So even if Musk restores Trump's Twitter account, it can't be his primary one.
Posted by Terry K. at 9:02 PM EDT
Updated: Tuesday, June 14, 2022 11:19 PM EDT