CNS Uses Roe Repeal Leak As An Excuse To Attack Biden On Abortion
Topic: CNSNews.com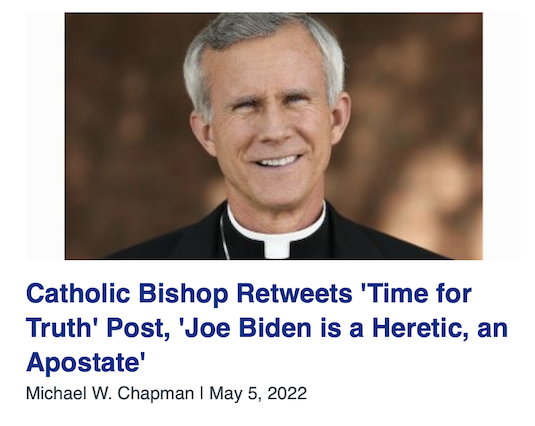 The leak of a draft opinion by Supreme Court Justice Samuel Alito that would overturn Roe v. Wade and, thus, the right to have an abortion, gave CNSNews.om yet another excuse to attack President Biden for not imposing his Catholic faith on the entire country.
A May 3 article by Craig Bannister repeated right-wing talking points in noting that "as multiple news outlets have reported, in 1981, as a Democrat [sic] Delaware senator, Biden voted for a constitutional amendment that – like the overturn of Roe v. Wade the Supreme Court is currently considering – would have enabled each state to pass a law regarding the legality, restriction or prohibition of abortion." Another article that day by Melanie Arter complained that Biden said if the Supreme Court does end up overturning Roe v. Wade, "it would mean that every other decision relating to the notion of privacy is thrown into question."
Susan Jones complained that "President Joe Biden said the apparent leak to Politico of a majority Supreme Court draft opinion overturning Roe v. Wade means "we will need more pro-choice Senators and a pro-choice majority in the House to adopt legislation that codifies Roe, which I will work to pass and sign into law." She then groused in a May 4 article when Biden raised the prospect of conservatives desiring to separate LGBTQ children from classrooms:
President Biden is among the Democrats warning that dire consequences will flow from a Supreme Court decision overturning Roe v. Wade, if such a ruling is issued later this year, as a leaked document suggests.

A number of Democrats have asked what else conservatives will attack -- the right to birth control? Same-sex marriage? Even biracial marriages?

[...]

Jones declared that "The draft majority opinion leaked to Politico specifically addresses the concerns raised by politically motivated Democrats," and that "Abortion, unlike birth control, marriage or even segregating LGBTQ children, involves a third party -- the unborn baby."
In fact, legal experts note that Alito's draft opinion also argued that there is no broad constitutional "right to autonomy," an argument that underpinned other legal decisions such as gay marriage and consensual sexual relations, and there's no reason why right-wing activists wouldn't use Alito's arguments to try to overturn gay marriage and contraception rights as well.
A May 5 article by managing editor Michael W. Chapman returned to an old tactic by quoting a Catholic bishop attacking Biden as a "heretic" and "apostate" for forcing all of America to abide by his Catholic faith, adding: "Although Presiden [sic] Biden is a Catholic, he supports abortion and Roe v. Wade, as well as 'gay marriage' and other practices that violate the teaching of the Catholic Church. By supporting those things and speaking in their defense, Biden is, in the objective order, backing heresy and causing scandal. An apostate is someone who has essentially abandoned their faith."
An anonymous CNS writer grumbled in another May 5 article:
President Joe Biden on Wednesday, answering a question about the possibility the Supreme Court may overturn Roe vs. Wade and recalling his role as Judiciary Committee chairman during the Supreme Court confirmation hearings for Judge Robert Bork, stated his belief that his rights come from God.

"'I believe I have the rights that I have not because the government gave them to me, which you believe, but because I'm just a child of God,'" Biden recalled telling Bork during those hearings.

Biden then seemed to suggest that the "right to privacy," under which the Supreme Court placed an alleged "right" to abortion, was one of the rights that comes from God.
The writer who refused toput his or her name on this piece did not explain why privacy is not a legitimate right.
Thirty minuites later, there was a follow-up attack:
President Joe Biden on Wednesday morning explained his position in favor of legalized abortion by recalling that he had once told Supreme Court nominee Robert Bork that he possessed the rights he had because he is a "child of God."

Later that same day, Biden issued a statement declaring Thursday the National Day of Prayer."
There was no explanation for why these two articles could not have been combined into one, which wold have been more journalistically efficient and convenient for its readers.
Yet another May 5 article by Chapman touted how the right-wing group CatholicVote "is calling on President Joe Biden and other public leaders to denounce the call by pro-abortion activists to protest at Catholic churches this Sunday and to rally outside the homes of Supreme Court justices. " Chapman identified CatholicVote as only a non-profit group" while he made sure to describe Ruth Sent Us, which made the protest call, as a "radical pro-abortion group."
Arter groused in a May 6 article that "When asked whether President Joe Biden supports any limits on abortion, White House Press Secretary Jen Psaki said that 'he supports the right of a woman to make choices about her own body with her doctor.'"
Of course, dishonest Catholic Bill Donohue had to weigh in, using his May 9 column to lash out at various pro-choice protest at Catholic churches -- perpetrated by "vandals" and "fascists," in his telling, though forcing all Americans to adhere to Catholic theology is its own form of fascism -- huffing that "It is shameful that our 'devout Catholic' president has not said a word about any of these anti-Catholic incidents. ... This is another example of bigotry, yet Biden can't bring himself to call it for what it is — rank anti-Catholicism."

Posted by Terry K. at 2:14 PM EDT
Updated: Sunday, June 12, 2022 3:57 PM EDT