Obama Derangement Syndrome Continues At The MRC
Topic: Media Research Center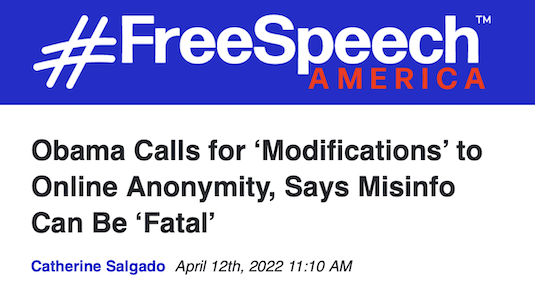 Even though Barack Obama left the presidency more than five years ago, the Media Research Center continues to have flare-ups of Obama Derangement Syndrome. When Obama paid a visit to the White House in April, Kevin Tober melted down in an April 5 post:
Hours after former President Barack Obama returned to the White House to tout the Biden administration's efforts to expand Obamacare, the evening newscasts returned to their old habits of gushing over their first true love: Barack Obama. While they were drooling over the former President, they spent their entire broadcasts ignoring the latest layer of the ongoing Hunter Biden scandal.

The evening newscasts spent a combined three minutes and two seconds on the Obama visit to the White House. This compares to zero time spent on Hunter Biden.
Since the MRC is also obsessed with Hunter Biden, Tober devoted a good chunk of his post to highlighting how "Back in reality, Fox News Channel's Special Report covered the latest news out of the rabidly metastatizing Hunter Biden scandal."
NBC's Al Roker simply teasing an upcoming interview with Obama was enough to set off Kyle Drennen in an April 6 post, whining about how "Roker was already swooning as he confessed that he was "so excited" for the softball chat that would preach climate activism and promote Obama's upcoming nature documentary series on Netflix." Drennen then complained at length that Roker's "adulation for Obama has been equally strong over the years," going on to huff: "Given that history, viewers can expect similar Obama-gasms from Roker in next week's interview with the former president."
When the actual interview dropped a week later, Drennen complained about that too:
During an interview with former President Obama conducted on Monday and aired on NBC's Today show Wednesday morning, weatherman and climate activist Al Roker actually worried that the brutal war in Ukraine was distracting from pushing a left-wing environmental agenda. Obama replied by trying to use the conflict as an excuse "to wean ourselves off fossil fuels."

[...]

During a portion of the friendly chat aired on the 3rd Hour Today show, in the 9:00 a.m. ET hour, Roker was shown wondering: "During your presidency, you protected more public lands, more waterways, than any previous administration. Now that you are a private citizen, is climate change and the environment one of your top priorities?" Obama declared: "I think it has to be one of the top priorities for all of us."

The purpose of the interview wasn't just to push the left's radical climate agenda, it was also promote Obama's latest project, as Roker explained: "Now, his new Netflix series, Our Great National Parks, showcases some of the world's most spectacular settings....The former president serving as both executive producer and narrator."
Tim Graham also complained about the Roker interview in his April 15 column:
Whenever Barack Obama grants an interview to one of his adorers in the media, one who arrives bathed in the glow of servility, everyone should be reminded that this is a major reason why people don't trust the media.

In every interview, Obama is treated as a global celebrity and as the wisest of wise men. One can understand a journalist offering more tender inquiries to an ex-president, but there is no difference in tenderness between now and during his presidency.

Look no further than NBC's Obama interview by weatherman Al Roker, which aired on April 12 and 13. "Scrutiny" or "accountability" are not words that apply. NBC and the other liberal media outlets seek to put Republican presidents on trial, and put Democrat presidents at ease.
Thern again, scrutiny and accountability were nowhere to be found when Graham gave a softball interview to former Trump press secretary Kayleigh McEnany -- who infamously abandoned her job after the Capitol riot -- a couple weeks later.
When Obama gave a speech calling for combatting online misinformation, the MRC unsurprisingly took offense. Graham played whataboutism in an April 10 post:
Naturally, CNN didn't find anything funny in David Axelrod and Jeffrey Goldberg honoring their hero Barack Obama with a spot at their conference on "Disinformation and the Erosion of Democracy."

This came during a week when Obama was honored for Obamacare, and the liberals all forgot Obama won the "Lie of the Year" from PolitiFact in 2013 for "If you like your health plan, you can keep it.

[...]

Usually, the "disinformation" cops and "fact checkers" think all of the dishonesty comes from the right wing. Obama was surprised after PolitiFact gave the "Lie of the Year" to "Death panels" (2009) and "Government takeover of health care" (2010).
Graham then seemed to endorse bogus anti-Obama birtherism because he took some literary liberties in his memoir:
The CNN team thinks Obama is uber-qualified because of the "infamous" birther theory promulgated by Evil Orange Man, and they aren't going anywhere near Obama making up his own fairy tale in his memoir about staying in Hawaii with Daddy until he was two (he left with Mommy for the mainland soon after he was born). He also made up "composite girlfriends," but he's the scourge of disinformation.
Two days later, Catherine Salgado complained about Obama's endorsement of exposing online haters hiding bnehind anonymity:
"I am close to a First Amendment absolutist," former President Barack Obama said last week, even as he called misinformation potentially "fatal" and suggested "modifications" to online anonymity.

The Atlantic Editor-in-Chief Jeffrey Goldberg interviewed Obama at his left-wing mag's " Disinformation and Erosion of Democracy" conference. Obama more than once used seemingly pro-free-speech language during the event hosted by The University of Chicago's law school.

"I believe in the idea of not just free speech, but also that you deal with bad speech with good speech," he said. Obama added, however, that disinformation, or the "systematic effort to either [sic] promote false information [or] to suppress true information for the purpose of political gain, financial gain, enhancing power, suppressing others, targeting those you don't like," is a threat.

Obama added that "editorial choices…combined with any kind of ethno-nationalism or misogyny or racism can be fatal," noting further "that is the media ecosystem that we now are occupying."

Obama's comment on anonymity was particularly relevant. "In some circumstances, it's important to preserve anonymity, in terms of–so that there's space in repressive societies to discuss issues," he said. "But as we've all learned, it's a lot harder to be rude, obnoxious, cruel, uh—or lie when somebody knows you're lying and knows who you are, and I think that there may be modifications there that can be made."

There have been many recent attacks on online anonymity. The hacked private information of donors to the anti-COVID-19 mandate Freedom Convoy was spread across the internet. The Canadian government then froze some Freedom Convoy-connected cryptocurrency wallets.
Salgado did not explain why online haters must be allowed to hide behind anonymity.
Salgado also grumbled that Obama said that "If people are given different information, they can process differently," adding: "That sounds like what Big Tech and Big Media did before the 2020 election. Both restricted information unfavorable to then-Democrat presidential candidate Joe Biden in a way that the Media Research Center found to have changed the election results." As we've documented, the MRC's conspiratorial findings were fueled by right-wing polls it puirchased, one of which came from Trump's own campaign pollster.
Graham rehashed much of his earlier Obama derangement in his April 22 column, going on to rant: "This underlines why the liberal media should not be trusted in a 'disinformation' fight. They have a frustrating tendency to put themselves on the side of 'information' and conservatives on the side of 'disinformation.' Don't try to argue it's more complicated than that. They're not listening."
Graham and the rest of the MRC love to put scare quotes around "disinformation" when a non-conservative is calling it out, but never when a fellow right-winger is making the accusation. Graham also offers no evidence why he and the MRC should be trusted on this issue more than anyone else.
Posted by Terry K. at 2:03 PM EDT
Updated: Sunday, June 12, 2022 1:05 AM EDT