As Mass Shootings Grow, MRC Tries To Redefine Them
Topic: Media Research Center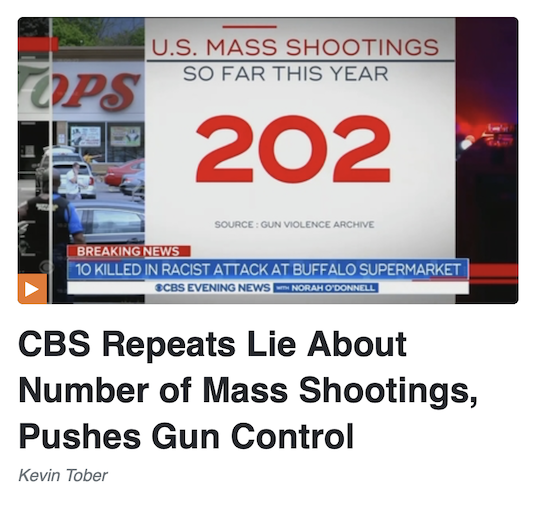 As the number of mass shootings has mouned in recent weeks, the Media Research Center is lamely fighting back with its usual tactic of quibbling over the definition of what a mass shooting is. Nicholas Fondacaro -- who has falsely smeared as liars anyone who failed to use his very narrow definition of mass shooting -- was at it again in an April 18 post:
Following a weekend of multiple "mass shootings," the liberal media rushed to exploit the dead to push their demands for increasingly-unpopular gun control legislation. Part of their efforts to scare people into giving up their Second Amendment rights was to parrot a dubious analysis that claimed there have been between 130-148 mass shootings so far this year.

So, it begs the question: if there really were that many, why have only a fraction of them been reported on nationally? The simplest explanation is there haven't been that many mass shootings and they're being inflated to make things seem more horrendous than they really are.

When reports of a "mass shooting" break, the common understanding is that a person went to a public place (school, shopping center, est.) and started shooting indiscriminately with the intent to kill as many as possible. But what the liberal media are currently citing is data from the Gun Violence Archive, a supposed "independent" aggregator of incidents involving guns.

"And as the overall number of shootings have increased, there's been a dramatic rise in mass shootings," reported ABC's Pierre Thomas on Monday's Good Morning America. "Look at these numbers. According to the Gun Violence Archive, there were 417 mass shootings in 2019. By last year the number spiked to 693. That's an incredible 66 percent jump."

"We're now in an era where we can say mass shootings are chronic, sustained, and sadly routine," he added with a graphic that claimed there have been 139 so far this year.

According to their website, the Gun Violence Archive (GVA), uses this peculiar definition of "mass shooting" for their methodology: "FOUR or more shot and/or killed in a single event [incident], at the same general time and location not including the shooter."
Fondacaro didn't explain exactly why that methodology is so "peculiar," beyond making his side look bad. So he called out a fellow pro-gun activist (and former MRC employee) to nitpick that tally away and push a stricter, more right-wing-friendly definition:
NewsBusters reached out to the founder of The Reload, Stephen Gutowski to get an understanding of where this definition of "mass shooting" GVA uses came from. He says it was "popularized by gun-control activists on Reddit" and it "increases the number of mass shootings by a factor of ten or more."

"It can also be misleading for most readers since many of the mass shootings are not similar to high-profile shootings like Sandy Hook, Las Vegas, or Parkland," he warned.
Fondacaro also reminded us that he also whined about defining mass shootings a year ago. He was at it again two days later, again smearing any number that was greater than his own as "false":
As NewsBusters laid out on Monday, the "mass shooting" statistics peddled by the Gun Violence Archive are objectively misleading according to mass killings researchers and gun experts. But the truth wasn't reached for comment on struggling CNN+ and Reliable Sources Daily on Tuesday and host Brian Stelter demanded that the media push the false statistic that there have been "145 mass shootings in the U.S. already this year."

Stelter began the segment by admitting "'Mass shooting' sometimes has a very specific connotation. People think of mass killings. Maybe a dozen or more killed." But he then campaigned to throw out that understanding in favor of a vaguer and ambiguous definition to jack the number up:

Fondacaro is lying. The GVA number is not "ambiguous"; it's quite clearly defined. Still he whined that "GVA admits to intentionally stripping out the context," though he didn't explain why context matters. People aren't any less dead because he demands their deathbe counted differently.
After the Buffalo grocery store shooting, Kevin Tober wildly escalated the inflammatory rhetoric in a May 16 post, linking back to Fondacaro's posts and declaring that anyone who didn't agree with the MRC's narrow mass-shooting definition is lying:
On Monday's CBS Evening News, anchor Norah O'Donnell began and ended her broadcast by lying and pushing her leftist gun control agenda in the aftermath of the horrific mass shooting at a Buffalo grocery store on Saturday.

"Tonight, this is a community in mourning -- ten people were killed, three injured, eleven of them were black," O'Donnell announced at the top of her program, before repeating an outright lie that has been previously debunked by NewsBusters: "it was a deadly weekend here in America -- the United States has seen 202 mass shootings so far this year, four of them happened on Sunday."

In reality, there haven't been 202 mass shootings in America this year.
Again: The number is not a lie, let alone the "easily debunked lie in order to scare viewers into giving up their Second Amendment rights" Tober called it later in his item. Tober is the liar here.
After the mass shooting of schoolchildren in an elementary school in Texas, Tober played is desperate deflection game again in a May 24 post:
The bodies weren't even cold after the heartbreaking mass shooting in Uvalde, Texas in which eighteen elementary school children and one teacher were killed when NBC Nightly News decided to spread misinformation about the number of mass shootings in the United States this year.

National correspondent Gabe Gutierrez started off the shameful segment by noting that "this is the deadliest school shooting in the U.S. since the Parkland rampage in February of 2018. As has become common now, there are already growing calls to stop gun violence which has been especially brutal this year."


[...]

Despite what NBC and Gabe Gutierrez tell you, there have not been over two hundred mass shootings.

[...]

The other common-sense response to NBC's absurd claim is if there have been that many mass shootings, why hasn't NBC reported on all of them?

NBC and Gutierrez should be ashamed of themselves for pushing fake statistics hours after eighteen young children have been shot to death.
Good question from Tober, but aimed at the wrong people. Why won't the MRC report every mass shooting? Why does it fall to other non-right-wing media outlets to have to report them? And shouldn'tTober be the one who should be ashamed of spreading lies about legitimate and clearly defined statistics solely because they make his political side look bad?
Posted by Terry K. at 8:56 PM EDT