MRC's Graham, Houck Toss Softballs At Kayleigh McEnany
Topic: Media Research Center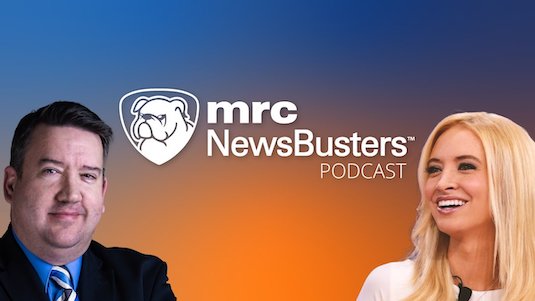 The Media Research Center loves to complain about softball interviews in the "liberal media," but the boys at the MRC can lob slow, fat softballs like a champion when their narratives need to be advanced. And so it was when former Trump White House press secretary Kayleigh McEnany appeared on Tim Graham's April 27 podcast. Joining Graham for the softball-tossing was Curtis Houck, who wrote many glowing reviews of her insult-laden press briefings.
Graham was tossing softballs right out of the gate, as his first question teed up McEnany to comment on then-current White House press secretary Jen Psaki seeking a new job at MSNBC while still working at her old one. Surprisingly, McEnany didn't bite, noting that she followed the proper ethical steps. Houck then stepped up to gush over the "outstanding pieces of media analysis" in McEnany's book and simply asked her to "expand" on what she wrote. McEnany took offense at ABC reporter Jonathan Karl calling his memoir of the Trump years "Front Row at the Trump Show" -- "it's not a show, it's not in the front row of a Trump show, you're asking questions for the American people" -- apparently oblivious to the fact that Houck has dismissively labeled Psaki's hearings as "the Psaki Show" (and Houck was certainly not going to remind her of that inconvenient fact). McEnany later returned the favor by gushing about how she follows Psaki's briefings though the selective video clips Houck posts to his Twitter account and touted how she reads NewsBusters "every day," adding that "you guys are the experts."
Because Graham never forgets a right-wing grievance, he brought up the then-upcoming White House Correspondents Dinner and rehashing how host Trevor Noah will not "make fun of Jen Psaki's makeup the way what's her -- Michelle Wolf when after Sarah Huckabee." Graham forgot that the organization he runs has no problem mocking someone's looks when that person is a non-conservative. That, of course, was simply setup for another softball for McEnany to knock out of the park.
There was a lot of commisseration between Graham, Houck and McEnany about how terrible the "liberal media" is and how it purportedly pushed false stories during the Trump adminstration, as well as lots of whining about anonymous sources (never mind that the MRC cites them too when politically advantageous). Graham cued McEnany up to rant regarding the claim that Trump ordered Lafayette Square to be cleared of protesters so he could do a photo op with a Bible in front of a church that "the inspector general said that wasn't true ... so not true, debunked" (actually, the Park Police inspector general's investigation was incomplete and does not definitively clear Trump) and thtt "COVID lab leak theories" were dismissed (they still haven't proven to be fact).
Graham and Houck also teed up McEnany to chat about her dailiy "smackdown at the end of the briefing" and her briefing book, and they gently asked for advice on how Republican press officials should handle the media. They certainly weren't going to ask McEnany about how she abandoned her job after the Capitol riot. Houck concluded by with even more McEnany gushing, dubiously claiming that conservatives never melt down like liberals do because conservatives "can rest knowing in our identity in Christ" while lberals "who haven't accepted Jesus" think "politics and winning on the battlefield is how they determine what a good life looks like."
There wasn't a tough question in the bunch. Graham and Houck should keep their fluffy, sycophantic treatment of McEnany in mind the next time they accuse the "liberal media" of conducting softball interviews.
Posted by Terry K. at 9:28 AM EDT
Updated: Saturday, May 28, 2022 10:48 AM EDT