MRC Thinks Right-Wing Misinfo Being Exposed Is Just As Bad As Authoritarian Censorship
Topic: Media Research Center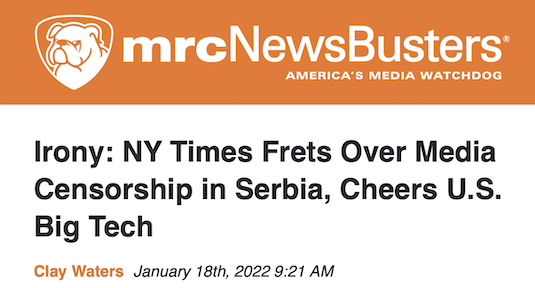 The Media Research Center's Clay Waters wrote in a Jan. 18 post:
The New York Times is concerned about media censorship and bias -- in Serbia. "Eastern Europe Tests New Forms of Media Censorship," by Andrew Higgins from Belgrade, appeared in Monday's paper and it was both ironic and rich to see the Times devote 1,500 words to a story of how governments in Serbia, Poland, and Hungary are leaning on independent media outlets that don't toe the government line.

Meanwhile, Times has long embraced Big Tech squelching supposedly offensive viewpoints cross the pond, with their reporters taking the role of self-appointed hall monitor of internet speech.

Conservatives in the United States might recognize some parallels between the kinder, gentler state-thuggery in Eastern Europe and the myriad ways (documented at MRC's #FreeSpeech America) Silicon Valley tech leaders at Twitter, Facebook, Instagram, YouTube, Amazon, etc., try to control the nation's political conversation by suppressing voices that displease the liberal elite.
What's an example of an "offensive viewpoint" promoted by conservatives? This is pretty much all Waters had: "While in the United States, there was timely social media censorship of an accurate story (the contents of Hunter Biden 's laptop) inconvenient to the Democratic presidential campaign on the eve of a presidential election. How is that not electoral inference?"
In fact, only right-wing sources are claiming the laptop story is "accurate,"and it was a sketchy enough story that even Fox News wouldn't break it (that honor went to its Murdoch corporate sibling, the New York Post).To this day, no ironclad proof of the laptop's provenance and chain of custody has emerged, and there's still no reason to treat it as anything other than the sketchy October surprise it was, incessantly hyped by right-wing outlets desperate to derail Joe Biden's election.
Waters offered up another example: "In the U.S., Facebook chief executive Mark Zuckerberg has funneled money to Democratic counties in the name of helping 'election administration,' through the Center for Tech and Civic Life." In fact, the foundation funded by Facebook founder Mark Zuckerberg made money available to all election agencies regardless of political leanings, which was used for various purposes, and even a report from the right-wing Foundation for Government Accountability offered no substantive evidence the money was used for partisan purposes.
Waters conmtinued to whine:
Over here, Big Tech has outsized power over American politics and uses it to muzzle or limit distribution of stories and ideas it doesn't approve of, with skepticism about masks, vaccine mandates, and lockdowns serving as particular targets for online censors.

Noting the plight of the one independent channel in Serbia, Higgins wrote: "A huge new housing area under construction for security officials near Belgrade, for example, has refused to install SBB's cable, the company said."

Over here, there are calls for cable providers to remove conservative media outlets like One America News and Newsmax, even conservative chat sites like Parler. Calls for media personalities that offer independent viewpoints on Covid, like uber-popular podcaster Joe Rogan, to be squelched in the name of public health.
Note that Waters pulled that criticism out of context for what they were being criticized for, in order to falsely suggest these outlets and plaforms were being attacked for merely being conservative. According to the Washington Examiner article to which Waters linked, OAN, Newsmax and Parler were criticized beause they amplified false information about election fraud and helped incite an attempted insurrection at the Capitol. And Rogan was, in fact, hurting public health by uncritically promoting misinformation about COVID.
Waters concluded: "The parallels between Eastern Europe government censorship and U.S. Big Tech censorship aren't exact. But even for the typical reporter who loathes the conservative press, aren't they far too close for comfort?" In fact, they're not close at all. Those authoritarian leaders are actively supprssing dissent for simply dissenting; conservatives are playing victim because they get caught spreading misinformation and face consequences for doing so.And the fact that right-wingers have uinelashed a slew of social-media apps prove that they're not being "censored" at all.
One other note: the MRC has previously praised the authoriterian leaders of Poland and Hungary for criticizing "big tech" despite their aggressive censorship attempts on their own people.
Posted by Terry K. at 5:53 PM EST
Updated: Tuesday, February 22, 2022 5:23 PM EST