MRC Attacks As 'DERANGED' The Opposite Version Of An Argument It Made A Month Before
Topic: Media Research Center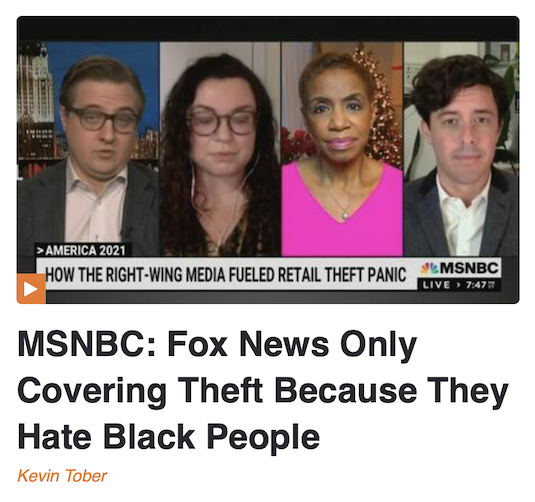 In November, the Media Research Center's Bill D'Agostino made an interesting declaration in a Nov. 30 declared: "If Darrell Brooks were a white man who drove a car into a crowd of black people, the media would still be talking about Waukesha." We pointed out in response that it could easily be proven that the MRC and other right-wing media gave disproportionate attention to the incident in Waukesha, Wis., in which Brooks allegedly ran down people on a parade route, killing six, is precisely because Brooks is black -- and that the MRC gave short shrift to a school shooting in Michigan around the same time because the shooter was white and his parents were Trump supporters.
The MRC ignored us, but when MSNBC's Chris Hayes made a similar argument, Kevin Tober went into full meltdown mode in a Dec. 30 post:
Chris Hayes has a long history of making absurd and hateful claims on his nightly MSNBC show, but it appears there is no comment or bizarre conspiracy theory that's too low for him. On Wednesday night's edition of All In, Hayes spent an entire segment dismissing America's rising crime rates, and questioned the motives of any network that dared to cover them.

During the second-to-last segment of the show when Hayes came back from a commercial break, he went into a diatribe in which he dismissed the fact that shoplifting in the United States had spiked in recent months. Hayes started off by whining about one of his favorite targets, Fox News and "right-wing media," made the story a priority:

[...]

Hayes in response, as he is known to do, completely drove the conversation into tinfoil hat conspiracy theory land by accusing Fox News of loving to show their viewers footage of black people stealing merchandise from stores:

There is nothing that Fox loves more than surveillance footage of particularly black people stealing a thing. And they will run that 24/7 if they can.
Again, this argument is merely the opposite of the one Tober's colleague made just a month before, yet Tober calls Hayes "DERANGED" in the headline for making it -- he'll never say that to D'Agostino. Yet there is plenty of evidence that Fox News engages in race-baiting, and that it extends to its crime coverage.
Interestingly, Tober doesn't even bother to rebut Hayes' claim outside of trying to shout it down -- perhaps because she knows he can't honestly rebut it. Instead, he tried to reinforce the Fox News narrative: "MSNBC can keep denying reality all they want but that won't make the problem of skyrocketing crime go away. All indications are that the policies and politicians they support are the main drivers of the crime that we are seeing in so many of our nation's major cities."
Of course, Tober offers no proof that "all indications" prove this -- apparently he's forgotten that the pandemic upended a lot of things, civility being one of them. But he gets paid to push a narrative, not necessarily to adhere to facts while doing so.
Posted by Terry K. at 9:02 AM EST