MRC Loses Its Love For Parler (With Which It Shares A Funder)
Topic: Media Research Center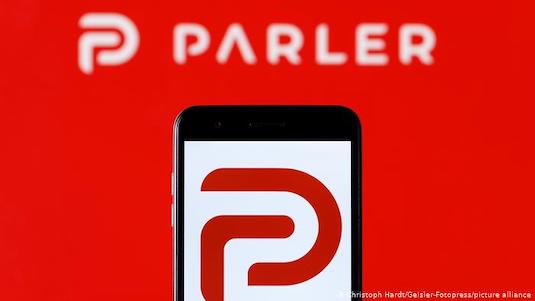 We've documented how the Media Research Center spent the first part of last year heavily hyping right-wing social media site Parler, particularly after the Amazon hosting division dropped it for helping to stoke the Capitol riot -- while censoring the fact that its biggest funder, Rebekah Mercer, is also a major funder of the MRC, a massive conflict of interest. Well, the MRC got bored with it shortly afterwards, even as the drama there increased.
Last March, former Parler CEO John Matzer filed a lawsuit against Parler, Mercer, and others claiming he was unjustly fired and his stake in the company stripped away. Even though it happened nearly a year ago, the MRC has yet to report that news to its readers. Parler has been mentioned in passing several times, but it devoted only a few posts to Parler over the past several months (while, of course, censoring the fact it shares a funder). We've noted that the MRC welcomed Parler back to the Apple app store in April, reframing its new moderation policies as something Apple was forcing it to do and insisting that Parler would never engage in "censorship."
The next time the MRC ddevoted a post to Parler was Aug. 26, when Alec Schemmel gushed over a new Fox Business appearance by Parler CEO George Farmer, who complained that Twitter has hosted "accounts run by actual dictatorships like the Taliban and the Chinese Communist Party' while continuing to suspend Donald Trump. Host Maria Bartiromo touted how Parler "has no qualms about banning the Taliban," but she didn't ask how that jibes with Parler's minimal-censorship policy.
From there, you have to jump all the way to Jan. 9, when Autumn Johnson promoted new funding for the website:
According to a federal securities filing and reporting last week from Axios, conservative social media app Parler has obtained $20 million in funding as it continues its push as an alternative to Big Tech giants Facebook and Twitter.

While it's unclear who provided the funds, Rebekah Mercer, a Trump supporter and frequent donor to Republicans, was the founding investor of Parler and listed in the filing as a director and executive officer of Parler.
Needless to say, Johnson was silent about Mercer's MRC funding and the lawsuit she remains embroiled in with Matze.
And that's pretty much it: the MRC has shifted its attention to newer, shinier right-wing social media startups like GETTR and Trump's own upcoming site, apparently choosing to forget which side its bread is buttered on.
Posted by Terry K. at 9:54 PM EST