Newsmax Parroted Bogus Ray Epps Conspiracy Theory
Topic: Newsmax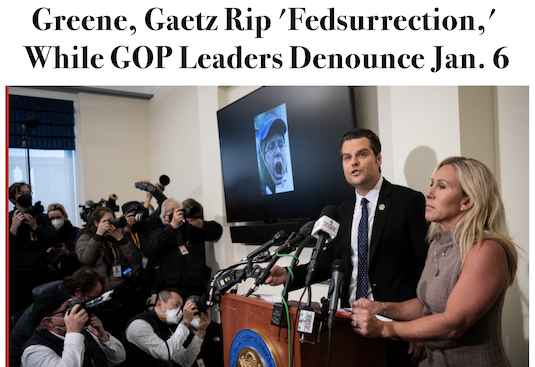 We've noted how Newsmax marked the anniversary of the Capitol riot by largely trying to downplay it. ONe exception to that, however, was its promotion of a conspriacy theory from two far-right Republican members of Congress. Eric Mack gave a preview of their stunt in a Jan. 4 article:
Democrats are planning more tarnishing of Republicans and former President Donald Trump on Jan. 6, according to Rep. Marjorie Taylor Greene, R-Ga. But, she told Newsmax on Tuesday night that she is going to get to the truth of what happened in the storming of the Capitol.

[...]

On Thursday, Greene said, she will hold her own news conference in Washington, focusing on a look into insurrection allegations.

"We're going to talk about the things that need to be talked about, like oft-reported, unindicted man who was preaching "we've got to go into the Capitol" starting Jan. 5 and helping orchestrate that the next day — as Trump was delivering his rally speech.

"Where are the other people that are on different videos? Why haven't the FBI tracked those people down? Why haven't they been arrested? Why didn't I see Ray Epps and others in the D.C. jail like other Jan. 6 defendants? We have a lot of questions to ask.
Theodore Bunker also touted their stunt beforehand in a Jan. 5 article as ''a Republican response on the anniversary of the January 6th protests" by Green and Rep. Matt Gaetz.ON the day of theanniversary, the apparently unironically named Charlie McCarthy hyped a claim that "Three men who took part in the Capitol attack inexplicably have been removed from the FBI's Capitol Violence Most Wanted list," including Epps. In fact, Epps was removed from the list because he was investigated and cleared.
And on the day of Greene's and Gaetz's stunt, Mack served up uncritical stenography:
Nearly lost in the comparisons by Democrats and the White House between Jan. 6, 2021, and two of the deadliest days in U.S. history — Pearl Harbor and 9/11 — was a news conference on Thursday afternoon by Reps. Matt Gaetz, R-Fla., and Marjorie Taylor Greene, R-Ga.

[...]

Gaetz and Greene's news conference showed footage of the storming of the Capitol last Jan. 6, including Beattie's Revolver.news compilation that suggested there were numerous unindicted conspirators, led by Arizona Oath Keeper Ray Epps, a Marine Corps veteran and Trump supporter who started the ''we must go into the Capitol'' campaign Jan. 5 — a day before the Capitol riot.

''Imagine if we actually had the powers of the Jan. 6 [House] committee, the powers of the federal government, to understand why Ray Epps, the evening of the 5th, is out telling people dispassionately, professionally, with laser focus that the objective is to enter the United States Capitol building?'' Gaetz said, after showing a video of Epps whispering into the ear of an indicted suspect right before the final blockade was breached Jan. 6.

Revolver.News' video evidence shows this to have occurred before the conclusion of Trump's speech at a rally nearby — a speech Democrats assert incited supporters to breach the Capitol.

''Then, on the 6th, it's not the Proud Boys who engaged in the initial breach, it's Ray Epps at that precise moment.''
Because Mack can't be bothered to do basic fact-checking, his readers don't know that Gaetz and Greene were spreading lies, much like fellow ConWeb outlet WorldNetDaily did: Epps is not a federal agent, and he did not enter the Capitol.
It wasn't until Jan. 11 that Newsmax reported that the Epps stuff is a conspiracy theory, admitting that the House committee investigating that riot said that Epps is not a government informant. The same day, however, another Newsmax article hyped Sen. Ted Cruz pushing the Epps conspiracy without any mention of the fact that the conspiracy theory had been debunked.
Posted by Terry K. at 1:08 PM EST