MRC's Graham Spins Trump's Inability To Deal With Journalist's Questions
Topic: Media Research Center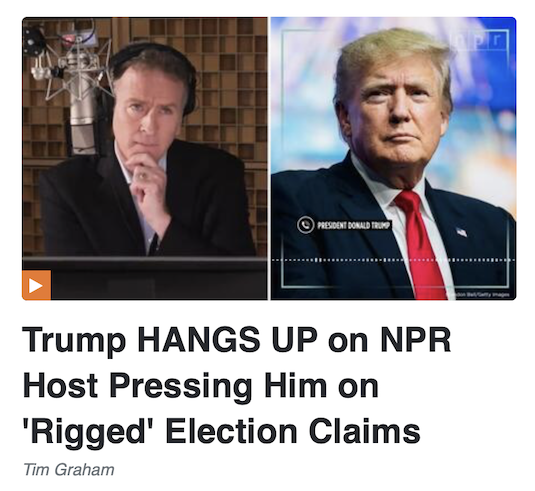 In the eyes of the Media Research Center, Donald Trump can do no wrong -- especially when he's bashing the "liberal media." So when Trump petulantly hung up NPR reporter Steve Inskeep rather than questions he didn't want to answer about his false claims regarding election, MRC executive Tim Graqham went into spin mode in a Jan. 12 post, pinning most of the blame on Inskeep for committing the offense of asking questions of Trump while an NPR employee and playing whataboutism over previous NPR interviews of Democratic presidents:
In his first presidential campaign and during his presidency, Donald Trump was interviewed by many liberal outlets but he never granted an interview to NPR and PBS. He understood that he was running as a populist and they are elitist channels. They're taxpayer-funded, but sound like they're Democrat-owned.

That streak just came to an end as Trump granted an interview Tuesday to NPR morning anchor Steve Inskeep. They planned a 15-minute interview – and Trump ended it at nine minutes. Inskeep began by asking Trump about the coronavirus and vaccines, but soon shifted into a battery of inquiries about the 2020 election and how Trump has not been able to prove he somehow won in a landslide. That went on long enough that Trump decided he had said enough:

[...]

There are two takeaways from Inskeep's presidential interviews:

1. For the most part, Steve Inskeep's questions to Trump were hardballs, but fact-based hardballs. Other than nudging Trump that the election was all about him -- as if the pro-Biden media didn't run it that way? -- he didn't lecture Trump. He presented quotes and information to Trump. Full transcript here.

2. For the most part, Steve Inskeep's many "unusually relaxed" interviews with Obamaoffered softballs. His overall record remains tough on Republicans, soft on Democrats. See Inskeep's gush over radical-left failed Biden nominee Soule Omarova. Then see him get offended when a pro-life guest used the word "abortionist."
Even Graham couldn't find fault with Inskeep's line of questioning -- but he has committed the original sin of being an employee of NPR and, thus, must always be criticized.
When personal enemy Brian Stelter of CNN claimed that "It is exceedingly rare for Trump to talk to any broadcaster who isn't a MAGA media loyalist. It basically never happens," Graham ranted in response:
What? "It basically never happens?" Lesley Stahl? Lester Holt? Long nasty town hall with Savannah Guthrie? Stelter should tell us how many interviews Biden has granted to conservative media. Trump has obviously granted more interviews to liberal media over his presidency than Biden has been doing. President Biden has not granted an interview yet to NPR or PBS. But we can guess it will be soft whenever it arrives.
Graham thinks any interviewer who doesn't suck up to Trump the way he accuses "liberal media" journalists of sucking up to Democrats is automatically biased. He has never criticized a right-wing journalist for softball interviews of Trump.
Posted by Terry K. at 10:55 AM EST