MRC Returns To Portraying Far-Right, Misinfo-Spewing Congresswoman As A Victim
Topic: Media Research Center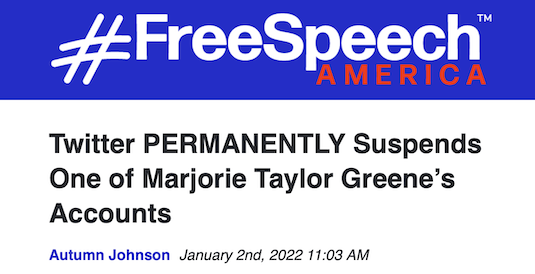 After months of turning her into a "conservative" victim while promoting her far-right antics and before and after the 2020 election, the Media Research Center was finally shamed into admitting that extremist Republican Rep. Marjorie Taylor Greene ahd gone too far. But after a cooling-off period, the MRC has returned to defending her and bestowing victim status on her.
As we noted, in July, Alexander Hall touted how "Congresswoman Marjorie Taylor Greene (R-GA) returned from her recent Twitter suspension to compare the Big Tech platform to totalitarian censors in China." Curiously, Hall wouldn't say exactly why she got suspended, instead quoting boilerplate statements about "violations of the Twitter Rules, specifically the COVID-19 misleading information policy." In fact, Greene was suspended for falsely claiming that coronavirus is not dangerous for some people.Instead, Hall baselessly suggested that the Biden administration ordered her to be silenced: "The government has indeed gotten comfortable with bossing Big Tech companies around." This from a guy who cannot admit that a fellow right-winger spreads misinformation.
The victim narrative for Greene continued in an Oct. 22 post by Catherine Salgado:
Twitter's bout with free speech online continues. The platform censored U.S. Congresswoman Marjorie Taylor Greene (R-GA) for stating in a tweet that transgender admiral Dr. Rachel Levine was not "the first female anything" but a "dude who lived the first 50 years of his life as a man." Taylor Greene was met with a storm of leftist fury on the platform.

Dr. Rachel Levine, a "transgender," was sworn in Tuesday as the nation's "first female four-star admiral in the U.S. Public Health Service Commissioned Corps' history," per CBS News. Taylor Greene tweeted her personal frustration at celebrating "transgender" Levine as a history-maker. Taylor Greene's tweet appeared to be a response to CBS News reporting that Levine is the nation's "first female four-star admiral" in the U.S. Public Health Service Commissioned Corps' history. Twitter issued Taylor Greene's tweet about Levine a "hateful conduct" violation warning at the time of this article's publication. Twitter placed the warning label prominently above Taylor Greene's tweet and also put sharing restrictions on the tweet.

Taylor Greene said in her tweet above a picture of Levine: "A dude who lived the first 50 years of his life as a man isn't the first female anything. China is laughing at us." Leftists, both on Twitter and in the media, quickly began reporting Taylor Greene for "Targeted Harassment" and slamming her for alleged "hate speech."
Because the MRC hates transgender people as least as much as Greene does, Salgado saw nothing wrong here, refusing to admit that anyone ought to be offended.
As Greene refused to stop shooting off her mouth and behave like a civilized human being, the MRC continued to run to her defense and build a victim narrative for her. Autumn Johnson did that duty in a Jan.. 2 post:
Twitter has permanently suspended one of the verified personal account of Rep. Marjorie Taylor Greene (R-GA).

According to CNN's Donie O'Sullivan, Twitter said @mtgreenee was "permanently suspended" "for repeated violations of our COVID-19 misinformation policy."

"We permanently suspended... @mtgreenee... for repeated violations of our COVID-19 misinformation policy," the tweet read. "We've been clear that, per our strike system for this policy, we will permanently suspend accounts for repeated violations of the policy."

Greene has access to the official account she uses as a congresswoman, @RepMTG. She blamed Communist Democrats for the suspension.
If Johnson won't admit that Greene tweeted COVID misinformation, she certainly isn't going to bother to fact-check her ridiculous claim that "Communist Democrats" are to blame for her suspension.
Salgado returned to give Greene the deluxe victim treatment in a post the next day that quoted "free speech supporters" -- that is, right-wing Greene sympathizers, though Salgado failed to identify the ideology of any of her defenders -- decrying her suspension. There was no discussion of Greene's content, only Salgado's passing scare-quote-laden mentionthat she was suspended for "alleged 'COVID-19 misinformation.'" She dutifully quoted her boss, Brent Bozell, blaming "Big Tech fascists" without mentioning that Greene clearly has other platforms on which to spew her hate and misinformation.
Johnson served up more victim narrative when Facebook busted Greene in a Jan. 4 post:
On Monday, Facebook has temporarily suspended Congresswoman Marjorie Taylor Greene (R-GA), a day after her personal Twitter account was permanently suspended "for repeated violations of [Twitter's] COVID-19 misinformation policy."

Greene slammed the move as censorship from Big Tech, saying "social media platforms can't stop the truth from being spread far and wide," adding that "Big Tech can't stop the truth. Communist Democrats can't stop the truth. I stand with the truth and the people. We will overcome!"

Greene was later punished with a 24-hour suspension on Facebook for allegedly violating a similar policy on so-called COVID-19 "misinformation." During this time Greene cannot post on her account.

"Facebook has joined Twitter in censoring me," Greene wrote on GETTR. "This is beyond censorship of speech."
Of course, Johnson puts "misinformation" in scare quotes, as if it's a subjective concept. And of course, her "Communist Democrats" claim goes un-fact-checked. Again, Johnson also won't admit the fact that Greene is able to post on right-wing site such as GETTR and Telegram undermines the claim that she's being "censored."
The fact that the MRC continues to mainstream far-right voices as "conservative" in order to bolster its victim narrative -- while also denying that private companies have the right to operate their busiensses as they see fit, normally a bedrock conservative principle -- shows just how flimsy that narrative is.
Posted by Terry K. at 2:20 PM EST
Updated: Friday, February 18, 2022 6:21 PM EST