CNS Caught Ray Epps Conspiracy Theory Fever Too
Topic: CNSNews.com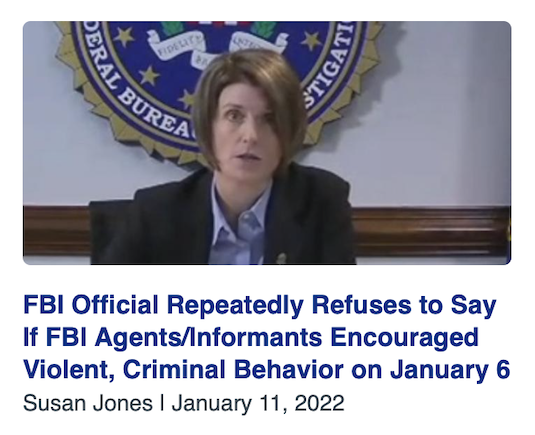 It wasn't just Newsmax and WorldNetDaily uncritically pushing the Ray Epps conspiracy theory regarding the Captiol riot. CNSNews.co did as well, as detailed in a Jan. 11 article by Susan Jones:
Who is Ray Epps, the man caught on videotape urging a crowd of Trump supporters to break into the Capitol? Did any FBI agents or FBI informants actively encourage and incite crimes of violence on January 6?

"I can't answer that," the FBI's Jill Sanborn said repeatedly in response to questions put to her by Sen. Ted Cruz (R-Texas) at a hearing of the Senate Judiciary Committee on Tuesday.

Sanborn is the executive assistant director of the FBI's National Security Branch.

Cruz pressed her and pressed her to no avail. The following transcript tells the story:
The rest of Jones' article is a lazy cut-and-paste transcript of the exchange between Cruz and Sanborn. Had Jones been interested in imparting facts instead of lazily promoting a right-wing conspiracy theory, she could have answered the question she posed in her lead paragraph. As more reputable news organizations have reported, Epps is not a government plant, and he was never charged because he never entered the Capitol or assaulted law enforcement. But the truth interferes with Moore's and WND's ramshackle conspiracy theory.
Jones also failed to tell her readers that Cruz was engaging in political theater, because Sanborn was never going to answer his question because the investigation is still open. As the Washington Post noted: "Every lawmaker knows this will be the answer they receive. So it's catnip for those who want to suggest something nefarious is going on since they know that, under the rules of this Washington game, no matter what they allege, a Justice Department official is not going to contradict them as long as the investigation is not complete."
All this information was available to Jones, yet she chose not to tell her readers the facts; instead, she pushed a bogus conspriacy theory because it fits right-wing partisan narratives. That's the opposite of a reporter. And it's more evidence that CNS has ceased to be a "news" organization, if it ever was one at all.
Posted by Terry K. at 12:29 AM EST