MRC Praises Right-Wing Reporters Hurling Hostile Questions At Biden
Topic: Media Research Center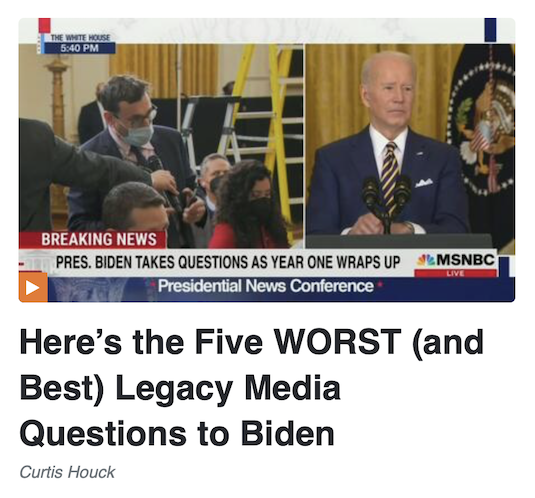 The Media Research Center cares nothing about journalism -- it cares only about owning the libs. So when President Biden held a press conference on Jan. 19, Curtis Houck's summary piece was all about right-wing reporters -- not that he identified their ideology -- hurling hostile questions:
In a press conference Wednesday that ran nearly two hours, President Biden faced over 60 questions from 24 different reporters, but it wasn't a surprise that the most contentious moments and questions that were most probing came from reporters that usually give Press Secretary Jen Psaki a run for her money in Fox's Peter Doocy, the New York Post's Steven Nelson, Real Clear Politics's Philip Wegmann, and newly-minted Newsmax correspondent James Rosen.

Biden was ready to give up 77 minutes into the affair when he wondered: "How — how many more hours am I doing this? I'm happy to stick around."

Doocy was then spotted by Biden, who offered the quip that Doocy "always ask[s] me the nicest questions" even though "none of them make a lot of sense to me."

Doocy said he has "a whole binder here" and, though Biden would only grant him one quesiton, he made it count: "New year. Why are you trying so hard in your first year to pull the country so far to the left?"

Biden replied to this scorcher by saying he's "not" because he doesn't "know what you consider to be too far to the left if in fact we're talking about making sure that we have the money for COVID, to put together the bipartisan infrastructure, making sure we were able to provide for those things that...would significantly reduce the burden on working class people."

[...]

&Two reporters later, Rosen received his first crack at Biden. Saying he wanted "to raise a delicate subject, but with utmost respect for your life accomplishments and the office you hold," the former Fox journalist invoked questions about Biden's cognitive health:

A poll released this morning by Politico/Morning Consult found 49 percent of registered voters disagreeing with the statement, Joe Biden is mentally fit. Not even a majority of Democrats who responded strongly affirmed that statement.

"Well, I'll let you all make the judgment whether they're correct, thank you," said Biden.

Rosen wasn't done as he invited him to speculate about "why...such large segments of the American electorate have come to harbor such profound concerns about your cognitive fitness."

With a smirk, Biden blurted out that he had "no idea."
Houck didn't mention the reason why Rosen is a "former Fox journalist."
When Biden made a verbal stumble suggesting he might allow a "minor incursion" by Russia into Ukraine to go unpunished, Kevin Tober cheered that "all three evening news broadcasts were flabbergasted" by the misstatement from the "geriatric president," going on to huff: "This is stunning candor from the networks. The networks must've known there was no way to hide these comments from their viewers, so they were forced to report on them. We applaud them regardless."
The next day, Houck returned to take "a look at the other questions from more establishment, (supposedly) objective, and/or traditional outlets." Of course, no right-wing outlet asked any of the "worst" questions, and his "best" question came from a reporter from 'the delightfully objective and refreshing NewsNation." As we've noted, the idea that a "news" operation run by former Fox News executive (and short-lived Trump White House communications director) Bill Shine and featuring ex-Fox Newsers like Leland Vittert is no reaonable person's definition of "objective."
On Jan. 21, Houck joined his boss Tim Graham's podcast to slobber over Doocy and the other right-wing reporters -- Graham would only describe them as "our side of the media, as they would see it," and not having an unambigious bias. Graham fawned over Doocy's highly biased gotcha question: "This question, Curtis, is a perfect summation of the kind of questions conservatives in general put to Biden. It putt the whole onus of the Demcodratic Party as a part of the left, you as president has been a part of the left. ... What on earth is Build Back Better? That's not a capitalist bill."
Houck nonsenically insisted Doocy's gotcha question was "about important issues of the day." Houck also sneered that Biden "is clearly not in charge of his faculties," which led to both of them cheering Rosen's question, and Graham complained that this would be treated as a "Brian Stelter question," adding that it was "a challenging question. It could be seen as a rude question, but it was stated politelyas the way James Rosen typically does these things." He too failed to mention why Rosen slid down the right-wing media food chain from Fox News to Newsmax -- apparently, sexual harassment is totally cool with Graham and Houck as long as the offender is polite about it. They also praised NewsNation without, again, mentioning that ex-Fox News staffers run it.
This was capped off with a Jan. 22 column by Jeffrey Lord declaring that Rosen "was doing his job as a journalist" with his hostile question about Biden's mental fitness, going on to whine that similar questions were asked about Donald Trump, which were not based on "facts in a poll" but on people's opinions. He added in another fit of whataboutism: "This is real journalism, something that was rarely to be seen in the Trump years as CNN and others spun, for example, the fantasy tale of Trump-Russia collusion." Lord didn't explain why, if there was no Trump-Russia "collusion," the Trump campaign met with Russian operatives dozens of times during the 2016 campaign. He too failed to mention the sexual harassment claims against Rosen.
Posted by Terry K. at 9:32 PM EST
Updated: Monday, April 4, 2022 12:27 AM EDT