WND Trashes 'Natural Immunity' Study That Doesn't Conform To Its Anti-Vaxx Agenda
Topic: WorldNetDaily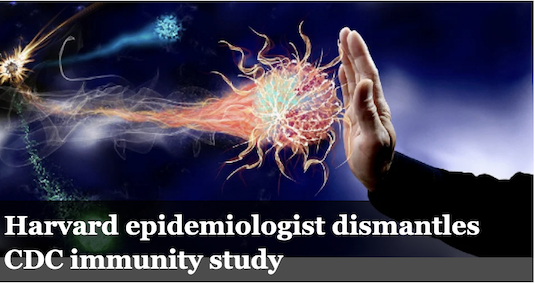 A key component of WorldNetDaily's fake-news campaign against COVID vaccines has been obsessing about "natural immunity" -- the idea that the immunity gained from surviving a bout of coronavirus is superior to that gained from a vaccine. Fort months, WND has been publishing articles and columns touting natural immunity:
Now, in medical reality, there is no significant difference between disease-acquired and vaccine-acquired immunity -- and WND largely ignores the inconvenient fact that to obtain "natural immunity," once must become infected with a disease that has killed more than 700,000 people in the U.S. alone.It's a political hijacking of a medical term by anti-vaxxers like those who run WND; as one observer noted, "The standard vocabulary of medical science thus unwittingly undermines the very public health goals it is meant to serve by implicitly endorsing immunity that doesn't come from vaccines."
So when the Centers for Disease Control and Prevention issued a study showing that vaccinated people have better COVID immunity than those with disease-induced immunity and that those who have recovered from a COVID infection should still get a vaccine, WND rushed into action. COVID misinformer Art Moore wrote in a Nov. 2 article:
Amid more than 100 studies showing the superiority of natural COVID-19 immunity over vaccine-produced immunity, the Centers for Disease Control released the results this week of a study claiming to show the opposite.

But Dr. Martin Kulldorf, who has worked on vaccine epidemiology since joining the Harvard faculty nearly two decades ago, is among many epidemiologists who have quickly pointed out the CDC study's fatal flaws.

In an article for the Brownstone Institute, he compared the CDC research with an Israeli study that found people vaccinated for COVID-19 are 27 times more likely to have a symptomatic COVID infection than those previously infected by the virus.
Kulldorf is one of the founders of the Great Barrington Declaration , a document signed by anti-vaxx-adjacent doctors and other activists that pushed "herd immunity" to COVID -- something most virus experts disagreed with -- and it was so poorly vetted that the declaration includes fake names.
Further, that Israeli study Kulldorf referenced raises questions. First of all, it was published not at a peer-reviewed journal but on a preprint server called MedRxiv, where studies that have not undergone peer review can be published. As a fact-checker pointed out, the numbers Kulldorf pushed were based on small sample sizes and still showed that the risk was still quite small:
For instance, the study's finding that never-infected vaccinees were at higher risk for COVID-19-related hospitalization than the previously infected non-vaccinees was based on no more than about two dozen hospitalizations in either of the comparisons.

[...]

Among a group of more than 32,000 people either previously infected or fully vaccinated between Jan. 1 and Feb. 28, the authors found a 13-fold increased risk for breakthrough infection with the delta variant as opposed to reinfection. The frequency of either event, however, was still very low, as this was based on 238 breakthrough infections, or infections in fully vaccinated individuals, and 19 reinfections among unvaccinated people who had recovered from a previous bout with the virus.

The authors also found a 27-fold increased risk for symptomatic breakthrough infection after full vaccination as opposed to symptomatic reinfection. That was based on 191 infections in vaccinated individuals and eight in previously infected people.
Moore gave space for Kulldorf to attack the CDC study's methodology and portray the Israel study as more "reliable," but omitted the fact that the Israel study has been criticized for selection bias and survivorship bias. Moore made no effort at a fair, balanced and detailed accounting of the CDC study, since his job was to undercut trust in that study because it contradicts WND's anti-vaxx agenda.
Posted by Terry K. at 4:29 PM EST