CNS Fully Boards Youngkin Bandwagon Only After He Wins Va. Governor Race
Topic: CNSNews.com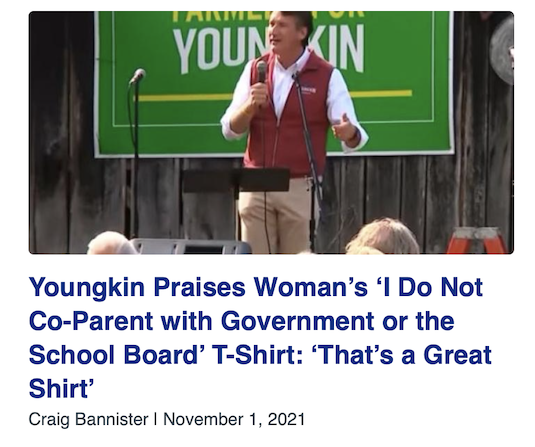 We documented how CNSNews.com wasn't enthusiastic about Glenn Youngkin's candidacy for Virginia governor and even attempted a horribly botched hit job on him early in his candidacy. CNS did, however, push storylines that were designed to boost Youngkin's campaign regarding threats against school boards and a sexual assault at a Virginia school. As the Nov. 2 election approached, CNS did ramp up enthusiasm for the race. In a Nov. 1 article, Craig Bannister touted how Youngkin praised a rally-goer's T-shirt stating "I do not co-parent with government" and pushed his right-wing narratives:
"Terry McAuliffe wants to put government between parents and their children," Republican Glenn Youngkin said at a campaign rally Sunday, warning of his Democrat [sic] opponent in Virginia's race for governor ahead of Tuesday's vote.

Youngkin issued the warning as Virginia school boards, such as that in Loudoun County, seek to silence parents who object to the imposition of liberal ideologies – such as transgender school bathrooms and the teaching of Critical Race Theory – upon their children.
The same day, Megan Williams echoed the talking point, transcribing a Youngkin appearnce on the Fox News show of CNS' favorite right-wing radio host, Mark Levin, invoking Martin Luther King Jr. and declaring that he will "ban" critical race theory on his first day as governor.
Another Nov. 1 article, by Melanie Arter, pushed an anti-McAuliffe, anti-Democratic narrative: "Democratic pollster Cornell Belcher predicted Sunday that if former Virginia Gov. Terry McAuliffe, (D) loses the governor's race to Republican Youngkin, it will be 'catastrophic' for Democrats, because the last time a Democrat lost Virginia, they lose 60 seats in the U.S. House of Representatives."
The only article CNS published the day of the election was a piece by Patrick Goodenough quoting President Biden stating that the race wasn't a referendum on his policies. When Youngkin ended up winning, however, CNS was absolutely effusive in its praise (and its bashing of McAuliffe), devoting more articles to reaction to the results over the next couple of days than it did before the election itself:
An anonymous CNS writer took yet another Biden-is-senile shot in a Nov. 4 article:
When President Joe Biden was asked at a press conference on Wednesday "how much responsibility" he took for the bad results the Democratic Party saw in Tuesday's election, Biden responded that he had called Virginia's defeated Democratic gubernatorial nominee Terry McAuliffe "to congratulate him."
The article later appended an editor's note to rub that talking point in further: "This story has been updated to note that President Biden's claim that "no governor in Virginia has ever won when he is of the...same party as the sitting president" is incorrect. When McAuliffe was elected governor of Virginia in 2013, Democrat Barack Obama was the sitting president."
A Nov. 11 article by Williams featured former Democratic Rep. Tulsi Gabbard calling McAuliffe's loss a "win for all Americans" because Democrats are purportedly trying to divide the country. We've noted CNS' flip-flop on Gabbard, suddenly embracing her because of her newfound support for Donald Trump and hatred of Hillary Clinton, while ignoring her coziness with murderous dictatorial regimes in Russia and Syria.
Youngkin's running mate for lieutenant governor, Winsome Sears, got some after-the-fact CNS love too. A Nov. 3 article by Susan Jones touted how "Winsome Sears will become Virginia's first black Republican lieutenant governor" and how she parroted right-wing talking points on Fox News, while an article by Bannister later that day was even gushier:
"I love this country so much, I'm willing to die protecting it," Republican Virginia Lt. Gov.-Elect Winsome Sears, a Jamaican-born Marine Corps veteran, said Wednesday, introducing a Twitter video, in which she declares her love for America and leads a crowd in chanting "U-S-A!"
CNS helped Sears even less than it did Youngkin, but now it wants on her bandwagon too now that she won.
Posted by Terry K. at 2:28 PM EST
Updated: Sunday, December 5, 2021 4:43 PM EST