CNS Now Offers Same-Day Service On Recycling GOP Talking Points
Topic: CNSNews.com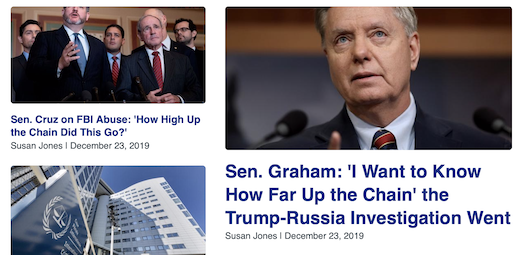 We've documented how CNSNews.com is so dedicated to advancing pro-Trump, pro-Republican talking points that it dedicates multiple articles to pushing the exact same talking points. While there's usually a few days between those articles parroting each other, it recently beat that by running both articles on the same day.
Susan Jones wrote in a Dec. 23 article headlined "Sen. Graham: 'I Want to Know How Far Up the Chain' the Trump-Russia Investigation Went":
"The Horowitz report is the first step in a long journey regarding FISA abuse," Sen. Lindsey Graham (R-S.C.), the chairman of the Senate Judiciary Committee, told "Sunday Morning Futures."

[...]

Yes, there's two questions I want to ask these people. When you signed the warrant application, how much time did you spend trying to figure out if it was actually true? And how far up the chain did this go?

Did President Obama know about the counterintelligence surveillance of the Trump campaign? Did Vice President Biden know? How much information was provided to Susan Rice? I want to know how far up the chain the investigation went. I want to know why so many people could sign a warrant application so flawed.
"Up the chain" was clearly the Republican talking point of the day, and CNS apparently received marching orders to hammer it. Literally just 18 minutes later, Jones wrote another article headlined "Sen. Cruz on FBI Abuse: 'How High Up the Chain Did This Go?'"
"One of the worst legacies of the Obama administration is the corruption of law enforcement and the intelligence community," Sen. Ted Cruz (R-Texas) told "Sunday Morning Futures."

He was talking about the Justice Department inspector-general report, which detailed 17 serious misrepresentations the FBI and the Justice Department made to the FISA court to get a warrant to spy on Trump campaign volunteer Carter Page.

[...]

And, by the way, the big unanswered question is, how high up the chain did this go? We know that the deputy director of the FBI, McCabe, was read in and authorized this. We know the director of the FBI, James Comey, was read in and authorized this.
CNS even promoted the articles next to each other onits front page, as the screenshot shows, as if getting "up the chain" in the minds of its readers was the only (mandated?) goal.
Same-day service on recycled GOP talking points appears to be about all that CNS is good for these days.
Posted by Terry K. at 12:21 AM EST
Updated: Tuesday, January 7, 2020 12:28 AM EST