WND's Farah Just Can't Stop Peddling Birther Lies, Continued
Topic: WorldNetDaily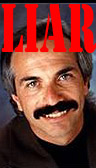 Joseph Farah reminds us what a dedicated birther he is in his April 16 WorldNetDaily column raging at President Obama for daring to tell a birther joke:
I don't think he has stopped thinking about how he conned the American public into giving him the presidency without genuine, fraud-free documentation. He only produced something a few days after Corsi and WND Books released the No. 1 best-selling book in the nation, "Where's the Birth Certificate?" – with the intent of halting the sales of a book that proves beyond a reasonable doubt Obama is as phony as his birth certificate.

Watch the video for yourself. Obama's laughs went on self-consciously long.

"Ha, ha. I think it's still up on a website somewhere," he said. "Ha, ha, ha, ha."

Then he took a long pause.

"You remember that? That was crazy," he said. "That was some crazy stuff. Ha, ha, ha.

"I hadn't thought about that in a while," he said, shaking his head. "Ha, ha, ha. Ha, ha."

Har har hardy ha har.

Are you laughing about this?

Were you part of the media establishment chorus that laughed off the eligibility question?

This is where that laughter leads.

Are you still laughing?

Now that he has hoodwinked the American people into allowing him to be president for five years without proper identification, the story is that he wants anyone to VOTE without it, too!

[...]

I'm glad he brought up his birth certificate again. Maybe it's time for Americans to give that phony document the examination it should have received when he released it.
If Obama thinks the birth certificate non-troversy is a joke, it's people like Farah that have made it that way. It's clear that no documentation Obama could produce would satisfy the likes of Farah, Jerome Corsi and the other birthers.
If Farah actually cared about the birth certificate, WND would have reported the evidence debunking the birthers' claims. But it hasn't -- which tells us that Farah doesn't care whether it's real or not, only that he can use the issue as a cudgel against a political enemy.
And Farah can't even do his birther rant without telling a lie. Obama released his long-form birth certificate on April 27, 2011 -- three weeks before Corsi's "Where's the Birth Certificate was released, not "a few days after" the book came out as Farah claimed.
Farah's impotent rage at Obama for making fun of him demonstrates that he's still sore about sqandering what little credibility WND had for a five-year birther crusade that backfired because of his own arrogance and desire for vengeance. Nobody believes him or WND anymore, and he only has himself to blame.
The only chance Farah has to salvage his reputation is to admit the obvious -- that the birther crusade was a sham all along. But that would require him to show some humility and have an attitude of repentence, and we know that ain't gonna happen.
Posted by Terry K. at 8:21 PM EDT