CNS' Jeffrey Pushes Dishonest Comparison of Working Women, Food Stamps
Topic: CNSNews.com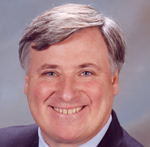 Terry Jeffrey writes in an April 14 CNSNews.com article:
People participating in the food stamp program outnumbered the women who worked full-time, year-round in the United States in 2012, according to data from the Department of Agriculture and the Census Bureau.

In the average month of 2012, according to the Department of Agriculture, there were 46,609,000 people participating in the food stamp program (formally known as the Supplemental Nutrition Assistance Program). That contrasts with the 44,059,000 women who worked full-time, year-round in 2012, according to the Census Bureau's report on Income, Poverty and Health Insurance Coverage in the United States.

For each woman who worked full-time, year-round in 2012, there was slightly more than 1 other person collecting food stamps.
But as Media Matters details, Jeffrey's comparion is meaningless because many working women fall into both categories:
In fact, because the majority of recipients are working-class Americans with jobs, senior citizens, or children, an increase in SNAP beneficiaries is an extremely unreliable predictor of the number of full-time workers, let alone evidence of a tipping point before a decline in overall employment. A 2013 report by the Center on Budget and Policy Priorities found that the "overwhelming majority of SNAP recipients who can work do so"[.]

[...]

A separate report from the USDA pointed out that in 2012, "75 percent of all SNAP households, containing 87 percent of all participants, included a child, an elderly person, or a disabled nonelderly person. These households received 82 percent of all SNAP benefits."
Jeffrey's article notes that "The business and economic reporting of CNSNews.com is funded in part with a gift made in memory of Dr. Keith C. Wold." As we noted with CNS' dishonest, cherry-picking reporting on unemployment, this sort of coverage may very well be making Dr. Wold spin in his grave.
Posted by Terry K. at 11:28 PM EDT