WND Proclaims Militia Thugs The Winner In Rancher Standoff
Topic: WorldNetDaily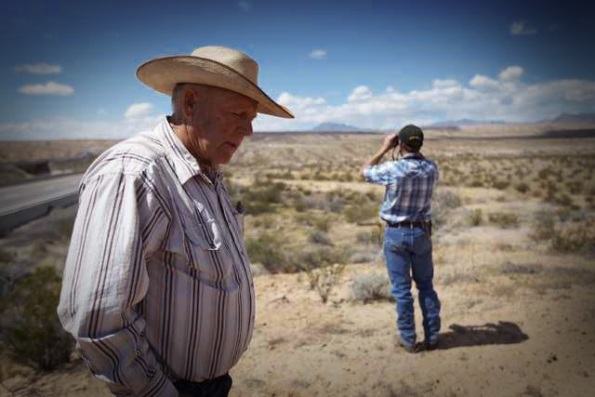 WorldNetDaily took the side of scofflaw Nevada rancher Cliven Bundy and the militia thugs who helped escalate a standoff with federal officials over a longstanding grazing dispute, rooting for the situationto become another Ruby Ridge.
Now that the feds have backed off out of fear the militias would get violent, WND's Drew Zahn has declared a winner -- the militia thugs:
After hundreds of federal agents and allies surrounding Clive Bundy's ranch in Clark County, Nev., were faced with citizen resistance – both armed and unarmed – it proved the feds who blinked first.

According to an Associated Press report, U.S. Bureau of Land Management, or BLM, officials say "escalating tensions" led them to not only stop rounding up approximately 900 of Bundy's cattle, but also release all 400 or so head already seized on public land the feds say Bundy can no longer use for grazing his herd.

"Based on information about conditions on the ground and in consultation with law enforcement," BLM Chief Neil Kornze said in a statement, "we have made a decision to conclude the cattle gather because of our serious concerns about the safety of employees and members of the public."
Zahn lionizes the militia thugs:
A Montana militia member, Jim Lardy, told KLAS-TV in Las Vegas his group, Operation Mutual Aid, was prepared to "provide armed response."

He said he's not afraid to shoot, if necessary.

"They have guns. We need guns to protect ourselves from the tyrannical government," Lardy said.

Other militia members are joining him, he said: "There is many more coming."

A group called the Nevada Militia issued an alert on the Bundy Ranch's Facebook page calling for supporters to mobilize in the area.

"Nevada Militia is mobilizing and requesting mutual aid if any Winter Soldier wishes to go, no further permission is needed – you may do as you wish. We will be monitoring the situation at this time as a group," the alert said.

The alert concluded: "If things escalate we will mobilize as a group."
Yet Zahn blames the feds for escalating the situation, even though the dispute has been going on for two decades due to Bundy's continued violations of law. Zahn waits until the 19th paragraph to mention that Bundy has been trespassing on federal land for 20 years.
Posted by Terry K. at 9:35 PM EDT