CNS' Jeffrey Tries to Politicize Longevity Statistics
Topic: CNSNews.com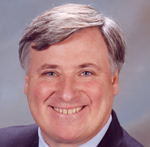 Leave it to CNSNews.com editor in chief Terry Jeffrey to politicize census statistics.
It's not a surprise to anyone that women as a whole live longer than men, but Jeffrey puts a political spin on it in an April 10 CNS article headlined "Death Discriminates: 81% of Americans 100 or Older Are Women." Jeffrey continues the needless politicization in the article itself:
There is a vast inequality among people who live past their hundredth birthday, according to newly published data from the Census Bureau.

Eighty-one percent of the Americans 100 years old and older during the five-year period covered in the Census Bureau's report (2007-2011) were women, while only 19 percent were men.
Why is Jeffrey putting this bizarre frame on what are essentially actuarial statistics? It's not like liberals (or anyone else, for that matter) have made this an issue. Maybe it's Jeffrey's idea of a right-wing joke.
Posted by Terry K. at 1:31 PM EDT