WND's Blood Moon Blitz
Topic: WorldNetDaily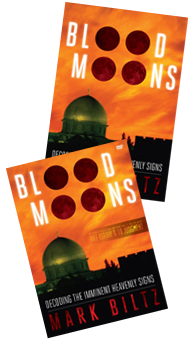 WorldNetDaily has published a book about the "blood moons," and by God, you will be subjected to thinly veiled ads for the book until the last blood moon appears, and probably well after it.
What WND won't always tell you, however, it that it published that book it's so relentlessly flogging. Or that the WND store is selling another "blood moons" book by a more prominent author, John Hagee, that's it's not so eager to promote (except when it accidentially links to it, as in this April 14 article).
Leading up to the book's March 18 publication, WND's coverage of it was shamelessly self-promotional, with articles touting the appearance of the book's author, Mark Blitz, on the "popular" show hosted by once-disgraced televangelist Jim Bakker and hyping how the book purportedly achieved a "necessary fourth printing" before its release date. There has also been the requisite fawning review of Blitz's book by WND columnist Jim Fletcher, who did not disclose the book is published by the same folks who publish his column.
With the blood moon's first appearance this week, WND's promotion has become even more relentless.
An April 13 article promoted some random blogger's claim that "the appearance of the blood moons over our skies may have special significance," going on to quote the guy as being very undecided about the whole thing: ""aybe the message is for us 'sleepers' here in the United States. ... We have turned from our faith in the God of Bible. Maybe He has a message for us; or maybe not." Such indecision is probably why Mark Blitz, and not him, wrote the book for WND, who is described as having "found the divine link between prophecy, heavenly signs, historical events, and when they intersect" by finding "the correlation between when blood moons fell on feast days and key historical world events."
The article falsely claims "The last tetrad happened in 1967, during the Six-Day War between Arabs and Israelis." Actually, according to Space.com, the last tetrad happened in 2003-04.
An April 14 article tried to put a political spin on things by baselessly suggesting that the blood moons are a message to President Obama (whom WND can't quite admit is president, since that word appears nowhere in the article):
Barack Obama quite recently, expressing his frustration that Republican members of Congress won't give him what he wants, threatened arbitrary executive action, promising that he has a "pen and phone."

But there are "flashing red warning lights" in the heavens that should command peoples' attention right now, because the one behind those warnings, God, had "more than a pen and a phone in his hand," according to the author of "Blood Moons: Decoding the Imminent Heavenly Signs."

Pastor Mark Biltz, whose book is creating a tidal wave of interest right now with the first of four lunar eclipses expected to become visible early Tuesday, was speaking to Breaking Israel News.

"I believe that the blood moons have great historic and prophetic significance just as they did following 1948 and 1967. In the book of Joel it mentions three times about the sun and the moon going dark and in context it also mentions Divine wrath against all countries that want to divide or part the land of Israel," he said.

"I believe the moons are like flashing red warning lights at a heavenly intersection saying to Israel as well as the nations they will be crossing heavenly red lines and if they do, they will understand as Pharaoh did on Passover night 3,500 years ago that the Creator backs up what He says.

"Like Pharaoh the leaders and pundits of today will realize when it comes to crossing the red lines of the Creator of the universe he has more than a pen and a phone in his hand."
Another April 14 article features Blitz admitting he doesn't know what the blood moons mean, but dang it, they must mean something:
The pastor whose book, "Blood Moons: Decoding the Imminent Heavenly Signs," explains the biblical links between cosmic phenomena such as eclipses and events on Earth says he's not sure what will happen in connection to the current series of lunar alignments.

Maybe nothing.

But people need to be watching and listening to God, Pastor Mark Biltz urges.
One thing we do know it means is lots of hype with the goal of putting more money in WND's coffers. Thus, you'll never read at WND the fact that, according to Space.com, "while a tetrad of total lunar eclipses is somewhat rare, it is not extraordinarily so, and probably nothing to make a fuss about."
You also won't read at WND any criticism of hucksters exploiting the situation. From the Washington Post:
Greg Boyd, a pastor of Woodland Hills Church in St. Paul, Minn., called the predictions a waste of time, maybe even bordering on astrology.

"You have an entire population buying into this stuff so no congregation is immune to this," Boyd said. "It can strike fear into people, which is so unnecessary and wrong."

The Jewish holy days carry less theological significance than Jesus' resurrection for many Christians, said Sam Storms, a pastor of Bridgeway Church in Oklahoma City. Any connection between the two events should carry less weight, he said.

"We need to stop giving into some of these sensationalist speculations," he said. "Maybe Christians are more gullible. One has to twist the data to make it appear as if these are the fulfillment of some biblical prophecy."
Nah -- you'll never read that at WND, not while it still has blood moon books to shill.
Posted by Terry K. at 8:58 PM EDT