WND's Unruh Lazily And Dishonestly Reports On Birther Lawsuit Dismissal
Topic: WorldNetDaily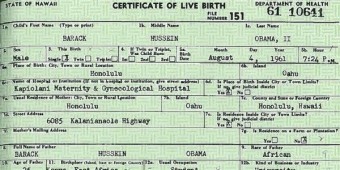 One telltale sign WorldNetDaily is about to bamboozle you: the story's headline doesn't convey the actual news being reported.
Thus, WND presented a March 21 article by Bob Unruh under the headline "Breaking: Judge rules on Obama eligibility; 7-2 majority in state's high court announces decision on constitutional question."
In other words: the birthers lost yet another court challenge. If the birthers had won, that would surely be in the headline.
The bamboozlement continues in Unruh's opening paragraph: "One of the last remaining court battles over Barack Obama's presidential eligibility has gone down in flames in a 7-2 decision by the Alabama Supreme Court to render 'no opinion.'"
Wrong. The court did issue an opinion -- it affirmed a lower court decision dismissing the lawsuit by Hugh McInnish and Virgil Goode demanding that the Alabama Secretary of State verify Obama's eligibility to be on the 2012 Alabama presidential ballot. It simply chose not to explain its decision, though two of the judges issued concurring opinions pointing out that there is no statutory obligation for the Alabama Secretary of State to verify the eligibility of a presidential candidate.
Unruh didn't mention those opinions, though. Instead, he quotes extensively from the opinions of the two judges who dissented, Roy Moore and Tom Parker, even though their opinions are moot. Unruh also touted Moore's previous opinion that "he had seen no convincing evidence that Obama is a 'natural born citizen' and considerable evidence that suggests he is not" -- which should have disqualifed him from judging the McInnish case.
Most of the rest of Unruh's article is lazy rehashing of earlier so-called evidence to prove that Barack Obama's birth certificate is fake without any mention that said evidence has been discredited.
It's all the laziness and dishonesty we've come to expect from Unruh and WND on birther issues.
Posted by Terry K. at 2:14 PM EDT