Beyond The Benghazi Bungle
The Media Research Center gave Lara Logan a pass after she botched her "60 Minutes" story on a fake Benghazi witness. Now Logan is back, falling for Antifa hoaxes -- and the MRC is totally cool with that as well.
By Terry Krepel
Posted 6/17/2020
---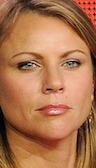 Lara Logan
If Lara Logan is known for anything, it's her monumental botching of a story she did when she was a "60 Minutes" correspondent. She told the story of a man who claimed to be an eyewitness to the 2012 attack on a U.S. diplomatic facility in Benghazi, Libya, in which four Americans died and which Republicans and conservatives had seized upon as a way to attack then-President Obama. The ConWeb loved the story.

Just one problem: it wasn't true. Other news outlets did what Logan failed to do and try to verify the man's story; it turns out that he had told both the FBI and his then-employer that he couldn't get anywhere near the Benghazi compound during the attack, which contradicted what he told Logan and wrote in a book that she was promoting (while not disclosing that it was published by a different division of CBS). The ConWeb had problems accepting the fact that the story was bogus and tried to ignore it as much as it could, lest it have to admit there were issues with conservatives' anti-Obama narrative on Benghazi.

Logan was suspended for several months, during which the MRC couldn't see fit to criticize her. In 2014, the MRC complained when CNN's Brian Stelter argued that Logan's botched Benghazi story was an attempt by CBS to appeal to conservatives, calling her report merely "erroneous." When Logan returned to "60 Minutes" in 2015, the MRC cheered how she "refreshingly brought new attention to the plight of the ancient Christian communities in Iraq"; it made no mention of her Benghazi bungle.

CBS even gave Logan a platform to attack Obama again, in a report claiming that "the U.S. significantly underestimated the risks of withdrawing completely from Iraq," but that still wasn't hateful enough for writer Jack Coleman: "No, it wasn't the 318 million inhabitants of 'the U.S.' who did that. Instead, this disastrous miscalculation was made by a single American -- Obama -- and a feral, death-worshipping caliphate soon emerged in Iraq to fill the void." Again, her Benghazi bungle was censored.

The image rehab continued in a September 2015 post by Tom Blumer, who suggested Logan was set up by a CIA operative who allegedly worked with CBS on its Benghazi coverage, "coverage which "just so happened" to protect the Obama administration and Mrs. Clinton and discredited a story a year later presented by 60 Minutes' Lara Logan."

After that, though, Logan left CBS and spent a few years in the wilderness.
Back with a conservative-friendly vengeance
Logan resurfaced in 2019, when she appeared on someone's right-wing podcast to declare her conservative bona fides and lash out at the "liberal media" that purportedly cost her her "60 Minutes" gig.
The MRC went into full squee mode. "CBS's Lara Logan Goes NUCLEAR on 'Horsesh**' 'Propagandist' Press," screamed the headline on Scott Whitlock's Feb. 18 post, in which he gleefully recounted how Logan "unleashed a blistering, uncensored attack on the extreme liberal bias polluting America's news outlets" and "Logan fully agreed with the idea that the press was hard-left." Whitlock also touted how Logan swallowed MRC orthodoxy that Fox News' right-wing bias doesn't matter:
Regarding the idea that Fox News balances out the liberal press, Logan shot back: "There's one Fox. And there's many, many, many more organizations on the left." She added, "But the problem is the weight of all of these organizations on one side of the political spectrum. When you turn on your computer or you walk past the TV or you see a newspaper headline in the grocery store, if they are all saying the same thing, the weight of that convinces you that it's true. You don't question it because everyone is saying it."
Two days later, Nicholas Fondacaro was similarly gleeful while writing up Logan's appearance on Sean Hannity's Fox News show as she lashed out at "the liberal media folks now targeting her and her career." Fondacaro even credulously insisted that "Hannity wasn't sure of Logan's personal politics and told her as much." (Pro tip for Fondacaro: If Logan is on Hannity's show and Hannity isn't viciously attacking her, she's a fellow right-winger.)
Strangely, neither Whitlock nor Fondacaro mentioned the key reason Logan is so bitter: That "liberal media" she now so thoroughly despises exposed the bogus "60 Minutes" story she spearheaded.
But as we documented, even though the MRC despises CBS as a member of the so-called "liberal media," it entirely ignored the controversy. To this day, the MRC's original post on Logan's report remains live and uncorrected.
The thing is, as the Washington Post's Erik Wemple noted (but the MRC didn't), Logan did address her botched Benghazi story in her podcast interview, lashing out at Media Matters (disclosure: we used to work there) for having purportedly "targeted" her because her story was considered an attack on Hillary Clinton. Media Matters responded by pointing out that it was Logan's badly flawed story, not Logan herself, that was the target, adding that "major broadcast networks don't often retract stories, launch internal investigations, and force correspondents to take leaves of absence just because Media Matters criticizes their reports."
This is what happens when you stuff things down a memory hole, like the MRC did with Logan's botched story. Logan's trying to play the victim by engaging in revisionist history, and the MRC now looks dumb by helping her do so in contradiction of the facts.
(By the way, the MRC managed to get burned by Logan again. Whitlock's original post touted her as a current CBS employee, because that's apparently what she represented herself as in the podcast interview; the article and headline had to be revised to reflect that Logan, in fact, left CBS months earlier -- ironically having to credit one of the MRC's greatest enemies, CNN's Brian Stelter.)
WorldNetDaily -- which also touted Logan's original story, though it eventually acknowledged that it was exposed as bogus -- joined the MRC in going all in on gushing over Logan's love of right-wingers and disdain for the "liberal media." Joe Kovacs wrote in a Feb. 18 article:
A longtime reporter for CBS News best known for her work on the network's "60 Minutes" program is now publicly admitting that most journalists at major media companies are "absurdly left-leaning" when it comes to politics.

Lara Logan, a foreign correspondent for CBS, agreed with that assessment as she spoke from her own home on the the Mike Drop podcast, hosted by retired Navy SEAL Mike Ritland.

It was Ritland who first said American media were "absurdly left-leaning" and that Democrat biases were a "huge f—ing problem" and "disaster for this country," reported Breitbart News.

"I agree with that. That's true," responded Logan, who said it was a phenomenon not solely limited to America.
Just as the MRC did, Kovacs failed to mention the apparent source of Logan's bitterness: that her Benghazi story was exposed as fake.
Of course, WND's treatment of the story didn't leave it covered in glory. Then-reporter Aaron Klein initially rushed to defend the man, prematurely declaring that the "attempt to discredit" him had "backfired." After the man was definitively found to be discredited, Klein flip-flopped and insisted he should never have been trusted to begin with (which, of course, doesn't explain why Klein defended him in the first place).
Since this was all just a bit of lazy media-bashing (on Kovacs' part as well, since he missed the part where Logan left CBS months before her interview), WND editor Joseph Farah wanted in on that action. In his Feb. 21 column, he gushed that Logan "is one of the most accomplished and courageous people in journalism" and played up her claim that she was committing "professional suicide" by going on a media-bashing attack:
As a former member of the so-called "mainstream" media, I know what she means. There's no going back. There's no absolution, no mercy, no grace, no two sides to every story anymore. Once you point out the obvious – that your colleagues are all in the tank for one very narrow political worldview – whatever you accomplished in your previous professional life is forgotten. You are a pariah.
Needless to say, Farah didn't mention that the real reason Logan is a "pariah" is that she had actually committed professional suicide years earlier by botching a major story.
As Logan continued to embrace the MRC's anti-media narrative, the MRC continued to embrace Logan. Curtis Houck gushed in a Jan. 8 post:
On Wednesday, our friends at the Daily Caller flagged a blistering appearance by former CBS News journalist host Lara Logan on Tuesday's display of infatuation with the Iranian government and hatred for President Trump.

An exasperated host Laura Ingraham teed Logan up by stating how, in 2020, "[t]he liberal media [are] acting more like state-run TV at times than, you know, David Brinkley or any of the greats, like Peter Jennings" by "carrying the water for the Iranian regime" against Trump.

Now a Fox Nation host, Logan replied that "it's kind of depressing" to hear how her colleagues have behaved "because that's not in my experience — I've been a journalist for more than 30 years, and I've honestly never seen anything like it."
Interesting that Houck highlighted that Logan is a "former CBS News journalist" before he mentioned how she moved downmarket to being a "Fox Nation host." But it's not surprising that Houck doesn't tell his readers why Logan is a "former CBS News journalist," censoring mention of her horribly botched "60 Minutes" story.
Logan's Antifa hoaxes
The MRC tried to portray Logan as a credible journalist again in a June 2 post by Kristine Marsh:
The media has not only been downplaying and ignoring the violence caused by Antifa for years, they've also been increasingly defending them from scrutiny. On Fox and Friends this morning, journalist Lara Logan went after The New York Times for doing exactly that, after President Trump announced he would designate the violent left-wing anarchist group as a terrorist organization.

Host Steve Doocy began the interview by asking Logan to respond to many in the media's charge that Antifa couldn't be labeled as terrorists since there was "no central leader" and they were well spread out. Logan argued this was the media aiding Antifa's "propaganda" by criticizing a move that would "dry up" the group's funding, citing celebrities contributing bail money.

She called out the New York Times specifically for "dismissing" what everyone can plainly see about the organized group's nefarious role in this past week's protests:

[...]

Logan went on to read from an Antifa document which lists their ten ultimate "goals" to achieve; essentially, to completely destroy American society by dismantling every system of order: "Liberation begins where America dies. So that is what this is about," she summarized.
The "Antifa document" she was reading from was a list of "points of action" from a group called the Revolutionary Abolitionist Movement, which she also posted on her Twitter account. However, Logan did not explain in her Fox News appearance how this particular group is a part of Antifa or otherwise represents Antifa, or even that it has any constituency of any size.
But as Marsh posted this item presenting Logan as credible, Logan was getting destroyed on Twitter for posting two things she claimed were Antifa-related but turned out to be hoaxes.
Related article on ConWebWatch:
As Media Matters' Parker Malloy summarized, Logan posted a document claiming to prove that Antifa "have infiltrated LE (Law Enforcement)" and which detailed "communication channels, secrecy levels, codes and PROFESSIONAL AGITATORS." In fact, as Snopes documented, this document first surfaced in 2015, well before the police-custody death of George Floyd, and we can safely assume it's a hoax because "an organization that secretly organized and masterminded protests, then produced and distributed confidential documents outlining such illegal activities as their use of tax authorities and accounting firms in order to conceal their funding of those protests, would be so foolish as to emblazon the incriminating evidence with their name and logo."

Logan also retweeted a Twitter post from someone claiming to be "ANTIFA America," stating, "Tonight's the night, comrades. Tonight we say 'F--- The City' and we move into the residential areas... the white hoods.... and we take what's ours ." But as NBC reported, that account, which has since been shut down, was linked to white nationalist group Identity Evropa.

Touting a reporter who tends to get suckered by hoaxes -- and she's fallen for other Antifa hoaxes as well -- is not the best way for the MRC to prove the credibility of the right-wing media.

The MRC clearly knew Logan was a conservative reporter from the beginning, as evidenced by its almost complete refusal to criticize her bungled Benghazi story -- even though she did it for one of the media outlets it hates the most . It had all the incentive in the world to dunk on CBS but chose not to.

Now that Logan no longer has to pretend to be an objective journalist, the MRC loves her conservative anti-media rants even more, though her credibility has been destroyed. Not that the MRC will tell its readers that, of course.