WND Ghouls Can't Stop Blaming People's Deaths On Clinton
Topic: WorldNetDaily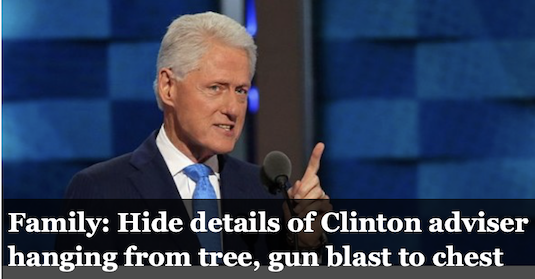 The "Clinton Body Count" -- a list of people tangentally associated with Bill and/or Hillary Clinton who have died, causing hate-filled right-wingers to tie their deaths to purported misdeeds by one or both of the Clintons -- was discredited a long time ago, well before we did an exploration of it way back in 2005. Unfortunately, the hatred at WorldNetDaily for all things Clinton is so virulent and irrational that it's no surprise to see it has insisted on perpetuating the bogus list for lo these many years. (It still hasn't apologized to its readers or to Seth Rich's family for cynically spreading lies about his death in 2016 in order to add him to the list.) And it's still adding to it today. Bob Unruh wrote in a June 6 article:
The family of a onetime Clinton family associate is working to keep concealed the circumstances of his recent death, adding fodder to the longtime suggestions that the "Clinton Body Count," as Wikipedia describes it, has risen again.

The death of Mark Middleton – he reportedly was found hanging from a tree in Arkansas with a shotgun blast to his chest – prompted the Daily Mail to say, "His death adds to the number of close associates of the former president and first lady who have died unexpectedly, many in small plane crashes. The phenomenon has led to a conspiracy theory called Clinton Body Count which even has its own Wikipedia page."

According to reports, Middleton was a Bill Clinton adviser who admitted Jeffrey Epstein to the White House at least seven times.

Now his family, including father Larry and widow Rhea, are fighting to keep photographs and other investigative content about his death away from the public.

They have filed for an injunction that alleges blocking the release would halt what they describe as "unsubstantiated conspiracy theories."

The reports so far have said the married father-of-two, who lived in Little Rock, Arkansas, shot himself at the Heifer Ranch in Perryville, a half hour's drive from his home.
The Middleton family's reason for hiding images of their loved one's suicide is abundantly clear: to keep ghouls likje WND and the Daily Mail from splaying them all over the internet solely because they still -- after 30 years -- are nursing a grudge against the Clintons and are still des[perate to destroy them efen if the lives of innocent people get damaged or destroyed.
Unruh went on to lovingly and ghoulishly detail the method of Middleton's death -- as if he gets some sort of sick pleasure from it -- and further hype the purported connection to Clinton and Epstein. Unruh also rehashed a WND from last year when it tried to add another name to the list. Unruh concluded:
The actual "list" of Clinton Body Count individuals now totals well over 30.

See the "Clinton Death List" here.
Middleton's name had not yet been added to the list, but that's presumbly coming.
Yep -- Unruh and WND are nothing but sick ghouls.
Posted by Terry K. at 5:51 PM EDT
Updated: Thursday, June 23, 2022 8:24 PM EDT