CNS Commits To A Bad Take
CNSNews.com and editor Terry Jeffrey want you to believe that shutting down worship services to stop the spread of coronavirus is an issue of religious freedom and not public health -- even though it quietly published a columnist who completely discredited that take.
By Terry Krepel
Posted 5/27/2020
---
CNSNews.com editor in chief Terry Jeffrey began his March 25 column this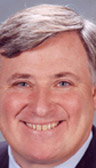 Terry Jeffrey
way:
Virginia Gov. Ralph Northam issued an executive order on Monday that is aimed at stopping the new coronavirus — and, in the process, makes it a criminal offense to hold a church service attended by more than 10 people.

Yes, his order makes it a crime for more than 10 people to gather in a church.
That's misleading -- as Jeffrey conceded over the next few paragraphs, in which he admitted that what was criminalized was all gatherings of more than 10 people, not just church services.
Yet Jeffrey spent the rest of his column pretending that only church services were targeted. So much so, in fact, that he pestered Northam's press secretary demanding "a simple yes or no" to whether church services fall under the ban, even though it's obvious they are. And he wasn't done ranting:
Virginians now live in a state where holding a church service attended by 11 people has been unilaterally declared a crime by the governor.

The same executive order that creates this church-attending crime also declares that Virginia's state-owned liquor stores are "essential retail businesses" that "may remain open during their normal business hours."

How can a person walk into a liquor store, exchange a glass bottle of whiskey and money with a clerk and keep his social distance? Could 11 people in a church — praying the rosary together — stay further apart physically than the buyers and sellers at a Virginia Alcoholic Beverage Control store?

[...]

What would St. Thomas More think of a government that made it a crime to gather and pray in church?

What would the framers of the First Amendment think?

What future "emergencies" will inspire future governors to act on Northam's precedent?
Jeffrey was so obsessed with pushing his right-wing agenda that he only cared how he and his fellow Christians are impacted and didn't seem that interested in how anyone else is. He apparently believes that he and his friends should be exempted from the rules that apply to everyone else because they're Christian.
Jeffrey has doubled down on it over the following days, making this bad take a key part of CNS' editorial agenda and putting that frame on every similar story.
Jeffrey attacked Northam again in a March 30 article -- Virginia is where Jeffrey's employer, the Media Research Center, is headquartered -- complaining that his executive order "makes it a crime to have a gathering of more than 10 people for a 'religious event' or 'in-person classes and instruction' at an 'institution of higher education.'" Jeffrey dishonestly failed to mention that the goal of these bans are to slow the spread of coronavirus until the fifth paragraph of his article.
Managing editor Michael W. Chapman joined the agenda-pushing the next day in an article touting how "A Texas city north of Dallas quickly amended its 'Mandatory Stay-at-Home Order,' which 'prohibited' in-person religious gatherings, after receiving a letter from the First Liberty Institute detailing how the city order apparently violated CDC guidelines, state law, and the First Amendment Free Exercise Clause." Chapman waited until the 10th paragraph to mention COVID-19, even though it was the basis behind the order.
Jeffrey returned to huff, with bonus personal attack:
New York City Mayor Bill de Blasio (D) is threatening to "permanently" close the meeting places of religious organizations that persist in holding services while the city is shut down during the COVID-19 pandemic.

"A small number of religious communities, specific churches, specific synagogues are unfortunately not paying attention to this guidance [to close] even though it's been so widespread," de Blasio said in a briefing on Friday.

[...]

De Blasio does not belong to any religious denomination. In a question-and-answer session on Reddit six years ago, he said: "Although my mother was raised a Catholic, she did not bring me up in the Church. I considered myself a spiritual person but unaffiliated, and I was definitely very influenced by the liberation theology movement in Latin America. And BOY am I a fan of Pope Francis!"
Jeffrey is suggesting without proof that De Blasio is motivated by disdain or hatred of religion rather than public health.
Chapman struck a similar misleading tone in an April 1 article:
Because of coronavirus restrictions, Italian authorities permit people to go to the grocery store, the pharmacy, the doctor, and to "essential" work. But if you go to a church to pray -- even with just a few people and widely separated -- you can be cited by the police and forced to disperse. Citations can be as high as 200 euros (about $220) and may involve court appearances, according to Crux, a Catholic news publication online.

Going to church to pray is not considered "essential."
Chapman didn't mention that the Catholic Church in Italy has canceled all Masses and religious services and that even Pope Francis is celebrating Mass daily without a congregation -- and, thus, that one is not required to be in a church to pray.
Jeffrey devoted his April 1 column to attacking "excessive government" and complaining that some politicians "have used the threat this virus poses to public health to threaten a fundamental liberty," specifically "the free exercise of religion." Jeffrey refused to concede that even the possibility that public health is more important in this case than freedom of religion, huffing at one point, "While COVID-19 is a threat to human health, excessive government is a threat to human liberty."
That was joined by an article from Melanie Arter detailing pastors violating the law by holding religious services for large crowds.
An April 3 article by Chapman noted how "Texas Gov. Greg Abbott (R) revised his March 19 executive order in response to the coronavirus to now include "religious services" as "essential services." Chapman included stock photos of various religious services, none of which appeared to be taking place in Texas.
CNS even threw in an article featuring President Trump claiming that "he's disappointed that churches can't hold services because of social distancing guidelines limiting the number of people allowed at large gatherings to stop the spread of COVID-19."
The dishonest attacks continued:
In the midst of all this politically motivated ranting, though, CNS actually did something it's not known for: offer an alternative viewpoint. It did so in a very understated way, of course, in a pair of columns by Catholic priest theologian Marcel Guarnizo, who is the kind of right-wing Catholic CNS likes because he once denied the sacrament of communion to a lesbian at her mother's funeral.
Related articles on ConWebWatch:
In an April 20 column, Guarnizo highlighted that "irrational agitating of the faithful seems morally suspect, adding: "This temporary suspension of attendance at the Holy Mass is not an attempt to subvert our religious freedom. This temporary shutdown has little to do with Catholicism per se. The right that is being limited is not religious freedom, but the right of association." Guarnizo pointed out that "COVID-19 is perhaps more contagious and would be many times theoretically more lethal [than the flu] if allowed to run rampant through the population" and that "Slowing down a new virus also makes sense in order not to exhaust medical resources, human and material, so that our best care for the sick may be insured. Whether one agrees or disagrees with the current measures, such large claims of persecution are unwarranted and alarmist."

Surprisingly, CNS also published an April 27 column by Guarnizo doubling down on that viewpoint, citing conflicts over the issue in New Mexico:
Not having mass associations within a confined space does not mean, as Rusty [Reno, editor of right-wing religious journal First Things] suggests, that the government suspended public worship in New Mexico. There are no government officials intimidating anyone not to worship. Bishop [Peter] Baldacchino, who carried on outdoors with public Easter celebrations, states that someone called the police and they came, and they said, "Father, this is all fine, we cannot see any problems."

There are so-called culture wars with the state, regarding abortion and other matters, and those are very real. But these "faux" claims of oppression over a temporary limitation of association in New Mexico, are imaginary. Bishop Baldacchino is freely making prudential decisions, unimpeded by the state, and that is his call. I submit we have enough dislocation in the Church and in society at large to be inventing hills on which to die upon.

[...]

It is therefore not our right to religious freedom that is being limited, but the right of association. This is also true for others, who are limited in their right to association for secular purposes. Nothing here is aimed in particular towards the faith or the exercise of religious freedom.

[...]

To imagine that the governor during this pandemic was putting on her theological-metaphysical hat, to tell us what is the meaning of life and what matters in that pursuit, is beyond absurd. To imagine that what embassies, governments, corporations, and others have in mind when they use the designation "essential" and "non-essential personnel" is a theological-philosophical classification of what matters, is unbelievably flawed reasoning.
Needless to say, CNS has not referred to Guarnizo's analysis in any of its articles pushing the religious-freedom canard, and Jeffrey made no mention of it in his May 6 column. It seems CNS feels merely publishing his analysis and quickly moving on was enough -- even though it completely undermines its entire agenda on this subject.
CNS certainly knows how to commit to an editorial agenda. Too bad it's such a biased and dishonest one.
The latest from