Fluffing The MyPillow Guy At WND
WorldNetDaily has not only uncritically promoted Mike Lindell's outlandish -- and false -- claims about election fraud, it stealth-edited an article to tone down praise for a conference he held after it proved to be a failure.
By Terry Krepel
Posted 11/15/2021
---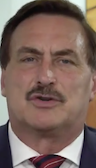 Mike Lindell
WorldNetDaily managing editor David Kupelian quickly went conspiratorial -- as he is prone to do -- in a Feb. 1 email to readers:
Big Tech is attacking WND again. Here's their latest attempt to put one of the Internet's oldest and most storied news organizations out of business:

Last Friday, outraged by the libeling and cancelling of prominent Trump supporter Mike Lindell and his company, My Pillow, WND's Elizabeth Farah posted a short video in support of Mike. That video resulted in the demonetization of the entire WND YouTube account.

Although Lindell has now been permanently banned by Twitter, Farah focused her video on a libelous story appearing in the Daily Mail, which stated as fact (citing unnamed "friends") that Lindell had a torrid months-long affair with actress Jane Krakowski. Only problem was, both Lindell and Krakowski utterly deny the affair – or even knowing each other – and Lindell has already filed a defamation lawsuit against the Daily Mail.

What was WND's crime? The usual: Telling the truth – and defending a staunch Trump supporter like "the My Pillow guy."
Well, we watched that video -- a 13-minute "Farah on Fire" piece that was posted Jan. 22 -- and it is likely that Farah's defense of Lindell over the Krakowski rumors were not the issue (Lindell has since sued the Daily Mail over the story). We do, however, think it's entertaining that Farah and Kupelian are getting all worked up about this -- at one point, Farah declared her opposition to "libeling innocent individuals" -- considering that WND arguably spent eight years libeling Barack Obama by promoting false claims that he wasn't eligible to serve as president and actually did libel a Tennessee car dealer by falsely claiming he was involved in drug dealing (that lawsuit got settled out of court for an undisclosed sum before it went to trial). And it's certainly not because Farah's video was wildly popular -- as of late October, it had only a miniscule 471 views.
The problematic part starts when Farah likens Lindell to the Founding Fathers for putting his livelihood on the line to spout election fraud conspiracy theories, then played a segment of an interview Lindell did on Steve Bannon's podcast. A couple weeks earlier, YouTube had banned Bannon's channel because it had promoted false claims about election fraud.
WND could simply edit the Bannon segment out of Farah's video and probably get re-monetized. But Kupelian won't tell you that -- he's much happier playing the victim. And Kupelian was on a roll and in full conspiracy mode:
Let's take two steps back and look at the big picture: As we have been urgently warning about for over four years, the lords of the Internet – Google, YouTube, Facebook, Twitter and others – are finally making their big move for all-out, undisguised, totalitarian control of what you are allowed to read, watch, hear – and therefore think.

For Twitter to permanently ban the president of the United States, Donald J. Trump – who just last month a Gallup survey of Americans revealed to be the "most admired man in the world" and who had been nominated for multiple Nobel Peace Prizes – makes it pretty clear that Big Tech's mask is off. Completely off.

No more congressional hearings where Big Tech oligarchs make excuses or blame "glitches" or mid-level employees for banning prominent conservatives, Christians and pro-lifers. Those days are over. Ever since the Jan. 6 siege of the U.S. Capitol building – which the Left has equated with both 9-11 and Pearl Harbor – social media giants have abandoned their former pretense and are now wildly purging conservatives from the internet, as though we didn't exist.

And then – no sooner did prominent conservatives announce they were quitting Twitter in favor of free-speech social media alternative Parler, than the Tech Giants ganged up to kill their competitor in the cradle.

[...]

Friends, we are fighters here at WND, and we still intend – as long as God allows us to exist as a news organization – to shout the truth from the rooftops and publish it from sea to shining sea! WND fully intends to continue to sound the alarm and expose the totalitarian left's efforts to completely take over America. That means everything from the Democrats' election-time specialty of voter fraud (and yes, despite what they tell you, the 2020 election was RIGGED), to the leftwing indoctrination of young voters at America's progressive brainwashing centers called colleges, to the Democratic Party's passionate love affair with abortion, to exposing all the outrageous lies of the corrupt "mainstream news media."
Needless to say, Kupelian concluded his email with a request for money for the nonprofit WND News Center.
Touting (but not fact-checking) Lindell doc
WND is capable of fact-checking when it wants to -- but it's also gotten caught publishing false information that it's had to sheepishly walk back. WND writer Art Moore -- who's had to do some of that walking back of late -- presumably doesn't want that to happen again. So he was stuck in bland PR stenography mode with minimal background information in a Feb. 5 article:
One of President Trump's most fervent supporters, MyPillow CEO Mike Lindell, released on Friday a two-hour video documentary titled "Absolute Proof" presenting the claim that fraud and irregularities affected the outcome of the 2020 election.

It's available on a website Lindell created and was scheduled for airing on the One America News cable network three times on Friday, at 1 p.m., 4 p.m. and 7 p.m. Eastern time.

"Everyone needs to share it with everyone you know, because anyone that sees it, even if it's nine Supreme Court justices, everyone will say, 'Wow, this is an attack on our country,'" Lindell said in an interview Wednesday with The Revival Channel on YouTube.

"Once you guys see what I've seen you're gonna be so excited," he said.

OAN has put a disclaimer on "Absolute Proof" stating it is paid programing and "opinion only."

Following threats of a lawsuit, the network, along with Newsmax TV and others, has distanced itself from claims that equipment by Dominion Voting Systems and Smartmatic USA were designed for fraud and were manipulated to steal the election from President Trump.
Moore refused to do a fact-check of Lindell's film, just promoted its existence -- even though fact-checks are out there that prove the film is filled with lies. Moore undersold the disclaimer OAN put on Lindell's video, which was much lengthier than he described.

Moore also repeated a falsehood in claiming that Lindell saw the "withdrawal of his products by several major retailers in response to his claims of election fraud. The consumer organization Media Action Network launched a boycott of Bed, Bath & Beyond, which saw its stock plunge 36% in one day of trading last week."

(Moore first made that claim in a Jan. 28 article. Unsurprisingly, it's not true: As Media Matters reported, the drop happened because "the company's stock price had recently become artificially high as part of the current online craze of small investors buying up stocks that had been short-sold by large hedge funds," and the market was simply correcting itself.)

A few days later, Moore still couldn't be bothered to do a fact-check, but he did do an article on Dominion officials saying that Lindell's film has basically invited a lawsuit. The closest thing to a fact-check he referenced was a note that "Larry C. Johnson, a former analyst for the CIA and the State Department's Office of Counterterrorism, outlined what he saw as the strengths and weaknesses of Lindell's documentary in a post for the Gateway Pundit blog on Monday." But Moore didn't mention that Gateway Pundit is one of the most discredited far-right websites out there, or that Johnson is best known for discrediting himself by promoting a hoax that there is somewhere out there a secret tape of Michelle Obama using the word "whitey."

Moore also noted that "Newsmax TV and others also have distanced themselves from claims that Dominion and Smartmatic systems were designed for fraud and were manipulated to steal the election from Trump" -- but he didn't mention that WND has left itself open to a lawsuit because of a column by James Zumwalt repeating an apparently false and inflammatory attack on a Dominion official (which somehow is still live and uncorrected on WND's website despite the fact that the Dominion official has sued others for publishing it).
WND stealth-edits Lindell conference promo
There are failures even WorldNetDaily wants to distance itself from, it seems. An Aug. 9 WND article, credited only to "WND Staff," gushed all over the then-upcoming Mike Lindell event promising "irrefutable evidence" that the election was hacked:
Promising "irrefutable" evidence that hackers backed by China switched votes in favor of Joe Biden in the November presidential election, MyPillow CEO Mike Lindell will open a three-day "cyber symposium" in South Dakota on Tuesday.

The event will be live-streamed beginning at 10 a.m. Eastern time on Lindell's FrankSpeech.com website.

Lindell believes his evidence will be so convincing that it will result in a unanimous Supreme Court ruling to overturn the November election.

"Whether you're a Democrat or Republican, this will be the greatest uniting of our country ever," he told the Washington Times in an interview. "Because this isn't about politics. This is about free and fair elections and about the 2020 [election]. And you've got to get that righted."

Lindell said former President Trump has no involvement in the symposium.

The Minnesota entrepreneur has spent about $15 million on election-fraud investigations and the cyber symposium. But the toll on his company has been much higher, with hundreds of millions of dollars in losses as retailers have pulled his products.

He told the Times that nearly 500 people have registered for the symposium, including politicians or their delegates from 45 states.

He has offered $5 million to anyone in attendance who can disprove his claims.

Lindell said a number of people came to him in early January saying they had recorded "packet captures" in real time on Election Day. He then hired a team of experts, who spent months validating the material and organizing evidence.

CNN reported last week that election officials in more than a dozen counties that Lindell has claimed were hacking targets said their voting machines are not connected to the internet. They also insisted the results are confirmed by paper ballots, and in some instances official reviews have verified their counts.

'Everyone in the world is going to be curious'

Lindell said his symposium will be "the most seen event in history."

"I believe that because everyone in the world is going to be curious and to see this," he said. "And they're going to be talking, going, 'You got to see this. This is real. The United States was, their election was taken, hacked into by China.'"

Lindell already has produced several documentaries presenting his claims, including "Absolute 9-0," a reference to a unanimous Supreme Court ruling.
But Lindell's event proved to be a total bust -- the evidence was quite refutable, as even Lindell's hand-picked cyber expert showed that the packet captures did not show anything of value, let alone evidence of election fraud. And, no, Lindell did not give him the $5 million.
In the aftermath, an interesting thing happened at WND. Not only did it not cover the failure of Lindell's event to provide any evidence of election fraud, the above article was completely rewritten sometime between Aug. 11 and Aug. 14 to remove most of the Lindell fanboying, change the headline and make it a completely different article under the same URL:
On the second day of his three-day cyber symposium promising evidence that China hacked the 2020 election, MyPillow CEO Mike Lindell got a boost from former President Donald Trump.

Trump on Wednesday joined Lindell in chastising Fox News for not covering his event, which began Tuesday morning, the Washington Times reported from the site of the event in Sioux Falls, South Dakota.

"Fox doesn't understand that it is missing a rating bonanza by not covering the 2020 Election Fraud, the Crime of the Century, which is being exposed throughout many states on a daily basis," Trump said Wednesday in a statement. "They are also doing a disservice to our Country. People have turned them off!"
Lindell has stated, however, that Trump has no involvement in the symposium.

He promises, before the event ends Thursday, to present 37 terabytes of "irrefutable" evidence that hackers backed by China switched votes in favor of President Biden.

The event is being livestreamed on Lindell's FrankSpeech.com website.

After Fox News refused to advertise the symposium last month, Lindell pulled ads valued at more than $1 million per week from the network.

On Tuesday, Lindell said it's "disgusting" that Fox hasn't "talked about this election."

"At least we know where CNN and all these terrible outlets come from. At least they attacked, and then we can at least get the word out," he said.

On Wednesday, Lindell asked: "Where's Fox? Today Fox should be livestreaming this."

Lindell believes his evidence will be so convincing that it will result in a unanimous Supreme Court ruling to overturn the November election.

"Whether you're a Democrat or Republican, this will be the greatest uniting of our country ever," he told the Washington Times in an interview. "Because this isn't about politics. This is about free and fair elections and about the 2020 [election]. And you've got to get that righted."
Despite the article being completely rewritten, the article retained the original timestamp, and no notice was given that the article has been substantially changed from the original.
Again, WND did not report the complete failure of Lindell's event. Instead, it published an Aug. 11 article by Bob Unruh on a poll allegedly showing that Lindell as a higher favorability rating than "far-left" Rep. Alexandria Ocasio-Cortez. It also republished an Aug. 12 article from the right-wing Western Journal featuring Lindell's claim that "he was physically assaulted in a South Dakota hotel on Wednesday amid a symposium on alleged fraud and interference in the 2020 presidential election." But it turns out that wasn't true either; Lindell later stated that he had merely been aggressively poked by someone seeking a selfie.
This is terrible, dishonest journalism by WND. Not only did it refuse to tell readers what actually happened at Lindell's conference, it stealth-edited an article it did promoting it to tone down the promises Lindell made. It appears this was done in part to preserve the issue of its sparsely read Whistleblower magazine issued a couple weeks earlier, which contains numerous false and misleading claims about election fraud.
Remember: WND wants you to give it money to produce shoddy, dishonest journalism like this.
The latest from