Mainstreaming Extremism At CNS: The Boebert Brigade
Just as it did with Marjorie Taylor Greene, CNSNews.com is promoting far-right Rep. Lauren Boebert while censoring her history of extremism and lies.
By Terry Krepel
Posted 10/8/2021
---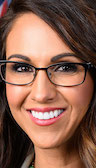 Lauren Boebert
Marjorie Taylor Greene is not the only extremist Republican politician CNSNews.com has been trying to mainstream with fawning coverage that censors their far-right views. Managing editor Michael W. Chapman wrote in a Nov. 24 article:
Colorado Republican Lauren Boebert, who was elected to Congress on Nov. 3, reportedly has asked what the rules are to carry a gun on Capitol Hill and in her congressional office.

Boebert, 33, is from a largely conservative district in western Colorado. She is a defender of the Second Amendment and operates a restaurant called Shooters Grill, in Rifle, Colorado. She is sometimes seen sporting a Glock pistol on her hip.

[...]

Incoming House Rep. Marjorie Taylor Greene (Ga.) supports Boebert on the gun issue.
Chapman was also censoring information from his reader: Boebert, like Greene, has been a follower of QAnon.
That's not all. In articles on Nov. 5 and Nov. 18, Patrick Goodenough listed both Greene and Boebert among newly elected "pro-life Republican women" in Congress without disclosing their QAnon extremism.
And on Nov. 12, Lucy Collins reported that House Minority Leader Kevin McCarthy was asked "about two new members who were subject to controversy and ties to QAnon" but refused to identify them as Greene and Boebert. Collins uncritically reported McCarthy's statement that "both of them have denounced QAnon," which is not true; while Boebert has since tried to distance herself from QAnon, Greene had not until it became an issue in the House.
Susan Jones penned a gushy article about Boebert on Jan. 5:
Colorado's newly elected U.S. Republican Rep. Lauren Boebert on Tuesday described herself as "a 34-year-old woman who wants to protect herself in this dangerous city, here in our nation's capital" -- by carrying a gun.

"You know, it's very interesting that here in the United States of America that there is so much controversy over our Second Amendment rights," Boebert told "Fox & Friends" on Tuesday morning.

[...]

Boebert, the owner of a "gun-themed restaurant" in Rifle, Colorado (as the Denver Post described it) is allowed, as a member of Congress, to carry a gun in the Capitol, except in certain restricted areas.
In a post-riot Jan. 15 article, Melanie Arter featured how Boebert "called out Rep. Sean Patrick Maloney (D-N.Y.) on Thursday for implying that she gave a tour of the U.S. Capitol building to 'insurrectionists' a day before the Capitol riots." It wasn't until the seventh paragraph that Arter got around to admitting that "Maloney didn't name Boebert in his interview as the person who gave the tour."
None of these articles mention Boebert's extreme views, even though CNS is not shy about highlighting what it considers extreme views of Democratic politicians.
After this, Craig Bannister became Boebert's biggest champion at CNS. During February's cold snap and resulting power crisis in Texas, Bannister touted how Boebert "urged followers to watch a video clip she posted of Fox News Host Tucker Carlson 'exposing the green energy scam and how bad policy hurts people'" and claiming that "frozen wind farms in West Texas caused power outages in the state when temperatures fell to one degree Fahrenheit in Dallas." In fact, many different power sources failed in Texas due to inadequate winterizing, not just wind and solar.
Bannister gushed over Boebert again in a March 4 article:
Sen. Ron Johnson (R-Wisc.) is going to force Democrats' entire, pork-laden so-called "COVID relief" bill to be read aloud in the Senate before it's voted on – and Rep. Lauren Boebert (R-Colo.) thinks that's such a great idea that all bills should be read aloud in Congress so Americans can know what's in them.

"Every single bill should be read aloud so the public can hear very clearly what's in it," Rep. Boebert tweeted Wednesday in response to news that Sen. Johnson will require the full bill to be read aloud. "Joe Biden thinks many people are too dumb to get on the internet, so by his racist standards no one should be expected to read bills online," Boebert added.
Bannister followed up with even more gushing on March 16:
"The Left attack women who are too strong for their liking every single day, then claim there's a 'war on women,'" Rep. Lauren Boebert (R-Colo.) says.

"Well, there is, but they're the ones leading it!" Boebert added in a Tweet thanking Rep. Matt Gaetz (R-Fla.) for explaining how the Left is even more hostile to conservative women than it is to conservative men.
Related articles on ConWebWatch:
Boebert's and Bannister's invocation of Gaetz is a little awkward now given the sex scandal he was later involved in (that CNS has been studiously censoring). And Bannister didn't mention that the reason Boebert has been criticized by "the left" is not because she's a "conservative woman," or even because she likes to show her "support for the Second Amendment" by promiscuously brandishing weapons, but that she has supported extremist movements like QAnon.

Speaking of censoring, there's another story CNS won't tell its readers. As an actual news outlet reported:
We're often interested in the "origin stories" of politicians — regular lines that they use over and over to explain their political motivations.

Boebert is a strong booster of gun rights. She arrived in Congress this year after leveraging her fame as the owner of a restaurant, Shooters Grill of Rifle, Colo., where the wait staff often serve customers with open-carry firearms. A sign outside tells customers that guns are welcome.

Over and over, Boebert says she started allowing her staff to carry guns after a man was killed outside her restaurant. But we've obtained police and coroner reports that show her story is mainly fiction.

[...]

Boebert tells the story of a man who was beaten to death outside her restaurant. Police considered it a possible homicide but quickly concluded that the man died of a drug overdose. There was a fight, but it took place blocks away from her restaurant; the man merely ran near her business before collapsing.
So her basic origin story is a sham. Why won't CNS tell its readers the truth? Because she's more useful as a right-wing attack dog. Thus, Boebert continues to get the fawning CNS treatment. Bannister touted a mean so-called joke from Boebert in a May 18 article:
Rep. Lauren Boebert (R-Colo.) says Americans should "Get ready for new videos of Joe Biden sniffing people to start surfacing again" – and that she's got a plan to ensure she doesn't become one of them.

"Now that the mask mandate has been lifted for vaccinated people, get ready for new videos of Joe Biden sniffing people to start surfacing again," Boebert tweeted on Tuesday.

Her solution: "I'm going to continue to social distance from him."
On May 21, Melanie Arter promoted whining from Boebert and other Republicans about mask requirements on the House floor:
Rep. Lauren Boebert (R-Colo.) and fellow House Republicans are fed up with House Speaker Nancy Pelosi's (D-Calif.) rule that all House members must wear a mask on the House floor whether they are vaccinated or not.

As CNSNews.com reported, Pelosi said Thursday that she will be guided by the attending physician, who says lawmakers and staff must continue to wear masks in meetings and on the House floor. This despite CDC guidance saying that they can forgo masks indoors.

[...]

"Everyone is just hearing about them, because we are finally ripping them off saying, 'To heck with this. Nancy Pelosi kiss my mask.' So there were many of us who actually stood and said, 'We're done with these games. You don't know more than the CDC, and if you do maybe that means COVID is more dangerous in the House of Representatives chambers than it is in the hall right outside,' because there we don't have to wear a mask and there is no fine," she said.
Arter didn't mention that Boebert is apparently refusing to get a COVID vaccine, which would help Pelosi want to lift mask mandates in the House.
Bannister returned on June 8 to promote a Boebert stunt:
Since Border Czar Kamala Harris won't visit the U.S. southern border to see the crisis unfolding, Rep. Lauren Boebert (R-Colo.) took a cardboard cut-out of the vice president there at told her to "Stand here and look at what you've done."

"I traveled down to McAllen, Texas to the Rio Grande Valley sector to see what's up at our southern border," Rep. Boebert says in a video posted to her Twitter page.
Related articles on ConWebWatch:
Neither Boebert nor Bannister explained why Harris must be forced to visit the border when they would likely denounce even that move as well.

Meanwhile, CNS has yet to tell its readers that Boebert had just bought into a conspiracy theory that the Clintons caused the death of a reporter -- or any of the other extremist conspiracy theories she has latched onto, like QAnon. One might call that biased and dishonest reporting.

The love for Boebert continued, as Bannister gushed in a June 29 CNS article:
The more Democrats threaten to deprive Americans of their Second Amendment rights, the more Americans will buy guns, Rep. Lauren Boebert (R-Colo.) said Monday in a speech on the House floor.

The congresswoman began by sarcastically "thanking" Democrats for fueling the sale of firearms in the U.S., attributing purchases to Democrats' tolerance of violence and "threats to strip away our basic constitutional rights":

[...]

"So, my colleagues from the other side, they can keep running our mouths and we will keep adding to our arsenals," Rep. Boebert concluded.
By contrast, you won't read at CNS about any of the following Boebert shenanigans that happened over the ensuring month:
But if Boebert again says something clickbait-y that advances CNS' right-wing narratives, CNS will undoubtedly be all over it. Indeed, Arter touted in an Aug. 13 article:
Rep. Lauren Boebert (R-Colo.) said Friday that she has introduced a resolution to censure President Joe Biden for his handling of the border crisis, and she supports her colleague Rep. Andy Biggs' (R-Ariz.) efforts to impeach DHS Secretary Alejandro Mayorkas.

"In my censure resolution that I introduced to censure President Biden for his dereliction of duty to secure the southern border, I called for the removal of Secretary Mayorkas, and I certainly support Chairman of the Freedom Caucus Andy Biggs' efforts to impeach Secretary Mayorkas," the congresswoman said told Fox News's "Mornings with Maria Bartiromo."
Chapman followed on Aug. 26:
In the wake of the bombing at the Kabul airport in Afghanistan that killed at least 12 U.S. soldiers and an unconfirmed number of civilians, House Rep. Lauren Boebert (R-Colo.) said President Joe Biden has blood on his hands for failing to competently plan and execute the withdrawal from Afghanistan.

"There is blood on Joe Biden's hands," she tweeted today.
While CNS was serving as Boebert's press office, here's what it didn't report:
But that's not news at CNS (though it would be if Boebert was a Democrat). Hating on Biden is, and it doesn't hare how extreme or marginalized the right-winger attacking him is.
The latest from