James Hirsen, Right-Wing 'Media Analyst'
Much of the Newsmax columnist's so-called media analysis is defending conservatives and bashing liberals. And that doesn't count his defenses of his buddy Mel Gibson.
By Terry Krepel
Posted 11/26/2013
---
Newsmax columnist James Hirsen presents himself as a lawyer with an "M.A. in media psychology," as well as "a New York Times best-selling author, commentator, media analyst, and law professor."

He's also a buddy of Mel Gibson, which you mostly won't hear about. Someone familiar with media psychology and law should know how serious of a conflict of interest that is.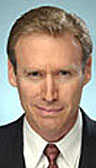 James Hirsen
ConWebWatch has documented how Hirsen used his Newsmax column to promote Gibson's film "The Passion of the Christ" and defend Gibson after his drunken anti-Semitic ravings without disclosing that not only did he have an insider relationship with Gibson -- he frequently visited the offices of Gibson's production company during the production of "Passion" -- he headed a foundation that owned a 26-acre tract of land in western Pennsylvania purchased for the purpose of permitting Gibson's father to found a branch of a dissident ultraconservative Catholic sect that rejects modern church reforms.

When Gibson made news again in 2010 with the release of hateful, violent phone calls to his ex-girlfriend, Hirsen waited more than two weeks to write about it -- even though he's ostensibly Newsmax's entertainment writer -- and when he finally did, he went into defense mode, highlighting claims that "experts concluded that the audio was edited" and asserting that Gibson's estranged wife "said he never was abusive to her or acted in a violent way toward their seven children throughout almost 30 years of marriage."

After pointing out that Gibson "has no serious conviction on his record" and that the probable outcome for him would be "probation and counseling," Hirsen disclosed for the first time at Newsmax his relationship with Gibson:
Note: Mel Gibson is a business associate and friend. My sincere hope is that he will receive fair treatment in the media and the courts. I hope, too, that he receives the best available assistance for the personal issues with which he is dealing.
Hirsen did even more defending of Gibson in a Newsmax interview, in which he insisted that the Gibson heard on the tapes "is not the person that I know." Hirsen goes on to predict a comeback because "he has his own studio. He is autonomous, so it's not going to stop his work." The article did note that Hirsen "considers himself a friend of Gibson."
After that, Hirsen mentioned Gibson sparingly, if at all. In a July 26 column, Hirsen brought him up again, but only in illustrating a dispute over the title of the film "The Butler" by noting that Gibson went through a similar title dispute regarding "The Passion of the Christ." Hirsen, however, made no mention of his longtime relationship with Gibson.
Right-wing defender, not "media analyst"
As his friendship with, and defense of, Gibson illustrates, Hirsen may call himself a "media analyst" but in reality he spends much of his time defending conservatives and bashing liberals -- which is partisanship, not "media analysis" -- and what so-called media analysis he does perform is too skewed to be taken seriously. (That is, however, the kind of "media analysis" that might get Hirsen a job at the Media Research Center.)
After the Newtown massacre, Hirsen rushed to blame video games:
The time has come for industry figures to take the lead in examining the violent content of entertainment product. Empirical data now exists that links violent content in a variety of media forms to overly aggressive behavior in individuals.

The video gaming industry, however, is of the most pressing concern and deserves particular scrutiny due to the unique characteristics inherent in video game products and the greater potentiality for negative societal consequences as a result of active engagement.

Video games are distinctively interactive and have actually been shown to have addictive qualities. Many of the games are laden with highly charged content.

In November 2012 an Australian National University psychology researcher confirmed the addictive nature of video games, discovering that frequent gamers had "attentional bias," i.e., individuals were unable to stop thinking about gaming when attempting to focus on other tasks, a phenomenon that also occurs in alcohol, drug, and gambling addictions.
Hirsen didn't mention that the study also portrays video game addiction as more of a symptom, rather than a cause, of other issues:
"Addicts were also more likely to have psychological traits associated with avoiding problems and difficulties rather than actively dealing with their problems....According to Victoria University researcher Daniel Loton, the correlation suggests that excessive computer gaming may be a symptom of possibly unrelated mental anxieties as gamers seek to avoid their problems through immersion in gaming. He said the suggestion that excessive gaming may be a "coping mechanism" is reinforced by the finding that excessive gaming didn't appear to be damaging a gamer's success or satisfaction at work or study. "In fact, excessive players showed marginally higher success in their studies, failing fewer subjects and scoring higher grade averages than they had intended,'' said Mr Loton, a PhD candidate at VU's school of education.

"The excessive gaming may be a coping mechanism for dealing with pre-existing mental health problems," he told the HES."
Further, the Washington Post compiled data showing there appears to be no direct correlation between video game consumption and gun violence, and that countries with higher video game spending per capita than the U.S. have lower rates of gun-related murders.
Hirsen spent an April 1 column railing against Jim Carrey for making a satirical anti-gun video and -- even worse -- made fun of Charlton Heston. Hirsen actively rooted for Carrey's career to be hurt because of the video:
Interestingly, Carrey's Funny or Die performance is emblematic of the latter. However, what may be even worse for the actor is what could potentially flow career-wise from the ill-conceived and terribly malicious video.

Carrey unfortunately aimed his bully-comedy sights on a legendary figure, who to this day is respected, admired, and missed by countless numbers of Americans; an individual who, incidentally, just days after the video made its ugly debut, graced TV sets across the nation with his onscreen appearance as Moses in the Easter season film favorite, "The Ten Commandments."

Carrey made humorless matters even worse when he promoted the Funny or Die piece by characterizing those who happen to differ with the current liberal gun control proposals as "heartless [expletive] unwilling to bend for the safety of our kids."

[...]

It was predictable that Carrey would alienate a segment of his fans, and perhaps he is not all that bothered by the negative fallout. But apparently, he is not yet finished. He has additionally decided to go after the number one cable news network in America, the Fox News Channel.

Evidently displeased with Fox's coverage of his video, Carrey released a statement claiming that his reputation has been harmed.

"Since I released my Cold Dead Hand video on Funny or Die this week, I have watched Fux News rant, rave, bare its fangs and viciously slander me because of my stand against large magazines and assault rifles. I would take them to task legally if I felt they were worth my time or that anyone with a brain in their head could actually fall for such irresponsible buffoonery," Carrey's statement indicated.

[...]

In addition to obtaining some important instruction on the Constitution and the origin of our rights, Carrey may be about to learn a hard lesson on the power of the free market.
Hirsen failed to tell his readers what Fox News' "coverage" of the Carrey video consisted of. Much of it was not "fair and balanced" and consisted largely of right-wing opinionators like Greg Gutfeld hurling insults at Carrey for expressing his views. Carrey called that coverage "slander," which Hirsen also fails to mention.
Related articles on ConWebWatch:
Hirsen also remained mum on another pertinent fact: He's a Charlton Heston fanboy. In 1999, Hirsen celebrated Heston's appointment as president of the National Rifle Association, calling him "one of the best spokespersons imaginable to lobby lawmakers." In 2003, Hirsen rushed to Heston's defense after he suffered the "indignity" of George Clooney making a joke about Heston's Alzheimer's disease. Hirsen sneered that Clooney "is not content to merely sit around and hurl tired, hackneyed anti-war phrases at the president, like he did while on the Charlie Rose show."

Hirsen slobbered all over Heston in a 2008 eulogy, declaring him "one of the greatest movie stars who ever lived" and lionized his "caring about the country and having the strength of character to actually put thoughts, words, and feelings into motion." Proclaiming Heston "an American archetype," Hirsen concluded: "Go rest high upon the mountain, Chuck."

James Hirsen wrote in his May 6 Newsmax column:
Something intriguing has been happening at the "Tonight Show" with the content of host Jay Leno's humor. The jokes that are flying are going where no late-night hosts have gone before.

Leno's late-night TV colleagues, for the most part, have been blatantly partisan, particularly in the manner in which their material has been written.

Leno's peers have made the occasional reference to President Obama within the context of their jokes; however, in a similar vein to the mainstream media, they have been perfunctory at best in their targeting of Obama or his administration, reserving their sharpest comedic barbs for the GOP.

[...]

Interestingly, Leno's jokes have been taking aim at President Obama's policies and the "Tonight Show" host appears to be going after some of the same uncomfortable truths that prior to now only conservative talk show hosts would dare to speak freely about.
Funny how Hirsen didn't label Leno as "partisan" for his Obama jokes. Instead, he pontificated that "Leno's humor contains substantive messages that might pose a danger to someone who lacks the clout to buck the Hollywood infrastructure" and declares Leno's humor to be "bold, honest" and deserving of a more appreciative home at Fox.
A week later, Hirsen took the opposite tack, having a meltdown over a "Saturday Night Live" skit lampooning the congressional hearings on Benghazi. The skit's central joke was that nobody was paying attention to the hearings, so Republicans were bringing in TV-hyped convicted murderer Jodi Arias to boost ratings, but Hirsen failed to see the humor:
"Saturday Night Live" sunk to a new low in the content of its most recent opening sketch.

The Lorne Michaels-created late-night television show was once recognized for its fresh, brash sketches that combined comedy with commentary.

That was then, this is now. Apparently, SNL producers and writers prefer to be politically correct in their commentary and aggressive in the expression of their liberal biases rather than just plain funny.

[...]

The SNL comedy writers took great pains to depict the Republicans as engaging in purely partisan theatrics. The sick sketch had the chairman of the congressional committee calling convicted murderer Jodi Arias to testify. Also waiting in the wings to be sworn under oath as the next witness was suspected Ohio kidnapper and rapist Ariel Castro.

Although the opening of the bit implicitly acknowledged that the media had failed to properly cover the Benghazi hearings, the humor that was incorporated into the piece came in the form of mockery of GOP committee members, with negligible pokes at the media and zero ribbing of the Obama administration.

SNL's Bill Hader portrayed Rep. Darrell Issa, the Republican chairman of the House Oversight Committee. Kenan Thompson, who played Democrat Rep. Elijah Cummings, telegraphed the SNL writers' mindset, when in character he declared, "Everyone knows that this [the hearings] is just a partisan witch hunt and a chance to attack the president and Secretary of State Clinton."
Is Hirsen really saying with a straight face that Republicans have no partisan motive in pursuing alleged Benghazi scandals? If so, he's deluding himself; he offers no evidence to back up his suggestion.
Hirsen devoted his Oct. 21 column to defending Ted Cruz from that mean ol' liberal media:
The latest target of the news and entertainment media's poison arrows is Sen. Ted Cruz.

The mainstream news media have joined forces with entertainment shows in a multi-pronged attack on Cruz that is reminiscent of the treatment meted out to former GOP vice presidential nominee Sarah Palin.

The tactics being employed by the mainstream news media in attacking Cruz were exemplified by ABC News as it conducted the first interview with the Texas senator since the partial government shutdown came to an end.

[...]

The so-called journalist declared to Cruz, "You more than any single individual were seen as the one that triggered this crisis to begin with," and continued with his loaded questioning by asking, "How much do your colleagues just despise you right now?"

On an equally left-tilted mainstream media Sunday show, CBS's "Face the Nation," Washington Post columnist Dana Milbank snidely characterized Cruz as "a complete phony" who is just riding the tea party to get "really famous."

Liberal cable news networks quickly jumped on the Cruz-bashing bandwagon.
Hirsen's response to this? Recite Cruz's resume:
After the overt display of broadcast malpractice, particularly on the part of the mainstream news media, perhaps the professionals involved might consider reporting on some of the factual background of Cruz.

Cruz's resume contains a list of educational achievements and professional accomplishments of which few in our society could ever boast.

The senator graduated cum laude from Princeton University and magna cum laude from Harvard Law School. As so many of the journalists who have tried to "cross-examine" him have discovered, he possesses superb debating skills and for such he has been widely recognized.
Hirsen's appeal to authority doesn't address any of the media coverage he criticizes. And as the saying goes, intellectual brilliance is no guarantee against being dead wrong.
But Hirsen won't tell you that either -- at least not when the brilliant guy in question is a conservative.
The latest from