CNS Falsely Portrays Biden, China's Xi As 'Old Friends'
Topic: CNSNews.com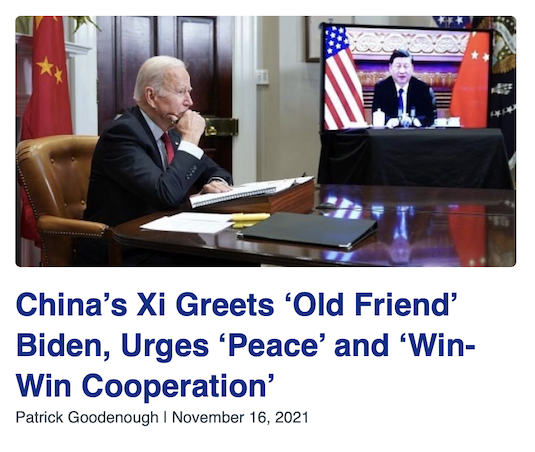 Patrick Goodenough uncritically wrote in a Nov. 16 CNSNews.com article headlined "China's Xi Greets 'Old Friend' Biden, Urges 'Peace' and 'Win-Win Cooperation'":
"I'm very happy to see my old friend," Chinese President Xi Jinping told President Biden on Monday evening as the two began what Biden said would be a "candid and forthright discussion."

Speaking through an interpreter and appearing on television screens in the Roosevelt Room of the White House, Xi said that the world's two largest economies "need to increase communication and cooperation."
Because Goodenough likes making Biden look bad, he didn't explain that despite Xi's greeting,Biden does not see Xi as an "old friend."As a news organization that cares about fully reporting on issues explained:
Asked what Xi was getting at -- and if Xi was trying to undermine the U.S. -- White House deputy press secretary Andrew Bates didn't answer directly, but reiterated that Biden doesn't see Xi as an "old friend."

"I'm not going to speak for President Xi," Bates told a reporter on Air Force One as Biden headed to New Hampshire.

"But like you just mentioned," Bates continued, "you've heard explicitly from the president himself, that he has a longstanding relationship with President Xi. They've spent a great deal of time together. They are able to have candid discussions, be direct with each other, which helps them be productive. But he does not consider President Xi an old friend."

[...]

Experts have tried to interpret Xi's use of the phrase -- whether it was genuine goodwill or meant to gain control of the narrative over Biden.

Wang Huiyao, president of the Center for China and Globalization, told Reuters Xi's use of the phrase is a show of genuine goodwill, while Shi Yinhong, professor of international relations at Renmin University of China, told the news outlet "an 'old friend' doesn't necessarily mean he is still a real friend."
This isn't even the first time Goodenough has done this. He wrote in a June 16 article:
President Biden was asked Wednesday whether, given how much time he says he has spent in the past with Chinese President Xi Jinping, he would consider calling him up – "old friend to old friend" – and urge him to cooperate in the coronavirus origin investigation.

Biden, who was taking reporters' questions after the U.S.-Russia summit in Geneva, disputed the characterization of Xi as an "old friend," but did not otherwise answer the question.
Goodenough censored two things about this exchange: Biden's full, forceful response -- "Let's get something straight. We know each other well. We're not old friends. It's just pure business" -- and the fact that the question was asked by Fox News' Peter Doocy. As we noted, Doocy's hostile question was such a screw-up on his part that Curtis Houck, his biggest champion at CNS's parent, the Media Research Center, buried the exchange in his usual Doocy-fluffing reports on White House press briefings.
Posted by Terry K. at 12:49 AM EST