From Vile To Victim: The MRC's Flip-Flop on Dave Portnoy
Topic: Media Research Center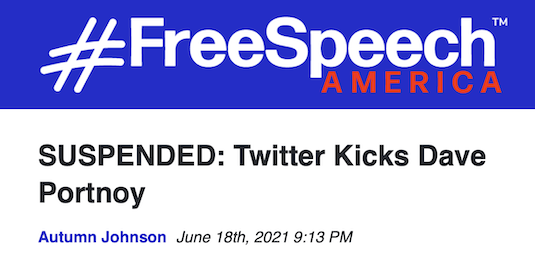 The Media Research Center used to understatnd that Barstool Sports and its founder Dave Portnoy were terrible, and it even called them out as such.
In October 2017, Jay Maxson cheered ESPN ending a partnership with Barstool Sports, "one of several vulgar media catering to left-wingers," which occurred after "revelations of Barstool's 2014 misogynistic trashing of ESPN's Samantha Ponder (see photograph) came to light." Maxson also noted a YouTube video by Portnoy that "viciously attacked Ponder," adding, "No self-respecting media organization would go within a hundred miles of people like this." In 2019, Maxson criticized a Barstool Sports writer for trying to "excuse away the recent arrest of [New England Patriots] team owner Robert Kraft on the charge of soliciting sex."
However, the MRC didn't heed Maxson's advice about not getting close to Portnoy. An April 2020 post by Jonas Wells touted how "Barstool Sports President, Dave Portnoy" -- no mention of the vile misogyny that goes on with him and his site -- "kept his opinion short and to the point," attacking sportswriter Jemele Hill as "absolutely idiotic" for pointing out that Kraft flying a planeload a N95 masks from China at the start of the pandemic had more to do with his being a buddy of Donald Trump than any magnamious motives.
In September 2020, as a way to attack "The View" co-host Sunny Hostin for the offenise of criticizing right-wing-friendly podcaster Joe Rogan, Kristine Marsh hyped criticism of Portnoy Hostin had made a few months earlier, noting after an interview Portnoy conducted with Trump that "over a dozen women, Barstool Sports reporters refused to sit down with HBO because they feared rape threats, he's been on video using the n-word and, so, it's not surprising to me that Trump would sit down with someone with that kind of reputation." Marsh linked to a Fox News article on Portnoy's response, in which he narrowly complained that Hostin told a "flat lie" because he "never made a rape threat." In Marsh's post, however, there was no reference to rape threats, only a statement that Portnoy "pushed back on saying she lied about him."
Portnoy got sanitized further in a December 2020 post by Joseph Vazquez, who gushed that Portnoy "exemplified the Christmas spirit by raising millions of dollars to help small businesses suffering under state-imposed lockdowns. The " Barstool Fund " has amassed a whopping $6,687,624 with 60,929 supporters so far. The funds have already helped 19 small businesses." Vazquez made not mention of the skeeviness of Portnoy or his website.
From there, it was a short trip to full victimhood, as he ultimnately met the MRC threshhold of getting brieflly suspended by Twitter. Autumn Johnson sympathetically wrote in a June 18 post:
Dave Portnoy, the founder of Barstool Sports, was inexplicably suspended from Twitter on Friday.

@BFFsPod, the Twitter account for the weekly podcast hosted by Portnoy and TikTok star, Josh Richards, tweeted screenshot of Portnoy's account with the message "Account suspended."

The account tweeted out the screenshot along with the newly trending hashtag, #FREEPORTNOY. The podcast added that "you'll want to tune into next week's episode."

Although Twitter appeared to provide no reason as to why Portnoy was suspended, The Daily Wire reported that some users speculated that he was targeted after he threatened to "drop my nuts on your head" during a debate on Penn National Gaming stock.

However, the platform's terms of service allow it to suspend accounts for little to no reason.
Johnson didn't explain why she didn't find that remark offensive. Instead, she continued to portray Portnoy as a peach of a guy, highlighting how "Portnoy talked with Ben Shapiro of The Daily Wire about why he is willing to engage with critics on social media."
Believe it or not, the MRC went even farther than that by giving Portnoy a pass on his personal sleaziness. When Business Insider published an account of numerous women who described humiliating and violent sexual encounters with Portnoy, Tierin-Rose Mandelburg used her Nov. 17 podcast to not only declare that Portnoy was a victim of a "hit piece," shes completely refused to pass judgment on Portnoy despite the disturbing details in the article because he's allegedly a real "American":
Beleive it or not, Barstool Sports founder Dave Portnoy was just censored. Portnoy doesn't come off as politically right or left, but he does come off as American and supports the idea of saying whatever you want. That's a concept the left doesn't like. Now. I'm not going to sit here a defend Dave Portnoy. He's had his slew of sexual misconduct allegations that you could look at and and believe or not on your own time.
Having washed her hands of moral judgment of Portnoy -- even though moral judgment is kinda the MRC's thing -- Mandelburg complained that Twitter temporarily locked Portnoy out of his account, allegedly because he posted a conversation between him and Business Insider editors when the refused to appear on Portnoy's podcast. She offered noproofthis is what happened, but declared that "Insider is clearly leftist and so is Twitter, so it makes sense."
That's the level of "media research" the MRC has descended to these days -- all for the benefit of anyone who can help advance its right-wing agenda, no matter how sleazy. It's another example of the MRC mainstreaming extreme and/or terrible people to own the libs.
Posted by Terry K. at 9:00 PM EST
Updated: Tuesday, December 21, 2021 11:27 PM EST