MRC Defends Vaccine Misinformation
Topic: Media Research Center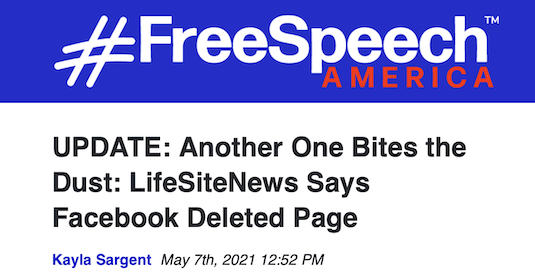 The Media Research Center has previously defended right-wing anti-abortion site LifeSiteNews' troubles with Facebook by falsely framing a suspention of the website's page as an attack on conservatives -- its usual narrative -- when it was actually about LifeSite publishing deliberate misinformation about coronavirus. When Facebook banned LifeSiteNews for good, a May 7 post by Kayla Sargent hyped the bogus "censorship" narrative, though she did finally give notable placement to the misinformation stuff:
Facebook quietly unpublished a pro-life page as the tech world focused on former President Donald Trump. The platform's Oversight Board had an upcoming decision on the former president's Facebook suspension when LifeSiteNews lost its page.

The LifeSiteNews Facebook page was removed on May 4 in what appeared to be the platform's latest attempt to silence any dissent about COVID-19 vaccines. A representative from LifeSiteNews told the Media Research Center in an email that Facebook had removed the page "for publishing this piece based on official government data." The email included a link to an article titled "COVID Vaccines Can Be Deadly for Some." The article explained: "[P]eople who have previously had COVID-19 will be at greater risk of adverse events if they receive Covid vaccination." However, LifeSiteNews continued: "To be clear, this is a theory based on an understanding of immunology."

LifeSiteNews has encountered Big Tech censorship before. "Much like when LifeSite was removed from YouTube, this comes with little surprise," LifeSiteNews Marketing Director Rebekah Roberts said in a statement from the organization. "We have known this day was coming for months now."
Sargent is hiding the nature of the misinformation that LifeSiteNews published. The article in question was republished from an apparently anti-vaccine website called The Dark Side of Vaccines and dishonestly used the government's Vaccine Adverse Events Reporting System to falsely link adverse effects reported to it as solid evidence that the vaccine is killing people.In fact, many of the adverse effects reported to VAERS are incidental, there is no actual evidence linking the vaccine to deaths, and anti-vaxxers are misusing VAERS to fearmonger about the COVID vaccine.
Still, she devoted a paragraph to letting LifeSIteNews defend its misinformation:
LifeSiteNews also claimed that its content was based on evidence. Roberts continued: "Our LifeSiteNews Facebook page has been removed simply because we have shared reports of doctors, nurses, expert researchers, and even the former Pfizer VP speaking out against the COVID shots. We've also been tagged for the numerous articles we have shared making the connection between the COVID shots, and really all vaccines, and aborted baby cell lines."
Sargent later updated her post to quote Ilyse Hogue of "the pro-baby killing National Abortion Rights Action League Pro-Choice America" cheering the ban because LifeSiteNews "are primary purveyors of some of the most toxic disinformation out there." strangely, she didn't a more formal statement by NARAL, Media Matters, GLAAD and the Human Rights Campaign noting that the groups had compiled "more than 100 posts that proved LifeSiteNews' repeated violation of Facebook's related policies" -- which means she would have to admit that violation of Facebook's terms of service, and not purported targeting of conservatives, is why LifeSiteNews got banned.
This isn't the only source of vaccine misinformation Sargent has defended. The day before, she cheered -- under the misleading headline "Fight for Free Speech" -- how anti-vaxxer group Children's Health Defense is suing Facebook over an "alleged First Amendment violation" of "censorship." Unilke with LifeSiteNews, though, Sargent actually calls CHD's misinformation what it is, noting that it "falsely claimed on its website that 'vaccines can and do cause injuries including autism and many other adverse health outcomes'" and has spread wacky conspiracy theories abaout 5G technology -- but one can presume that it was because she also got to highlight that the group "was established by its leftist president, Robert F. Kennedy, Jr." -- thus trying to link liberals to vaccine conspiracy theories.Sargent made s=no such statement about LifeSiteNews.
Nevertheless, Sargent went on to whine that "Facebook has the power to choose who can participate in debate in the public square." She failied to mention that if you spread lies and misinformation in a civilized society, as LifeSiteNews and CHD have done, you forfeit your right to take part in that debate.
And as long as the MRC is continuing to defend fringe misinformers, it's coming close to forfeiting that right as well.
Posted by Terry K. at 10:18 PM EDT