MRC Gushes Over Trump Social Media Lawsuit, Offers To Help
Topic: Media Research Center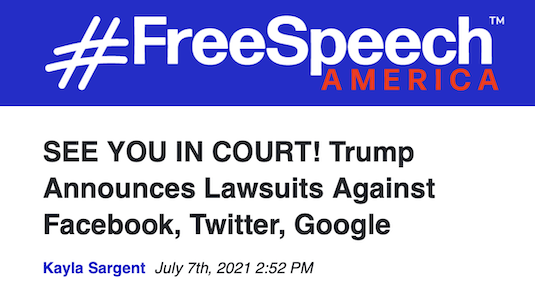 The Media Research Center alsmost couldn't contain itself when Donald Trump sued the social media platforms that suspended him, as Kayla Sargent demonstrated in a July 7 item under the headline "SEE YOU IN COURT!":
Big Tech corporations have a notorious history of silencing conservatives on social media platforms, but their tyrannical practice of censoring opinions that they disagree with may come back to haunt them. Former President Donald Trump has decided to fight back and take legal action against the Big Tech platforms that banned him earlier in the year.

Trump announced that he would file lawsuits against Facebook, Google and Twitter, as well as their top executives Mark Zuckerberg, Sundar Pichai and Jack Dorsey at a July 7 press conference. "We're asking the U.S. District Court for the Southern District of Florida to order an immediate halt to social media companies' illegal, shameful censorship of the American people," Trump said in the press conference.

Trump discussed the actions the lawsuit would ask the court to take. He said that the lawsuit "seeks injunctive relief" and is "asking the court to impose punitive damages on these social media giants." Trump stated further: "In the end, I am confident that we will achieve a historic victory for American freedom, and at the same time, freedom of speech."
Sargent also repeated a couple of old MRC chestnuts in claiming that "Big Tech's vendetta against Trump dates back several years. The first was the misleading assertion that "Twitter censored Trump 625 times between May 31, 2018, and Jan. 4, 2021, before he was kicked off the platform. ... Twitter did not censor President Joe Biden at all during the same period of time." The more accurate way to say it is that Trump violated Twitter's terms of service 625 times while Biden did not violate them at all. Sargent also declared that "Trump was also banned from at least nine other platforms after he called for 'peace' following the Jan. 6 riot at the U.S. Capitol" -- a lie that the MRC has pushed for months; calling for peace had nothing whatsoever to do with his suspension.
The next day, Sargent gushed further over Trump's Wall Street Journal op-ed explaning why he filed the lawsuit:
Big Tech has made a habit out of silencing conservatives for too long, but former President Donald Trump decided to fight back, launching lawsuits against Facebook, Twitter and Google.

Trump put Big Tech on blast in an op-ed for The Wall Street Journal. He described the internet as "the new public square." And the former president called out Big Tech companies for being "increasingly brazen and shameless in censoring and discriminating against ideas, information and people on social media—banning users, deplatforming organizations, and aggressively blocking the free flow of information on which our democracy depends."

Trump's class action lawsuits against Big Tech could help restore free speech rights of Americans. "One of the gravest threats to our democracy today is a powerful group of Big Tech corporations that have teamed up with government to censor the free speech of the American people," wrote Trump. "This is not only wrong—it is unconstitutional. To restore free speech for myself and for every American, I am suing Big Tech to stop it."
No mention, of course, of any criticism of Trump's lawsuit -- particularly his nonsensical claim that social media companies violated the Constitution in suspending him; as one critic noted, "this is the former President of the United States arguing that private companies violated HIS 1st Amendment rights by conspiring with the government HE LED AT THE TIME to deplatform him." Others have noted, where Sargent didn't, that Republicans are using Trump's lawsuit to raise money, making the whole venture look more than a little grifty. Sargent also copied-and-pasted her bogus claims about Twitter having "censored" Trump 625 times and that he was suspended for calling for peace over the Capitol riot he helped instigate.
Autumn Johnson was boldly shilling for Trump and his lawsuit in a July 9 post:
Members of the class-action lawsuit filed by former President Donald Trump are looking for stories from other social media users who have had their content censored by Big Tech companies like Facebook, Twitter, and Google.

An Instagram post by Austen Fletcher, who is involved in the suit, asked users to post about their experiences with Big Tech censorship. The post had over 15,000 likes and 3,500 comments on its first day.

"Have you been banned, censored, or shadowbanned by Big Tech?" the post reads. "Comment your story below."

"This is not a drill! Tell me your story below," the caption adds. "This class action lawsuit is about YOU, the people. If you've been shadowbanned, censored, or deleted off from any of your social media platforms tell us about it in the comments. BE SPECIFIC! I think we will have thousands upon thousands of examples! This will be the largest class action lawsuit in this country's history!"
And wouldn't you know it, the MRC is eager to help out by serving up examples, as Sargent explained in a July 14 post:
Big Tech's war against conservative voices has reached new heights. But MRC Free Speech America's CensorTrack team has exposed the left's online censorship by amassing 2,500 individual cases to hold Big Tech accountable.

The CensorTrack database has cataloged 2,500 cases of Big Tech silencing conservatives online since March 2020. In that time, Big Tech has booted a sitting president, silenced members of the free press like the New York Post for its reporting on Hunter Biden and shut down free speech-oriented platforms like Parler.

Twitter censored and Facebook suppressed a story from the New York Post that claimed to expose the alleged corrupt dealings of now-President Joe Biden and his son Hunter Biden in Ukraine. Not only did Twitter ban users from posting the link to the story, but it also locked the Post's account for 17 days. A post-election poll conducted by MRC found that 36 percent of Biden voters were not aware of the story, and 4.6 percent would not have voted for him if they had known about the scandal, which could have swung the outcome of the election.
Sargent didn't mention that poll was conducted for the MRC by Trump's pollster, so there's no reason to trust its accuracy, or that the pro-Trump New York Post deserves the benefit of the doubt for its dubious October surprise about Hunter Biden. She did, however, repeat once again the bogus assertion that Trump was suspended for calling for peace.
The same day, Alexander Hall promoted a Wall Street Journal op-ed championing Trump's lawsuit by Vivek Ramaswamy, whom Hall obliquely identifies only as a "Philanthropy Roundtable board member," though he's actually a right-wing activist.
Casey Ryan touted the success of this effort in a Aug. 5 post:
Former President Donald Trump and everyday Americans are now piling on Big Tech for their egregious acts of censorship. Trump has amended his lawsuits against Big Tech corporations and executives to include comments from what appears to be a huge grassroots army of 65,000 Americans.

The nonprofit America First Policy Institute (AFPI) announced that Trump's amended complaints were filed in late July. Trump said that he launched his lawsuits against Big Tech "in conjunction" with the AFPI in an op-ed that he recently wrote for The Wall Street Journal.

The organization explained that it allowed people to submit examples of how Big Tech has censored them and that 65,000 Americans submitted their stories. "According to the America First Policy Institute (AFPI), Trump's July 7 lawsuit against Facebook, Twitter, and Google is adding 'additional censorship experiences' from some of the nearly 65,000 people who submitted them to the institute," The Epoch Times reported.
How many of those were supplied by the MRC? Ryan doesn't say. Perhaps he should have, so that we can see the extent that the MRC is playing partisan politics -- and pushing right-wing victimhood.
Posted by Terry K. at 10:20 PM EDT
Updated: Thursday, August 19, 2021 10:25 PM EDT