At CNS, Old News Is New 'News'
Topic: CNSNews.com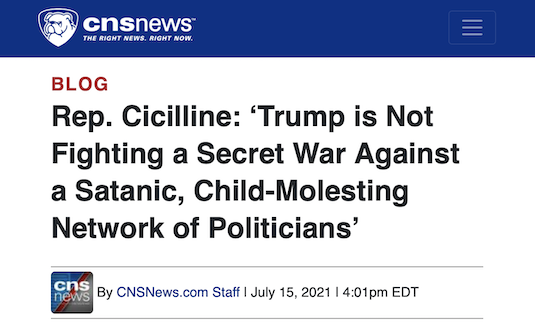 CNSNews.com, which calls itself a "news" organziation, has had a penchant for old news lately. An anonymously written July 15 article, for example, felt the need to rehash a congressional speech from last October:
Rep. David Cicilline (D.-R.I.)--who was one of the managers in the first impeachment of President Donald Trump--took to the House floor on Oct. 2, 2020 to express his support for a congressional resolution condemning the conspiracy-mongering group QAnon and debunking, among other things, the notion that Trump was "fighting a secret war against a Satanic, child-molesting network of politicians."
Why did CNS suddenly report on a nine-month-old speech? We don't know -- nether Cicilline nor QAnon were in the news at the time that we're aware of. And it's not like CNS had much to do with QAnon, usually only complaining when then-President Trump was asked about it or when a certain female Democratic congresswoman talked about it.
The other trip back in time actually had something of a purpose: to give CNS something resembling original content related to the Olympics. It was highly tailored, though, focused solely on the Catholicism of Olympic star swimmer Katie Ledecky. It first reposted a 2016 article by Mark Judge in which Ledecky talked about how she "prays before she races."
(You might remember Judge as the employee who quietly disappeared from the MRC after his name came up as Supreme Court nominee Brett Kavanaugh's prep-school buddy who wrote a memoir of those days that appeared to feature a thinly veiled and very drunk Kavanaugh. In its write-ups over the Kavanaugh controversy, the MRC never admitted that Judge was an MRC employee.)
This was followed by an anonymously written Aug. 2 article that rehashed a 2016 interview with Ledecky talking about "the beauty of Catholicism."
If CNS has to dig up old stories to present as "news," what good does it do as a "news" operation?
Posted by Terry K. at 1:13 AM EDT