MRC Continued To Root Against America, Non-Heterosexual Olympic Athletes
Topic: Media Research Center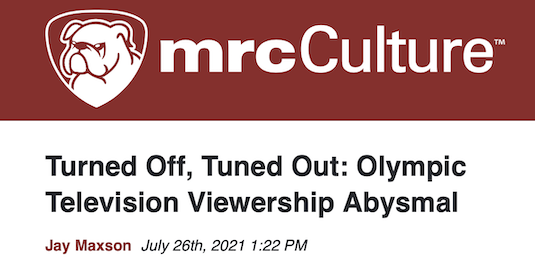 We've documented how the Media Research Center has spewed hate at athletes who aren't heterosexual and even rooted against America when those athletes performed in the Olympics. That continued throughout the rest of the Olympics.
On July 26, Jay Maxson cheered that Olympic viewership was relatively low, which he (or she) blamed on athletes not being heterosexual or right-wing:
Friday's opening ceremonies for the Tokyo Olympics provided more painful truth for Big Sports. The U.S. television audience for the event was the lowest it's been in the 21st century, further indicating how badly Americans are rejecting woke sports.

[...]

The Tokyo Olympics were delayed for a year because of the outbreak of the COVID-19 pandemic last year. During those 12 months, social justice warriors in sports have only given fans fewer reasons to watch when the Games finally arrived this summer.

For many fans, they'd seen enough outrageous behavior to determine they wouldn't tolerate any more of the same. Last Tuesday's kneeling by the U.S. and other national soccer teams may have just reinforced fans' decisions for tuning out of the opening ceremonies.
The MRC's hatred for athletes who don't adhere to right-wing politics extends to those from other countries. Abigail Streetman whined in a July 28 post:
The Olympic games will now be adding a category for 'best virtue signaler' after Costa Rican gymnast Luciana Alvarado decided to throw up a fist at the end of performance in support of the Marxist organization Black Lives Matter. The 18 year old athlete defied the International Olympic Committee's guidelines in a selfish attempt to make the games political and divisive instead of a unifying event.

The Olympic games is supposed to be a 'safe space' free from "political, religious or racial propaganda" according to IOC Rule 50. The committee released these new guidelines as a result of the violence and destruction that has been caused by BLM groups and riots around the world.
Maxson returned to root against America again by lodging a similar complaint agianst an American athlete:
American shot putter Raven Saunders defied the International Olympic Committee Sunday by protesting on a victory podium in Tokyo. She claimed the Silver Medal, then broke the IOC's Rule 50 banning victory stand protests. Saunders crossed her arms in an X symbol to protest oppression.

Radical left media like Deadspin implored the IOC to leave Saunders alone instead of punishing her. As of this morning, the organization that runs the Olympics had not taken any kind of action against her. It was looking into the highest level of protest yet seen in the Tokyo Games. Whether the protest will stand unchallenged, and whether the IOC is just a cowardly organization that doesn't enforce its own rules, remains to be seen.

[...]

So the Olympics have come down an opportunity to speak up for the oppressed. Like the politically powerful LGBT juggernaut doesn't have much of a voice? Come on, get real! And whose platform is it anyway? It belongs to the Olympics, not agenda-driven social justice warriors.
Nicholas Fondacaro served up whataboutism in his rooting against America in a Aug. 2 post:
On Monday, NBC Nightly News showed that they would take any opportunity to smear America on the world stage. As part of their so-called "Inspiring America" series, anchor Lester "fairness is overrated" Holt highlighted U.S. Olympic sprinter Noah Lyles as he suggested America didn't want him as a black man and that the country was trying to kill him. Meanwhile, Holt ignored Belarusian sprinter Kristina Timanovskaya who defected to Poland to escape the oppression of communism and protect her life.
Actually, Fondacaro is the one who's smearing America by trashing an athlete whose political views he doesn't agree with.
Maxson rehashed his (or her) seething hatred for transgender athietes in deciding that the IOC was suddently clueless after lauding its stances on athlete protests:
Following the Tokyo Summer Games, the International Olympic Committee (IOC) plans to revise "outdated" rules governing transgender athletes. During a roundtable discussion with reporters, the IOC invoked numerous references to science that indicate it has no clue on what sound science even looks like pertaining to gender.

Richard Budgett, the IOC's medical and scientific director, said it's important to remember that "transgender women are women. So you'll include all women, if you possibly can." Surely, he must have skipped biology classes.

[...]

So now, enabling a male's gender confusion and reducing his endurance just so he can compete in female sports is supposed to be honoring and inclusive? In the upside down world of the IOC, our old, outdated determinants of gender need to be set aside. We should no longer look at Hubbard and see Gavin (his birth name) or his brawn. It's the hidden things we cannot see, like testosterone and hemoglobin levels, that make a man a woman.

The IOC also stressed the need for more science. To which we will add its need for objective scientists.
On Aug. 6, Matt Philbin praised a member of the U.S. women's soccer team for not kneeling with the other players "to protest racism, or sexism, or whatever was Thursday's gripe du jour," declaring that she "finished her games (and perhaps her career) standing, with dignity and humility. Bravo." He still found a way to root against America by complaining that "perennially pissed-off Megan Rapinoe" scored two goals in the team's bronze medal-winning performance and lamenting that this showed that "cosmic justice" didn't prevail.
Philbin concluded the MRC's Olympics coverage by once again rooting against America by joining Maxson in cheering the allegedly low ratings, which he baselessly blamed on "the politics": "All the talk in the weeks leading up to the games about whether the IOC would allow political protests and what kind drove away viewers -- just as NBA and NFL fans have been repulsed by the Black Lives Matter grandstanding. "
Meanwhile, Gabriel Hays dedicated a post to the only athletes the MRC deems American enough to be worth cheering for -- right-wing Christians:
Going by the media coverage, it may seem like the 2021 Tokyo Olympics is all about the Megan Rapinoes, trans weightlifters, and non-binary gymnasts. But if you dig a little deeper into the competition's rosters and medal winners, you'll find that there are many humble and gracious Christians who are giving glory to God with their victories.
Hays gushed over how these athletes thanked God for their victories, even though that's as much virtue-signaling as the ant-racist activism his MRC buddies are trashing other athletes for engaging in.
Posted by Terry K. at 11:21 PM EDT
Updated: Sunday, October 24, 2021 11:50 AM EDT