CNS Lamely Defends Pompeo Over Georgia Visit
Topic: CNSNews.com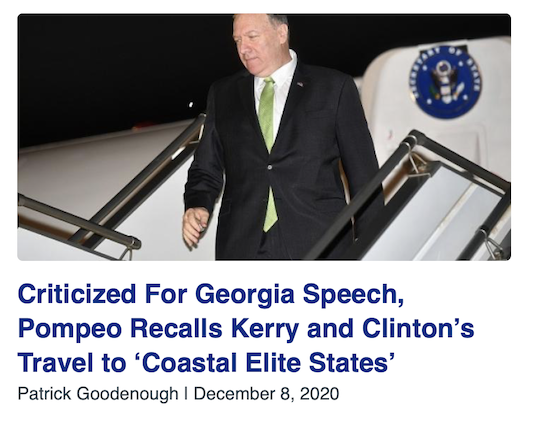 Patrick Goodenough wrote in a Dec. 7 CNSNews.com article:
Secretary of State Mike Pompeo swatted away criticism Monday over his plans to deliver a speech this week in Georgia – where crucial Senate runoff elections are looming – suggesting that no-one had raised flags when his predecessors had domestic engagements during their tenures at the State Department.

Pompeo, already under scrutiny for activity deemed inappropriately political during the recent election campaign, is due to speak at the Georgia Institute of Technology in Atlanta on Wednesday, on "the China challenge to U.S. national security and academic freedom."

[...]

Interviewed on "The Guy Benson Show" on Monday evening, Pompeo laughed off the criticism.

"I'm just chuckling," he told Benson when asked about the kerfuffle. "I promise you, when Secretary [of State John] Kerry traveled to Massachusetts or Secretary [of State Hillary] Clinton traveled to New York, those were coastal elite states – those were all fine for secretaries to travel to."
But Goodenough waited until much later in his article to reveal that what Pompeo's doing and what he accused Clinton and Kerry of doing are, well, not quite the same thing:
A non-exhaustive review of travel by Pompeo's two Democratic predecessors at the State Department finds that Kerry delivered occasional speeches in Massachusetts (including one at Harvard in 2015 and another at MIT in early 2017) and visited a wind technology testing center in Boston with his British counterpart in 2014.

Clinton took part in numerous events in New York City while serving as secretary of state from Jan. 21, 2009 to Feb. 1, 2013 – not including those relating to the United Nations – delivering speeches at policy institutions, schools, galas, benefits, award dinners, and other events.
Goodenough offered no evidence that any of those Kerry and Clinton speeches he referenced took place in a state with an active major political contest going on at the same time.
And it wasn't until the very last paragraph of his 17-paragraph aticle that Goodenough conceded one major mitigating factor: "Kerry and Clinton did represent Massachusetts and New York respectively during their U.S. Senate careers."
That's right -- Kerry and Clinton actually lived in those "coastal ellite states" they gave speeches in. (And Goodenough never explained what, exactly, was relevant about Pompeo's sneering at "coastal elite states.") By contrast, Pompeo is from Kansas, not Georgia.
Posted by Terry K. at 12:28 AM EST