CNS Sends Interns To Pester Members of Congress With Anti-Trans Gotcha Question
Topic: CNSNews.com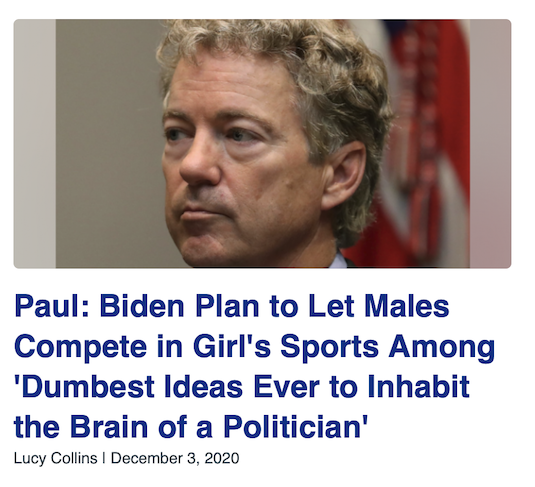 CNSNews.com has long been obsessed with hating transgendered people, particularly the idea that a boy who identifies as a girl might be allowed to use girls' locker rooms and restrooms -- and that President-elect Joe Biden supports transgender rights. For instance:
Now, Jeffrey is forcing CNS' fall interns to act out his biased anti-trans agenda. As it likes to do, CNS regularly sends its interns to Capitol Hill to pester members of Congress with gotcha questionsdesigned to push its right-wing narratives. This is summed up in a Dec. 1 article:
When asked about Joe Biden's intent to order public schools to allow transgender students to use the bathrooms, locker rooms, and sports teams of their choice, Sen. Lindsey Graham (R-S.C.) said that he does not think Biden "has the power" to force such a unilateral change and that he would "like to hear from the schools."

Graham also said he did not know if it was a good idea or not to allow transgender "women" (biological males) to play on real women's sports teams and use their locker rooms.

At the U.S. Capitol on Tuesday, CNS News asked Senator Graham, "Joe Biden said that on his first day of office he will mandate through Title 9 that all sports teams, locker rooms should be open to transgender students according to their gender identity. Do you think he has the power to unilaterally do this at all federally funded schools and do you agree with this?"

"No, I don't think he has the power," Graham said, "and I don't know if that's a good idea or not, I'd like to hear from the schools."
From there, the CNS gotcha-question conga line continued, with overly long headlines to push the narrative:
All of the articles -- yes, it pestered eight members of Congress with this question -- copy-and-paste Biden's policy; most of the articles added pictures of what it claims are transgender athletes with "woman" and "female" in scare quotes to describe them.
With transphobic Jeffrey at the helm, CNS will keep spreading anti-trans hatred and use it as a cudgel to bash Biden.
Posted by Terry K. at 12:28 AM EST
Updated: Tuesday, December 15, 2020 12:41 AM EST