WND Promotes Doctor's Unverified Claims About Coronavirus Cure
Topic: WorldNetDaily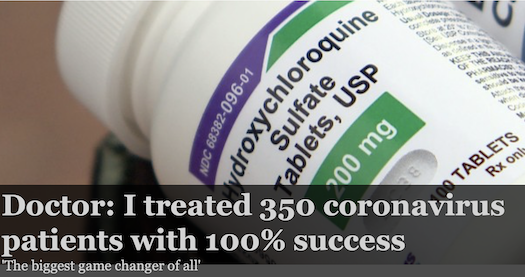 An anonymously written March 24 WorldNetDaily article stated:
A physician in New York state claims he has used the anti-malaria drug hydroxychloroquine and zinc to treat 350 patients for COVID-19 with 100 percent success.

In a video posted on YouTube, Dr. Vladimir Zelenko said he saw the symptom of shortness of breath resolved within four to six hours, the Gateway Pundit blog reported.

Zelenko, addressing his message to President Trump, said he's a board-certified family practioner in the community of Kiryas Joel in Orange County, New York, in the Hudson Valley, about 50 miles north of New York City.

"I'm seeing a tremendous outbreak in this community," he said. "My estimate is more than 60% currently have the infection.
The article downplays the fact that hydroxychloroquine has not been federally approved to treat coronavirus. Further, as fact-checkers have detailed, Zelenko has offer no documentation of his claims about curing patients.
On top of that, Zelenko's claim that residents of the Kiryas Joel community is sufering a "tremendous outbreak" of coronavirus have been debunked by state health officials who called them "unsubstatiated and irresponsible," given that Zelenko was extrapolating from a small amount of tested patients.
Nevertheless, WND touted Zelenko the next day in an article by Art Moore, who gushed that the doctor was "a recent survivor of an extremely rare cancer with a "100% mortality rate" that took one of his lungs" and that he has now been able to "successfully treat at least 500 patients with the coronavirus" and that "he hasn't slept in the past four days." Kovacs does not offer any documentation of anything Zelenko has done.
That was followed by a March 30 WND column by dubious fringe-right AAPS doc Elizabeth Lee Vliet, who cited how Zelenko "has been successfully using the combination of hydroxychloroquine, azithromycin, zinc and vitamin C to treat almost 700 patients in the outpatient setting" -- again, no documentation given -- as an excuse to attack politicians who "have no background in infectious disease, medicine, research design, or epidemiology" and "presume to dictate to front-line physicians who are reading the emerging research and caring for patients."
Similarly, a March 31 WND column by Andy Schlafly touted how Zelenko "has treated 699 coronavirus patients with a treatment regimen using the same hydroxychloroquine tweeted by Trump. By giving this inexpensive medication early enough, Dr. Zelenko has successfully kept 695 of his patients out of the hospital, and none of them has died." He too was apparently not troubled by Zelenko's complete lack of documentation of his claims, but was apparently more concerned in using Zelenko as alleged proof that "Trump was right" to push hydroxychloroquine as a possible treatment.
Promoting treatements are that clinically proven and 100% safe and effective is highly irresponsible -- but it's par for the course for WND, where a sensational story is more important than the facts.
Posted by Terry K. at 12:32 AM EDT