CNS Aggressively Defends Trump From His Own Words In Woodward's Book
Topic: CNSNews.com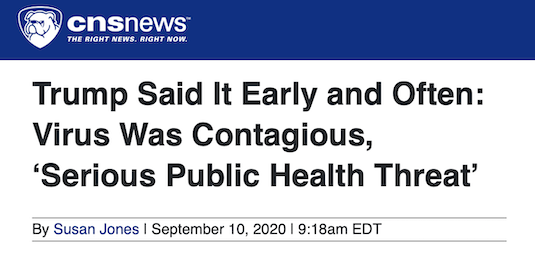 The Media Research Center's "news" division, CNSNews.com, went into an even more aggressive damage-control mode than its parent over Bob Woodward's book exensively quoting President Trump, who gave Woodward 18 hours worth of interviews and admitted he publicly downplayed the threat of coronavirus to the U.S. while knowing it was much more serious.
CNS kicked things off with a denial from Press Seretary Kayleigh McEnany: "WH: Trump Never Lied to the American People About COVID." Melanie Arter, who wrote that article, followed up with one quoting Dr. Anthony Fauci: "Fauci: 'I Didn't Get Any Sense' That Trump Was Distorting Anything on COVID-19." Then the serious, lengthy spin came from Susan Jones:
If Americans listened to and/or read what President Trump said about the emerging coronavirus in late January and early February, they knew back then that the virus was contagious, that it had "severe manifestations," and that it was a "serious public health threat," particularly for "older adults and people with underlying health conditions."

Moreover, a look at public statements issued by the World Health Organization in late January also informed the world that "all countries should be prepared for containment, including active surveillance, early detection, isolation and case management, contact tracing and prevention of onward spread of 2019-nCoVinfection."

WHO issued that statement on January 30 -- one day after President Trump announced the formation of the President's Coronavirus Task Force "to work to prevent the spread of the new coronavirus."

Following yesterday's release of Trump's recorded comments to author Bob Woodward, the president's many Democrat/media critics are now literally portraying him as a murderer for allegedly concealing the severity of the emerging coronavirus crisis. ("Donald Trump says he didn't want Americans to panic. No, he just wanted to sit by and watch them die," said MSNBC's Joe Scarborough on this Thursday. See his full screed below)

But a look at the public record tells a different story.

The following is a partial timeline of the many remarks, announcements and proclamations issued by Trump as the coronavirus emerged, as health experts learned more and more about it, and as the economic repercussions of the shutdown took effect.
Needless to say, Jones didn't mention all the times Trump publicly downplayed the virus or said it would magically go away.
This was followed by Arter doing her usual Trump stenography by letting him spin what he said to Woodward and an article from Jones featuring Vice President Mike Pence defending Trump. After that came a potpourri of defenses and attacks:
Jones returned to spin mode in a Sept. 22 article complaining that Joe Biden was still talking about Woodward's book when other things were happening:
Heading into the election, Democrat presidential nominee Joe Biden wants Americans to stay angry and continue grieving for lives lost to the coronavirus -- around 200,000 according to some estimates.

Biden has made the pandemic a centerpiece of his campaign to portray Trump as callous and incompetent. However, the death of Associate Supreme Court Justice Ruth Bader Ginsburg and the looming fight over her successor now competes with coronavirus as a major concern for the electorate.
Jones linked to her earlier timeline to bolster her claim about "the actions taken early on by President Trump and his administration, before anyone in this country had died." Again, she ignored all the times Trump downplayed the virus.
Posted by Terry K. at 12:30 AM EDT