WND's Farah Slobbers Over Trump's State of the Union Speech
Topic: WorldNetDaily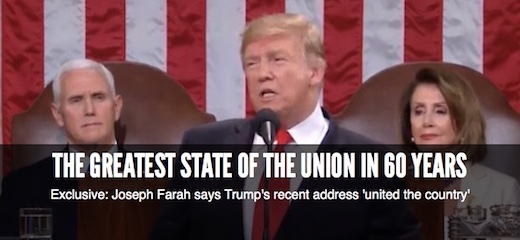 WorldNetDaily editor Joseph Farah has been fawning over President Trump for some time and sucking up to him whenever possible -- most recently pretending there's no evidence that Trump has exhibited racism. Farah has taken the fawning to new embarassing levels by devoting not one but two columns to slobbering over Trump's State of the Union address.
In the first column, Farah added random capitalizaton to quotes from Trump's speech:
"We have not yet BEGUN TO DREAM," he said.
"I am asking you to CHOOSE GREATNESS," Trump said.
"There is a new opportunity in American politics, if only we have the courage to seize it," Trump added. "Victory is not winning for our party. Victory is winning for our COUNTRY."
In the second column, Farah's sycophantic gushing just wouldn't stop:
It was more than words read on a teleprompter.

It was a supreme performance – dignified, positive. It provided America with an alternative view of a potential future.

Let's just cut to the chase: It was the very best State of the Union in my lifetime – which is nearly 65 years. It may have been the best ever.

He explained that we don't have to become a socialist nation, setting ourselves up for economic failure and the end of liberty.

He explained that we don't have to become a nation that takes the lives of its inconvenient and innocent citizens on both ends of life's age spectrum.

He explained how we need to protect the lives and property of our own citizens by defending our borders and sovereignty.

It was a supreme lesson in what government's responsibility is to its people – as well as what its limits should be in a free society.

How was it received nationally?

With 76 percent approval and only 24 percent disapproval, according to a CBS poll.

In other words, he did what most Americans would have thought impossible in a time of ferocious division. He united the country.
In fact, Trump did not unite the country; according to the article on that poll to whifch he links, "When broken down by party, almost all Republicans, 97 percent, said they approved of Trump's speech. ... Only 30 percent of Democrats, however, say they approved."
If Farah thinks Trump actually believes any of the things he's saying and isn't merely sucking up to right-wing evangelicals like himself in a cynical attempt to gain their support, he's more deluded than we thought.
Posted by Terry K. at 1:13 AM EST