CNS Avoids Reporting Key News From Trump Jr.'s Meeting With Russians
Topic: CNSNews.com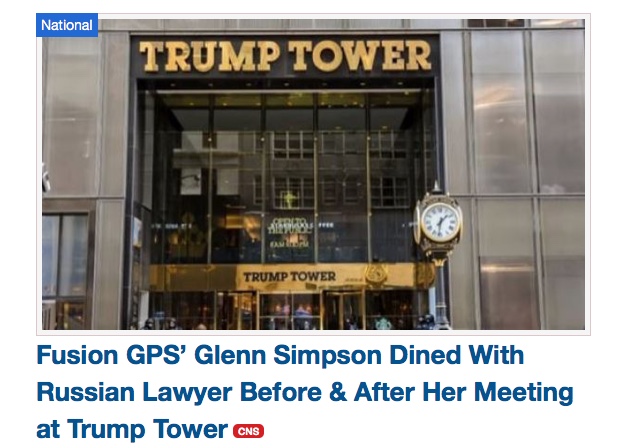 Last week, the Senate Judiciary Committee released the transcript of Donald Trump Jr.'s testimony about a meeting he had with a Russian lawyer and others in June 2016, in which the Trump campaign was reportedly offered Russian-linked intelligence damaging to Hillary Clinton.
CNSNews.com -- ever mindful of its role as a pro-Trump stenographer -- didn't want to report on that. So, instead, its first story on the transcript release focused on a side issue.
"Fusion GPS' Glenn Simpson Dined With Russian Lawyer Before & After Her Meeting at Trump Tower" read the headline on the article by Susan Jones, and it did indeed focus on how "Transcripts released Wednesday by the Senate Judiciary Committee say that Glenn Simpson, the co-founder of Fusion GPS, had dinner with Russian lawyer Natalia Veselnitskaya both the day before and the day after she met with Donald Trump, Jr. at Trump Tower on June 9, 2016."
How desperate is Jones to deflect from Trump Jr.'s actions? Jones admits that "Sen. Dianne Feinstein released the Simpson transcript earlier this year" -- in other words, the main part of her article was based on something that was released months ago, not the newly released transcripts.
The next day, Jones apparently figured out a way to put a positive spin on the transcripts by portraying the meeting as ultimately useless:
Both sides came out of the June 9, 2016 meeting at Trump Tower feeling misled and disappointed, transcripts show. So why did it happen and who benefited?

Certainly, that now-famous meeting has been the main exhibit among those politicians and media outlets fanning the Russian "collusion" theory.

Donald Trump Jr. told congressional investigators he agreed to meet with a Russian lawyer, someone unknown to him, when an acquaintance (a British-born producer for a Russian musician) told him "someone had official documents and information that would incriminate Hillary Clinton and her dealings with Russia and that the information would be very useful to the campaign."

[...]

Based on transcripts released Wednesday by the Senate Judiciary Committee, both Trump and two of the Russians attending that June 9 Trump Tower meeting later agreed that they were talking past each other.

"All else being equal," Trump Jr. said, "I wouldn't have wanted to waste 20 minutes hearing about something that I wasn't supposed to be meeting about." Asked if he took the meeting to try to get dirt on Clinton, Trump said, "I took the meeting to listen."
Of course, the point of the meeting -- if not ultimately fruitful -- was the Trump Jr. was clearly willing to collude with Russians. Jones didn't report that.
Posted by Terry K. at 12:14 AM EDT