MRC Tries to Downplay Ginni Thomas' Far-Right Views
Topic: Media Research Center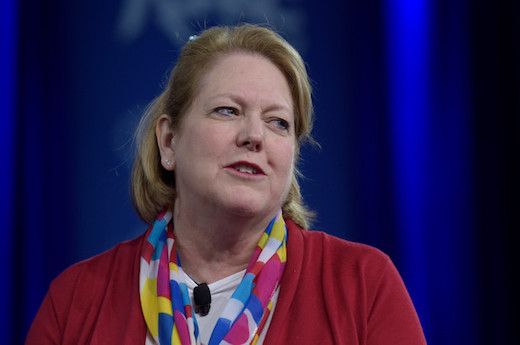 We've noted how the Media Research Center -- particularly Tim Graham -- likes to attack NRC host Chuck Todd's wife for working as a Democratic strategist and perhaps having some malign influence over Todd himself (or, at the very least, that Todd should be barred from covering politics due to his "conflict of interest"). Not only does the MRC not think that Fox News hosts with similar conflicts of interest are a problem, it's also giving a pass to the very political wife of a Supreme Court justice.
A Dec. 28 post by Brad Wilmouth complained that CNN held "a discussion of whether Ginni Thomas -- the wife of conservative U.S Supreme Court Justice Clarence Thomas -- is expressing too many "far-right" political views on venues like Facebook," citing unsubstantiated claims of voter fraud.Wilmouth offered nothing but whataboutism in response, attacking CNN for being "the network that makes entire documentaries lauding Justice Ruth Bader Ginsburg, who certainly caused this kind of furor about partisan opinions when she harshly attacked Donald Trump, and CNN thinks she's just terrific."
Graham himself chimed in on Jan. 1, attacking a Washington Post writer who pointed out that Thomas "shared a Facebook post that bizarrely described California as a war zone, with illegal immigrants scaling walls and carjacking U.S. citizens," issued then deleted a post "proclaiming that teenage survivors of the Parkland, Fla., school shooting are 'dangerous to the survival of our nation' because of their gun-control activism," and the she "harangued Barack Obama and Hillary Clinton for supposedly wiretapping Donald Trump — a baseless accusation indulged in only by conspiracy theorists." Graham tried to portray these attacks as mainstream views:
Without going deep into these accusations, we can inform [Post writer Dan] Zak: illegal immigrants do scale walls, and some do carjack citizens. Conservatives do believe liberal teenage Parkland survivors are trying to curtail the Second Amendment (and engage in a lot of "erroneous propaganda.") And we now know Paul Manafort was wiretapped, which means the feds probably wiretapped his conversations with Trump.
Graham then went into whataboutism mode by attacking the reporter for being "nakedly partisan."
After a group of activists led by Thomas met with President Trump, Clay Waters was upset that the New York Times described them as "hard-right" then, yes, played whataboutism: "The paper proved itself hypersensitive to supposed conflicts of interest among conservatives, though one wonders if reporters would be as aggrieved if a spouse of a liberal Justice met with a President Obama."
Waters was also upset that Thomas' far-right postings were described by the Times as "conspiracy theories," joining Graham in whitewash mode: "The paper didn't offer any further details about those 'conspiracy theories,' but on the face of it there's nothing particularly striking or shocking to suggest that left-wing Soros is working to help Democrats, or the possibility of pro-Democratic voter fraud."
Graham, along with MRC chief Brent Bozell, engaged in more whataboutism and deflection in their Jan. 29 column, further attacking that New York Times article by complaining that it claimed Thomas "is, well, extreme. And she's married to You-Know-Who." The attack continued: "Now try to imagine the Times writing in high dudgeon about Obama or Hillary Clinton meeting with people on 'the Democratic Party's fringes.' For 8 years Obama entertained every leftist group imaginable. And yet the Times can't find a 'fringe' on that side of the partisan aisle. On the same day they nearly fainted over Ginni Thomas, the Times gushed over hard-left Sen. Kamala Harris announcing a run for president in her hometown of Oakland, California."
Graham and Bozell then immediately attack Harris for being "hard left" and "on the left-wing fringes" for supporting Medicare for all and the Green New Deal. They do not explain how they determined these to be "fringe" views; instead, they're mad that the Times accurately described them as "currently popular among Democrats."
Notice that at no point do any of these MRC writers delve further into Thomas' views -- indeed Graham himself declared that he wouldn't be "going deep" into them. That suggests to us they know her views really are fringe, and that they don't want to give her critics ammunition by admitting that. Which, again, is the MRC putting its right-wing agenda ahead of the truth.
Posted by Terry K. at 3:29 PM EST