CNS Keeps Cheering On Its New Favorite Right-Wing Authoritarian Leader
Topic: CNSNews.com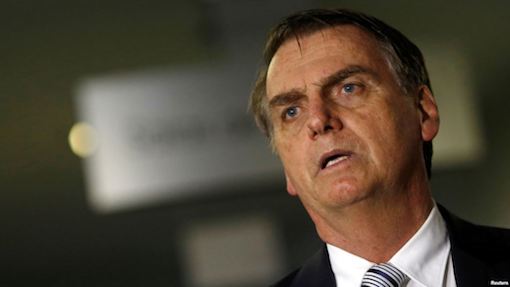 We've previously noted that Brazil's Jair Bolsonaro is the latest hardline right-wing leader CNSNews.com has become infatuated with. That infatuation has grown over the past month as Bolsonaro assumed the presidency in Brazil.
A Jan. 1 article by Patrick Goodenough highlighted Bolsonaro's inauguration and his pledge to free Brazil from "corruption, crime, economic irresponsibility and ideological submission" and to respect its "Judeo-Christian tradition." Goodenough described Bolsonaro's ideology only as "conservative" but did concede that his critics "accuse him of homophobia and misogyny."
On Jan. 7, CNS managing editor Michael W. Chapman touted how Bolsonaro "suggested it is possible that a U.S. military base could be installed in Brazil dependent up on what happens in the world ... to counter Russian influence in nearby Venezuela, a socialist regime that is collapsing under the dictatorship of Nicolas Maduro, a Marxist."
Three days later, the homophobic Chapman cheered when Bolsonaro "signed an executive order removing LGBT concerns from the government's human rights ministry, apparently affirming his traditional Christian, pro-family views and his rejection of 'gender-based ideology.'"
All three items also noted that President Trump has tweeted his congratulations to Bolsonaro.
In addition, a Nov. 28 item by Chapman proclaimed that "Brazil's newly appointed foreign minister, Ernesto Frago Araujo, who starts his new job in January under President Jair Bolsonaro, has stated that the climate change issue was invented by 'cultural Marxists' to help push a globalist agenda that is anti-growth and anti-Christian." Chapman also highlighted Araujo's wild anti-gay, anti-socialism rant:
The incoming foreign minister also criticized Brazil's left-wing Workers' Party for promoting a "socialist ideal" while crushing individualism, freedom of thought, and economic freedom.

It is nothing more than totalitarianism, he wrote, because it "criminalizes everything that is good, spontaneous, natural and pure. Criminalizing the family on charges of patriarchal violence. Criminalizing private property. Criminalizing sex and reproduction, saying that any heterosexual act is rape and every baby is a risk to the planet because it will increase carbon emissions."

Socialism is "criminalizing faith in God," he said. "Criminalizing patriotism. Criminalizing biology by prohibiting the statement that a person is born a man or a woman. Criminalizing competition ("sport is a fascist thing," I once heard a leftist colleague). Criminalizing red meat. Criminalizing air conditioning [for climate science reasons]. Criminalizing beauty. Criminalizing all Western thinkers since Anaximander [d. 536 BC]. Criminalizing history and its heroes. Criminalizing Disney movies. Criminalizing love for children and ancestors. Criminalizing oil or any energy efficient and cheap."
Chapman probably thinks this is all true. Fact-checking isn't CNS' strong suit, after all.
Posted by Terry K. at 3:20 PM EST
Updated: Monday, February 4, 2019 3:21 PM EST