CNS Still Giving Loopy Rabbi A Platform to Praise Trump
Topic: CNSNews.com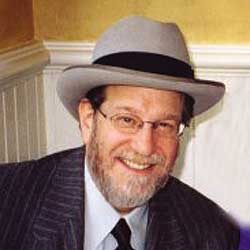 CNSNews.com's favorite loopy Trump-loving rabbi, Aryeh Spero, just can't stop fawning over the president. And CNS can't stop giving Spero a platform for it.
In a Jan. 10 column, Spero aped Trump campaign rhetoric that building a wall at thte Mexico border is "the moral thing to do," complete withj Trump-esque rant:
Many of our communities have suffered, especially in rural areas, by an overcapacity and demand stemming from illegal immigration. Hospitals, schools, clinics, and other vital institutions have closed to the detriment of our citizens who have depended upon these institutions. Contagious diseases have begun to crop up in many areas; and people not wealthy enough to have fences surrounding their homes and unable to afford private transportation services are the victims of these outbreaks. Compassion for these ordinary American citizens is what we need and what the wall offers.
And in a Feb. 6 column, Spero can't stop drooling over Trump's State of the Union address and alleged support for the Jews:
Last night's State of the Union Address by President Trump will go down as one of the most historic, unifying, and visionary peacetime addresses to the nation. It was delivered with passion, precision, and expressed with heart, making us feel the country will be safe and will move forward under President Trump's dynamic leadership.

[...]

No president has devoted more time to the scourge of anti-Semitism as did the President last evening when addressing survivors of the Holocaust, victims of the massacre at the Pittsburgh synagogue, and linking America's history and identity with fighting anti-Semitism. The President did a masterful job because deep inside he believes in what he says, and because he loves America and its people.
CNS previously brought in Spero, in his role as spokesperson for the National Conference on Jewish Affairs -- which appears to exist mainly, if not solely, as a vehicle for Spero -- to ostentatiously praise Trump's response to the Pittsburgh syagogue massacre, though he didn't much beyond visiting the area and offer "heartfelt expressions of grief."
Posted by Terry K. at 12:27 AM EST